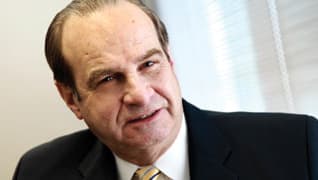 Photo by: Luigi Ciuffetelli
Going the Distance
As a boxer, bricklayer or family lawyer, Michael A. Gill has 'all the guts in the world'
Published in 2012 New Jersey Super Lawyers magazine
By Michael Y. Park on March 16, 2012
When Michael A. Gill walks into a room, the first thing you notice are his arms. Thick as oak branches, they stretch the sleeves of his old gray T-shirt, the faded red letters of the word "Rutgers" distorted by his broad chest.
As pretty much anyone who knows him will tell you, he doesn't look like a lawyer.
No one expected him to become one. Gill grew up in a family of six children in Ocean City, N.J., raised by a single mother after their father left the family when Michael was 4 years old.
"We had a tough life. We had very little, which is a stretch—we had nothing," says Gill's oldest sister, Barbara. "We started working as soon as possible."
As a teen, Gill worked summers and nights on the Ocean City boardwalk, running and maintaining the amusement rides. His mother worked at a dry cleaner, but the children grew like weeds, and there was little support from their father.
"There weren't the laws to protect single mothers like there are today," says Barbara.
No one expected that the consequence might be Gill's ending up as one of the area's most well-respected family attorneys.
"In high school, I goofed off a lot," Gill confesses.
"Mike was a sleeping giant—he didn't let people know how intelligent he was. He wouldn't pronounce himself a great student," says high school friend Ginny Mulford. "But I knew how compassionate he was. …  If you had problems, you'd go to Mike. "
Gill dreamed of serving not in a courtroom but in a uniform.
"I cut school one day when I was in the 11th grade, went to Atlantic City, went to a Marine recruiting office, and before I knew it, I was up on South Broad Street in Philly swearing into the Marine Corps," he says. "Thing was, I was only 16 years old."
Gill's mother had to inform the military that her son wasn't old enough to enlist. He never became a Marine.
Instead, he became a boxer, joining a new Ocean City boxing club started by a Young Republicans chapter (ironically, as it turns out—Gill's politics run anything but GOP today).
"I saw the ad in the newspaper; it caught my attention, I wandered in there, I found I liked it," he says.
"He was good. He was very good," says Jim Gayle, a classmate who also joined the club. "A hard-hitter, everything you want in a boxer: nothing flashy, just down to business."
Fittingly, Gill's boxing hero was Joe Frazier, whose soft-spoken, no-frills style was in sharp contrast to the trash-talking flamboyance of Muhammad Ali.
"I used to want to box like [Frazier]," Gill says. "His straight-ahead style—that's what I emulated."
One particular quality set Gill apart from the other teens in the boxing club.
"Not a lot of natural skill, but let me tell you something: He never quit. He was a brawler. He would never stop coming," says Gayle. "He had all the guts in the world."
In 1970, at the age of 18, Gill made it to the finals of the Golden Gloves championship.
"I think it gives you an inner strength when you box, but I was always very nervous before every fight," he says. "I didn't box in a cavalier manner. Before every fight, I remember thinking, 'Why do I do this? Why do I put myself through this, fight someone in front of all these people?' But I got such an emotional high off it, I'd always want to do it again. It built up an inner toughness in me; gave me determination and self-confidence. It gives you some kind of edge when you can get into a ring with just one other person; it's just you and him, and there's no one to help you."
When Gill graduated from high school, he put the boxing gloves away—and went to work as a bricklayer for several years. While a bricklayer, Gill got married (he's since divorced) and had two children. As far as his friends and family were concerned, Gill's life path was set.
His sister says, "If [someone's] looking for signs I saw when he was growing up that he was going to be a lawyer, there certainly were none. We were just trying to survive."
Says Gill, "Bricklaying was honorable. It was hard work. I can point to fireplaces and brick homes in Ocean City that I put up and are still standing there, and tell my kids, 'I built that.'"
"He had this big old yellow truck; I believe it said, 'Michael Gill & Son' on the side," says Ed Vlaszac, whom Gill hired for a number of jobs. Gill explains that his son was an infant at the time: "It was more symbolic than anything else."
Vlaszac continues: "He was about 140 pounds, and he had this really bushy, curly blond hair, and he had a full beard. He was very thin, but he could pick those blocks and give 'em hell."
Gill was the kind of guy who was well-liked but, above all, was a professional.
"He was very serious about doing a good job," says Glenn Darby, a former building contractor who subcontracted work to Gill. "He wasn't the guy to be the clown on the crew."
But there was something missing in Michael Gill's life.
"He was kind of bored with what he was doing. I would drive with him from Ocean City to Atlantic City, about a 30-minute ride, and he wouldn't say a word, he would just fiddle with his beard," Vlaszac says. "I found out he was taking classes, so I guess his mind at that point was probably just on that."
It was. Dissatisfied with the idea of spending the rest of his life as he'd spent the last seven, Gill decided to get a college education.
"I remember sitting at lunch one day, sitting on a dirt pile, and in the newspaper there was an ad that said, 'Start your new life here: Atlantic Cape Community College,'" he says. "I said, 'That's for me,' and I went out there and enrolled."
After a semester, he quit the bricklaying business, went to class full-time during the day, and worked nights as a bartender. Eventually, he transferred to Stockton College, where he earned his undergraduate degree in 1987. He had ambition, but wasn't sure what for. He considered becoming an educator.
A professor at Stockton encouraged him to become a lawyer. Gill wasn't completely taken with the idea, but decided to let the fates decide: After a night shift tending bar, he took the LSAT with only three hours sleep and having taken no prep courses.
"I thought, 'If I do well, it was meant to be. If not, I'll get certified to teach,'" he says.
He scored in the 90th percentile and was accepted to Rutgers School of Law, where he became managing editor of the law journal. The summer after his first year, he was accepted for an internship at Goldenberg Mackler Sayegh Mintz Pfeffer Bonchi & Gill, which he joined after law school and where he still works today as a partner.
"When I got the job, I did a yippee and jumped in the air," he says with a chuckle.
Those who had known Gill the boxer and the bricklayer did a double-take.
Darby says, "To see him switch from mixing mortar and laying bricks to the position of a good family law attorney is just like a 180-degree change."
Matrimonial law, however, wasn't Gill's first choice.
"The dynamics and the drama, and the fighting over irrelevant things, like pieces of furniture, and what it does to their kids—I really didn't like that aspect of it," he says.
But he "just kind of fell into it," he says, thanks to a mentor at the firm. Gill developed expertise—and a reputation.
"I think so highly of Michael that, when I needed assistance in my divorce matter, I went to Michael," says Kathleen M. Vella, a mediator who has worked with Gill on several cases. "I've had only one case go to trial in the entire 20-plus years I've worked with him. … He's the perfect combination of book smarts and street smarts."
The field grew on him after he resolved to approach it on his terms.
"I say to clients at the first meeting that they're going to have to do things my way," he says. "I don't want a father making custody an issue if he doesn't really want custody and is just trying to hurt his ex-wife. I tell people, 'My job is to minimize your exposure and get a fair amount.'"
Debra Amir can attest to that. Gill handled her tortuous divorce, which involved four children and a number of stores on the Atlantic City boardwalk. She appreciated that Gill didn't use theatrics or tricks to undercut the other side.
"I've heard so many lawyers say, 'We'll get them; we'll get them.' My ex-husband said, 'We'll get you,'" she says. "I've never heard Michael Gill say that."
His colleagues and opponents appreciate his forthrightness too—he was made president of the Atlantic County Bar Association in 2004.
"Number one, he has the utmost integrity," says attorney Mark Biel, who's tangled with Gill in the courtroom several times. "His word is good. And he's not quick to pull the trigger and ratchet up a lot of unnecessary expenses and hostilities, which don't really benefit the clients and where the only beneficiaries are the lawyers. He has a very blue-collar approach to the practice, by which I mean he gets right to the point and there's not a lot of wasted energy. … If he needs to submit a two-page brief, it'll be two pages long, not 10 pages of unnecessary fluff."
Earlier in his career, the boxing and legal worlds came close to colliding in real life when Gill challenged Vella's ex-husband's lawyer to step outside after she was repeatedly disparaged in court.
"If you're an underdog or someone being mistreated, then he's a fighter," Vella says.
Asked about the incident, Gill responds sheepishly, "I said, 'If you want to take it outside, you picked the right person.' I'm not proud of that. When I first started practicing law, I was much more hot-tempered. I was young and trying to make a name for myself. I've matured."
But he never forgot where he came from. Gill won the Legal Services of New Jersey's Equal Justice Medal in 2004 for his work representing the impoverished of South Jersey.
"I know what it's like to be there," Gill says. "Helping the financially disadvantaged: That's what I like to remember, not my wins and losses in the courtroom. These cases where I get a child-support award for a single mother raising three kids … the look in their eyes when they thank you. They haven't paid me a penny, but they've said plenty.
"It's so corny, I'm half-embarrassed to say this, but when I first became a lawyer, I remember, I'd be driving to court every morning, and I'd play the theme song to Rocky. … I mean, I'd blare it. Not just because of the boxing, but because of the message: This guy who everyone looks at as a bum and who looked at himself as a bum, he had the attitude: I know I can't beat him, but I'm going to do my best."
Search attorney feature articles