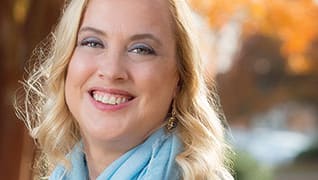 Photo by: Jeff Cravotta
The Dream Job
Tin Fulton Walker & Owen's Katy Lewis Parker reflects on six years as legal director for the American Civil Liberties Union of North Carolina
Published in 2016 North Carolina Super Lawyers magazine
By Amy White on January 22, 2016
Q: You went from Holland & Knight to the ACLU. Why the transition?
A: I interned for the ACLU when I was in law school and loved it. I took a circuitous path to get back there. But I don't regret it.
Holland & Knight had such a reputation for pro bono. They also did a lot of media law, and I always gravitated towards constitutional issues. I was there for five years; during that time my husband, a reservist, got called to Iraq. I didn't plan to stay at a large firm for as long as I did, but it turned out that for many reasons, it was necessary.
But the big-firm lifestyle wasn't a good fit for me—having nothing do with Holland & Knight. I have only good things to say of my fellow attorneys. They taught me how law should be practiced. I had great mentors there, like Elizabeth Bevington, who taught me how to write a good brief, which was great once I got to the ACLU, because I had to hit the ground running.
Q: What was the best lesson learned at Holland & Knight that you took to the ACLU?
A: The partners always talked about taking ownership of a case. It's hard to do that as a rookie lawyer at a big firm. You don't have ownership because you've got other partners working on it. I really didn't understand that until the ACLU. Where that ownership really comes through is discovery. You have to get into a case and roll around in it to do good discovery.
Q: How was the learning curve?
A: It was overwhelming that first year because constitutional law itself is very complex. One thing that's a challenge at the ACLU is that it deals with so many different constitutional issues, and so there's a learning curve on very complex issues for 10 different things. But it was so exciting. Constitutional law is my love and my passion. Everything I worked on, I just ate up.
Q: What were some of the most critical cases you worked on at the ACLU?
A: My favorite case was for Victor Martin, a client whom I still correspond with. He's an inmate in the prison system in North Carolina, and a writer of urban fiction. He's in prison for stealing cars, and would have been out a long time ago except he tried to escape twice.
He was always getting in trouble in prison and telling tales, and then one of the guards said, "You're such a good storyteller. You ought to write." So he sat down and started writing. His infraction sheet stopped growing when he started writing.
He got transferred to Central Prison, and this guard had it out for him. He started giving him infractions for writing and saying he was operating a business in prison, since he was getting published.
Q: Where was he published?
A: He has a few novels out. He had a handwritten 300-page manuscript, and this guard confiscated it. He never got it back. Victor contacted us. There's so many prisoners who are seeking help from the ACLU that you get jaded, and you're like, "There's nothing we can do."
We had a staff member, Ian Mance, who is a good friend of mine, and he was such a pain in the ass about Victor Martin. He kept coming in and telling me, "We need to take this case." I kept telling him no. Finally he prevailed.
I just hate a bully, and it was so clear that Victor was being bullied. So we took it on and tried to find the manuscript, filing a federal lawsuit on First Amendment grounds using the Takings Clause in the Fifth Amendment to say, "They took his property without just compensation."
We went to mediation in front of Judge David Daniel, who was so good to Mr. Martin and treated him with such respect. We got a settlement where we got a little money for him for the manuscript. But more important, DOC policy was changed so now prisoners can write as long as they're not directly compensated. That was one of those times where I walked out and thought, "This is why I went to law school."
Q: I see Martin is signed to a book deal. How does that work, if he can't be compensated?
A: His mother gets the money. You just can't have money coming in to somebody's commissary account because it's amazing the communication in prisons. Everybody knows what everybody else has, and it can be very dangerous for other prisoners or guards.
Victor is due to be released in about two years. Seventy-five percent of people who are in prison get out, [so] you would think that we would do a better job of trying to help people reintegrate into society. A lot of times people end up committing more crime, and so I feel like you can't help everybody. But I could help Victor.
Q: Considering all the civil issues you've worked on, where do you see the most critical need for change?
A: I think a lot of it is going on right now with the police.
I've been focusing on [police misconduct work] for the last three years [at Tin Fulton]. I have represented police officers in employment matters, so I'm certainly not someone who is anti-police. This dialogue that's going on is a good dialogue. It raises a lot of anger and a lot of resentment on all sides: on the police side due to inadequate pay and training, and on the side of, particularly, the black community, which is disproportionately discriminated against in our criminal justice system from the beginning: from getting a traffic ticket all the way through the death penalty.
Most police officers are out there doing the right thing. They're dealing with people at their worst. I'm not blind to that. That said, there are police officers who shouldn't be in the profession. I've encountered a few of those folks in the last few years. I just lost a case—a big one—on summary judgment, and in that case we sued an officer. I have very real concerns that he's going to hurt somebody seriously.
Q: Can you tell me about it?
A: There was an officer who beat up my client while he was handcuffed in jail, and it's on video. A federal judge just granted summary judgment in an order … I really don't know how he granted it. I don't know how it didn't get to the jury. My client let me know that he doesn't want to appeal, which breaks my heart.
There is an officer with a history of using excessive force against people of all walks of life, and he's still on the force. That weighs on you.
Q: How do we fix the system?
A: One of the things that I have had occasion to do in the last year is to depose the head trainer at the North Carolina Justice Academy. I have very real concerns about how officers are being trained, based on his testimony.
When I talked with him, his only focus was on officer safety. Obviously that is a huge focus, and should be. I tried to get him to volunteer that safety of a citizen was a concern, too; that the Fourth Amendment was a concern. He kept going back to, "We train officers to do essentially whatever they have to do to keep themselves safe."
When you have an agent of the government who has a gun, who is being trained that, "You can do whatever you perceive as reasonable to keep yourself safe, regardless of the safety of the citizen you're sworn to protect and serve, and the Fourth Amendment," that is concerning.
I kept asking, "What about the Fourth Amendment?" "Well, sure, we teach that," but it felt like an afterthought. When the Constitution becomes an afterthought, we're on scary ground in this country.
Q: What are you most proud of from your work at the ACLU?
A: I have a special place in my heart for child-related constitutional issues. I did a presentation on racial profiling for middle schoolers, and I was trying to explain racial profiling. I was saying, "It's not like if you're looking for a suspect and you have a description of a black male in a green hat, and they stop a black male in a green hat, and he isn't the right person. We're talking about using race as a predictor of future behavior: 'I think this person is going to be a drug dealer because it's a black man in a nice car.'"
A little African-American girl raised her hand and said, "Is that like the beginning of the school year when I got put in the remedial section when none of the white girls were?" I could have cried. I was like, "Yes. That is it."
Q: How has working with the ACLU informed your practice?
A: I interact with people from all walks of life in a way that I hadn't done before, and that certainly helps now because a lot of my clients are low income. I had a client recently call me and say, "I haven't had my phone on, but I sold some plasma, and now I have minutes," and it's like, "Wow. What an indicator of my privileged background." I've no idea what it's like to live like that. That doesn't mean that I can't connect with a person in a very real way.
Q: How did you wind up at Tin Fulton?
A: My husband is still on active duty, so we are largely living at the behest of the United States Marines. He got orders to Camp Lejeune, our daughter had been born, and we needed to move. I couldn't do my job remotely, and so I reluctantly left. I'm still on the ACLU legal committee.
I got a call from Luke Largess, a partner at Tin Fulton, and he said, "How would you like to open the Wilmington office?" So that has been a ride, because it's not only back to private practice, but business-wise, it's a straight-up learning curve. In the last three years I've had to learn how to manage an office. We're on our own financially, so it's been a learning moment in terms of figuring out how to actually practice law and make money.
Q: What kinds of cases are keeping you busy?
A: There was a need for a police misconduct attorney and an employment attorney. I probably get five calls a day on employment. There's just nobody doing employment law on the plaintiff side in Wilmington. I get many calls for police work, too. Challenge is, a lot of folks who need me don't have any money to pay.
Q: Is the advocate in you satisfied?
A: Absolutely. Easiest question you've asked. 
Search attorney feature articles
Helpful links
Other featured articles
Why Elena Karabatos is the family lawyer for 95% of the human race
How Craig Bashein helped the Chardon High victims' families
Cannon and Dunphy have built powerful legal careers from lessons they learned growing up in Wauwatosa
View more articles featuring lawyers
Find top lawyers with confidence
The Super Lawyers patented selection process is peer influenced and research driven, selecting the top 5% of attorneys to the Super Lawyers lists each year. We know lawyers and make it easy to connect with them.
Find a lawyer near you