Was My Baby's Injury Due to Medical Negligence?
Establishing medical negligence in a birth injury medical malpractice claim
By Super Lawyers staff | Reviewed by Canaan Suitt, J.D. | Last updated on August 2, 2023 Featuring practical insights from contributing attorneys Glenn W. Cunningham and Tom Jacob
Use these links to jump to different sections:
When a child suffers a serious birth injury, parents rightfully want to know what went wrong. If your child's birth injuries occurred due to medical negligence on the part of the doctor or other medical professional, you may be able to hold the doctor or healthcare provider legally liable through a medical malpractice claim.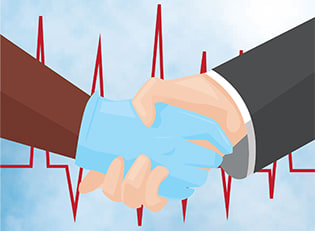 This article explains the distinction between the concepts of medical negligence and medical malpractice and why birth injury cases tend to be complicated and expensive.
Tom Jacob, a medical malpractice attorney in Austin, Texas, explains that these cases are complex from the very start and require legal help. "Often, we have to explain that whether clients are even able to sue depends on various factors, such as state law," he says.
"This is probably the toughest question we get, and we go through a fairly extensive process to determine whether their case is one we can take. It's important for clients to seek out experienced lawyers because if your lawyer doesn't do the work upfront, that could mean trouble for your case down the line." 
What are Birth Injuries?
In a birth injury case, your child was healthy at birth, but because of a medical mistake, they suffered injuries during the delivery process.
Common causes of birth injuries include:
Failure to deliver the infant in a timely manner, resulting in fetal distress;
Not performing a Cesarean section (C-section) when one was required:
Rough handling of the infant during delivery or improper use of forceps;
Failure to properly monitor key vital signs of the infant.
These actions can result in serious injuries, including bone fractures, spinal cord injuries, brain injuries, brain damage resulting from oxygen deprivation, and Erb's palsy from brachial plexus injuries. Some injuries are immediately apparent, while others may not reveal themselves for months or years after the child is born.
Brain Damage and Oxygen Deprivation
When a child is in the womb, it breathes through its umbilical cord, receiving oxygenated blood directly from the mother. After a normal birth, the baby cries as it takes its first breath with its own lungs. But if the child experiences a lack of oxygen at any point during this transition process, they can suffer permanent brain damage.
Oxygen deprivation (asphyxia) can occur during delivery if the umbilical cord wraps itself around the baby's head or throat. A trained physician is supposed to take prompt action to release the baby from this situation before it can produce permanent damage. Doctors must also ensure there is proper blood flow to the baby at all times. Any failure to act in these situations can lead to a catastrophic outcome.
Brachial Palsy and Delivery Fractures
The brachial plexus is a cluster of nerves that controls the muscles in the shoulder, arm, forearm, hand, and fingers.
During some deliveries, this nerve cluster can stretch and tear, particularly if the baby's shoulders struggle to fit through the mother's birth canal. This tearing is known as Erb's palsy, and it can lead to a loss of arm function and even paralysis.
Brachial palsy is often the result of malpractice. The doctor may have pulled or manipulated the baby too roughly while it was still in the birth canal. Or the provider may have been too forceful in using forceps or other instruments. Such handling can not only lead to brachial palsy but other types of delivery fractures, such as a broken clavicle or collarbone.
Proving Medical Negligence in a Birth Injury Case
Though "medical negligence" and "medical malpractice" are often used interchangeably, they are slightly different concepts. Namely, medical negligence is what you must prove in a medical malpractice claim.
Healthcare professionals have a legal duty to provide adequate medical care to all of their patients. Medical negligence is failing to act in accordance with the standard of care that a medical professional would have used in a similar situation. If a patient suffers any type of injury or medical complication because the doctor provided substandard care, then the responsible party can be held legally liable through a medical malpractice claim.
Just because a medical error occurred doesn't necessarily mean negligence was involved. But if the mistake fell below the standard of care, it was negligent.
Two key questions are involved in any birth injury case:
How do you determine the relevant standard of care?
How do you determine if the medical professional's actions fell below the standard of care?
Both of these questions are addressed with the help of medical experts.
"Birth injury cases are extremely complex medically and are very expensive to prosecute," says Glenn W. Cunningham, a lawyer in San Antonio. "It is usually necessary to retain expert witnesses from multiple specialties to prove that the injury resulted from the negligence of the health care provider as opposed to genetic or other factors. A medical malpractice attorney can help by reviewing the child's medical records and retaining one or more experts to see if the case is viable."
Jacob agrees: "All medical malpractice lawsuits are difficult for plaintiffs, but birth injury cases especially so," he says. "Birth injury cases often require several experts, and that can be expensive if the firm that represents you does not have the financial backing to fight these cases all the way to trial."
How to Pursue Your Birth Injury Case
Medical malpractice cases are among the most complex types of legal claims. If your baby suffered an injury or any type of health-related complication during the birthing process, you may not know whether the problem occurred because of a physician's negligence or if it was unavoidable. This is normal. For this reason, all birth injury claims should be reviewed by an experienced professional.
An experienced birth injury attorney can conduct an investigation into your case and get you in touch with the right medical experts who will be able to analyze what happened and determine if negligence was a factor in causing the birth injury.
If you have any reason to suspect that your infant's birth injury may have been related to negligence, it is imperative that you seek legal guidance from a medical malpractice attorney who specializes in birth injury cases right away. Many attorneys provide free consultations to evaluate your claim and advise on legal action.
"Clients who are in this unfortunate situation have so much to worry about. They worry about their baby's health, they worry about day-to-day medical care, and they worry about how they are going to keep their job or pay their bills. They're just trying to keep their head above water, and it's not easy," says Jacob. "My birth injury clients are some of the bravest and toughest people I know."
For more information on this legal area, see our overviews of birth injury and medical malpractice law.
What do I do next?
Enter your location below to get connected with a qualified attorney today.
State Birth Injury articles
Related topics
Attorney directory searches
Helpful links
Find top lawyers with confidence
The Super Lawyers patented selection process is peer influenced and research driven, selecting the top 5% of attorneys to the Super Lawyers lists each year. We know lawyers and make it easy to connect with them.
Find a lawyer near you