How to Prove Liability in Birth Injury Cases
Understand the elements of a birth injury lawsuit
By Canaan Suitt, J.D. | Last updated on May 1, 2023
Use these links to jump to different sections:
Birth injury lawsuits are a type of medical malpractice case that arise when doctors fail to use reasonable care in the delivery process. The doctor's medical errors resulting in injuries to the child or mother.
If you're a parent or guardian considering legal action for your child's birth-related injuries, you should speak with an experienced personal injury attorney. And you should seek legal advice as soon as possible since states limit how long you can file a lawsuit. Miss the deadline (known as the statute of limitations), and you're barred from compensation.
This article will explain what's typically involved in a birth injury claim and how to seek further legal help.
Birth Injuries versus Birth Defects: Is There a Difference?
Yes, there is a difference, and it impacts what you must prove in a lawsuit.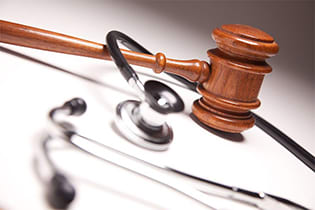 Emily Grace Thomas, a medical malpractice attorney at Birth Justice Law Firm in Royal Oak, Michigan, explains that "a birth defect is something that occurs in utero… things that are congenital or genetic anomalies. Something like thalidomide is a good example of a birth defect. This was a medication that a lot of women were taking during their pregnancy in the 1950s, not knowing that it would cause their babies to have malformations in utero."
A birth injury, on the other hand, "means you had a perfectly healthy child, but because of a medical mistake, [the baby or mother] has a serious health condition," she says.
What Are Common Types of Birth Injuries?
There are many kinds of birth injuries. Some may heal given time and medical attention, leaving minimal or zero long-term impact. Other injuries, however, can result in long-term or lifelong impairments:
Skull or collarbone fractures resulting from the improper use of forceps
Bleeding in the brain (called intracranial hemorrhaging) due to impact
Cerebral palsy resulting from lack of oxygen to the baby's brain during delivery
Erb's palsy resulting from injury to the baby's brachial plexus (the network of nerves connecting the brain to shoulders, arms, and hands)
Injuries to the mother or baby resulting from failure to perform a C-section when needed or performing a C-section unnecessarily
Injuries resulting from fetal distress
The most common birth injury "is a lack of oxygen to the brain," says Thomas. "This can take place in many ways, but the most common type is hypoxic-ischemic encephalopathy, or HIE for short."
HIE "happens when there's a lack of oxygen at or near the time of childbirth, and can happen for many reasons. For example, contractions during labor can deprive the baby of a lot of oxygen. Babies are very tolerant of being oxygen-deprived, but they only have so much [oxygen] reserves to compensate for the stress of labor and delivery."
"If the baby is too stressed by too many contractions, that can cause a lack of oxygen resulting in injury to the brain." Various studies show that babies can generally withstand brief periods of oxygen deprivation over the course of an hour, but beyond that, the baby "will start to show brain injury," adds Thomas.
In some situations, there's a complete lack of oxygen. For example, when "the placenta… detaches [from the uterine wall during childbirth], the baby doesn't get any oxygen or nutrients since that's all coming from the mom."
If the placenta completely detaches (known as placental abruption), "you really only have anywhere from fifteen to twenty minutes before harm to the baby's brain starts to occur. Brain injury from lack of oxygen is a progressive process that occurs over time–the longer you are without oxygen, the worse the brain damage gets until it reaches the point of brain death."
What Are the Elements of a Birth Injury Claim?
Birth injury cases are a type of medical malpractice case. Medical malpractice claims are based on a theory of negligence. How does this type of claim work? There are four elements or requirements you must prove:
Duty of care. Health care professionals have a responsibility to provide appropriate medical care.
Breach. The doctor's actions fell below the standard of care. They failed in their duty towards their patient.
Causation. The doctor's breach of duty is what caused the injuries to the mother or baby during the delivery process. The doctor may argue that other factors beyond their control were to blame for the birth injuries. Against this, the claimant must prove that the birth injuries would not have occurred apart from the doctor's negligent actions. In addition, the injuries the mother or baby suffered were a foreseeable result of the doctor's negligent actions. For example, bone fractures are a foreseeable result of mishandling medical instruments such as forceps during delivery.
Damages. The claimant must show the doctor's negligent actions actually harmed the mother or baby. A doctor could have acted negligently, but luckily the baby was not injured. In this case, there would be no injuries to be compensated for. Damages are the monetary compensation for the injuries the mother or child suffered.
How Do You Establish the Standard of Care?
In any birth injury case, you "first [must] show that there was a breach of the standard of care," says Thomas. "But who sets the standard of care? A medical expert, based on their knowledge, training, and experience, will establish that the doctors or nurses didn't do what they were trained to do, or didn't perform as medical professionals are expected to. They breached that standard, and because of their breach, the baby or mother was injured," she says.
For example, "there are certain things [doctors and nurses] must do when [problems such as] placental abruption or cord prolapse arise during childbirth, or else the baby will suffer permanent brain injuries," says Thomas.
Medical professionals are expected to know how to respond to these situations competently. If they do not, they have fallen below the standard of care.
Who Can Sue for a Child's Birth Injuries?
Obviously, an infant can't bring legal action on their own behalf. Most states, therefore, allow parents or guardians to bring a birth injury lawsuit on behalf of the child.
A "court can also appoint a representative—sometimes called a 'guardian ad litem' or 'conservator' depending on the state—to pursue a case on behalf of the child," says Thomas.
The guardian ad litem serves a critical role. "Sometimes, very sadly, there are no parents to care for the child—sometimes the mother dies in childbirth, and so there can be a court-appointed fiduciary to pursue the case in the child's best interests."
What Type of Evidence is Used in Birth Injury Cases?
The types of evidence you may need will ultimately depend on the specifics of your case. A lawyer will understand what is required to make the strongest case possible and will be able to compile the needed evidence.
In general, however, the following are common types of evidence in medical malpractice and birth injury cases:
Medical records. Records are often essential to prove exactly what happened in a birth injury case.
Expert testimony. Medical expert witnesses can testify to the appropriate standard of medical care.
Witnesses. Obstetricians, anesthesiologists, nurses, or other health care professionals can testify to medical errors during the delivery process.
What Are the Elements of a Birth Defect Claim?
If you are considering a medical malpractice claim for defects before the child's birth, the elements are slightly different from a birth injury claim. For birth defects, you must show:
The mother used a drug or medication
The mother's physician prescribed the drug
The drug is what caused the birth defects
Other factors didn't cause the defects
For help understanding if you have a birth injury or birth defect claim and how to prove your claim, speak with an experienced birth injury lawyer.
What Compensation is Available Through a Birth Injury Lawsuit?
Birth injuries often result in major medical bills and may even involve lifelong medical treatment for impairments or disabilities. "Damages" in a lawsuit are the monetary compensation designed to make you financially whole.
There are two types of damages in birth injury cases:
Economic. "The economic cost is the one that is focused on the most," says Thomas. "[It includes] anything that will require care and support, lost earnings, and medical expenses incurred because of the medical malpractice."
Non-economic. Non-economic damages, on the other hand, are "things we can't quantify in the market," says Thomas. They include "pain and suffering, disability, loss of life's enjoyment, and loss of consortium."
An important thing to note is that non-economic damages "are sometimes capped depending on what state you're in." However, "there's never a cap on economic damages."
"You also may be able to get punitive damages depending on your state," Thomas says. Punitive damages aim to punish the defendant for their actions.
Questions To Ask When Meeting a Birth Injury Lawyer
Many birth injury attorneys provide free consultations. This means that without upfront costs, you can meet with an attorney to ask questions about your situation and decide if the attorney or law firm meets your needs.
To get the most out of a consultation, ask informed questions such as:
What are your attorney's fees?
What is your experience representing clients in birth injury cases?
What outcomes do you often see in cases you handle?
What is the statute of limitations for filing a birth injury lawsuit in my state?
How likely is a settlement before going to trial?
Once you have met with a birth injury lawyer and gotten your questions answered, you can begin an attorney-client relationship.
Look for a birth injury lawyer in the Super Lawyers directory for help with your birth injury case.
What do I do next?
Enter your location below to get connected with a qualified attorney today.
Additional Birth Injury articles
State Birth Injury articles
Related topics
Attorney directory searches
Helpful links
Find top lawyers with confidence
The Super Lawyers patented selection process is peer influenced and research driven, selecting the top 5% of attorneys to the Super Lawyers lists each year. We know lawyers and make it easy to connect with them.
Find a lawyer near you