What You Need for a Cannabis Business in San Diego
Tips to be in full compliance with California law
By Super Lawyers staff | Reviewed by Canaan Suitt, J.D. | Last updated on May 3, 2023 Featuring practical insights from contributing attorney Kimberly R. Simms
Use these links to jump to different sections:
Since November 2016, when the state of California legalized adult use of marijuana state-wide, the cannabis industry has taken off. For those looking to get involved with commercial cannabis, "There are typically two paths to take in order to become a licensee," says Kimberly R. Simms, a San Diego business attorney who advises legal cannabis companies. "Understanding the pros and the cons of those different paths is a critical business strategy."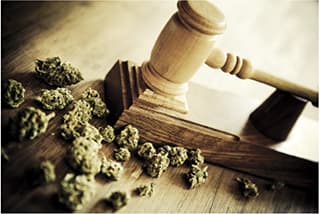 "The first would be to identify a municipality that still has open licensing, or will have open licensing in the future. It is important to really drill down and understand what that city's licensing process will be, including local cannabis tax rates," she continues.
"The other path is to look towards taking over operations that are already licensed and structuring that deal in a way that makes the most sense—from a corporate and tax perspective, as well as making sure that the deal structure contemplates any restrictions on the transfer of licenses at both the state and local level."
Here are four tips to help you be in full compliance with California state law and San Diego's municipal code with a cannabis license and permit.
Know the Relevant State and Local Cannabis Regulations
In California, marijuana businesses are regulated at both the state and local levels. Any company selling cannabis-related products in California needs a state license from California's Bureau of Cannabis Control (BCC). In addition, cannabis operations must get a local cannabis permit. Different cities have different rules on what exactly a company needs to do to get a cannabis business permit. Under California law, local governments have significant power to restrict these businesses. Indeed, municipalities can even prohibit marijuana businesses outright.
Under the Adult Use of Marijuana Act, municipal governments were instructed to pass local rules to regulate (or prohibit) cannabis activity. Along with many other cities, San Diego created a system to allow certain cannabis businesses to operate. The San Diego Municipal Code sets requirements for marijuana companies to open up within city limits.
Another problem is the lack of open opportunities. "It's important to understand that many cities have limits or caps on how many operations they will license," Simms says. "The city of San Diego, for example, limits its cannabis production facilities, or non-retail operations, to a maximum of 40 citywide and that maximum has been reached. Cannabis outlets, or retail operations, are limited a maximum of four per council district, 36 citywide. This limit has not been reached, but the reason is due to the fact that the zoning most likely does not allow for additional locations."
You Must Apply for and Obtain the Proper License
In San Diego, there are three different types of permits, the first two of which require a conditional use permit:
Cannabis production facility permit
Cannabis outlet permit
Cannabis testing facility permit
"Recently, many cities that have opened up licensing are proceeding with a merit-based application," meaning there is often a benefit to those who already have operations/experience in the industry or similarly regulated industries, Simms notes.
Merit-based applications can be a daunting task. "I've worked on applications with clients that are 100-plus pages," she adds. "Applications often include a business plan, including all standard operating procedures, a community benefits plan, labor and employment plan, safety and security plan, neighborhood plan, and equity plan—followed up by an in-person interview. You've got to give yourself a month or two to prepare something like this, not to mention finding the appropriate location."
Every city will put forth its own set of requirements and zoning restrictions. As an example, cannabis retail facilities often cannot open within 1,000 feet of a school, city playground, or licensed child care center. Similarly, non-retail licenses are often limited to industrial zones, sometimes with similar separation requirements.
Which brings us back to the zoning problem. "Finding a properly zoned location is challenging, competitive and costly. For someone that's looking to get into operations in the next six months, then trying to find that perfect property and go through the land use and zoning process is probably not the best bet," Simms says. "If someone is looking to move quickly, I often will recommend trying to ascertain or find a location that's already permitted so that we can structure some sort of transaction wherein they take over the operations."
Setting the Right Structure
Given these difficulties in obtaining a new license, Simms says several clients explore purchasing an existing company and license. Regardless, though, you need a solid business structure and plan in place to ensure that all legal requirements are satisfied.
"It's not something you're going to put together overnight," whether you are applying for a new license or obtaining an existing license. "And if it is something you think you can put together overnight, mistakes will inevitably be made. There's just no doubt about that."
Be Ready to Seek Professional Guidance
As a result of how complicated this process can be, seeking a reputable cannabis lawyer is a must.
"A lot of people don't understand how challenging it is to run a marijuana business. There are so many regulations, and it's not an easy industry to operate in. We have a lot of issues that we run into that make running a business very challenging," Simms says. "It's profitable, certainly, but the cannabis industry still faces many uphill battles that are of critical importance to understand before jumping into operating a cannabis business."
For more information on this area of law, see our overviews of cannabis law and business organizations.
What do I do next?
Enter your location below to get connected with a qualified attorney today.
Additional Cannabis Law articles
Attorney directory searches
Helpful links
Find top lawyers with confidence
The Super Lawyers patented selection process is peer influenced and research driven, selecting the top 5% of attorneys to the Super Lawyers lists each year. We know lawyers and make it easy to connect with them.
Find a lawyer near you