What Do I Need to Apply for a Nevada Marijuana License?
A business plan, access to funding, and a location... for starters
By Super Lawyers staff | Reviewed by Canaan Suitt, J.D. | Last updated on May 3, 2023 Featuring practical insights from contributing attorney Glenn H. Truitt
Use these links to jump to different sections:
In November of 2016, state of Nevada voters went to the polls and approved Ballot Question 2—a state measure allowing for the legalization of the recreational use of marijuana. In implementing the new marijuana law, Nevada regulators have created an application process whereby businesses can apply for a state marijuana business license.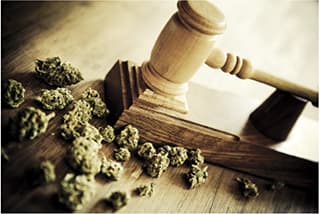 "Nevada, unlike other states, is a permissive licensure state," says Glenn H. Truitt, an attorney at iDeal Business Partners in Las Vegas who advises cannabis businesses. "They do not give licenses to everyone who qualifies and let the market decide. The idea is to award licenses only to those individuals that the state licensing authority feels would be viable in the future.
"So, the idea is a scoring algorithm, including both objective and subjective elements—all get reduced to a number and there'll be an aggregate score. The idea is to get the highest score possible across a dozen-plus sort of metrics for your business. If we're choosing 11 [license awardees], the top 11 scores will get licenses and everybody else will not. In general, that's the process."
Here, you will find an overview of the three of the most important things that you will need before your cannabis license application will be approved in Nevada.
A Viable Business Plan
A viable plan starts with knowing what exactly your business is going to do within the marijuana industry. Under state regulations, there are five types of cannabis-related licenses issued in Nevada:
Cannabis cultivation facility licenses
Distributor and transportation licenses
Marijuana product manufacturing facility licenses
Cannabis product testing facility licenses
Retail marijuana store licenses
Depending on the nature of your marijuana establishment, you may need to obtain any combination of these. Indeed, many marijuana industry companies in Nevada hold more than one license.
The Nevada Department of Taxation dictates the scoring algorithm, which considers, among other things, "Your fiscal feasibility, your location, your experience, the diversity in your leadership team," says Truitt.
Many early applicants have lobbed complaints regarding the subjective elements involved in the scoring, but the state has expressed interest in tweaking the process and making it more transparent. Truitt recommends researching the current scoring algorithm and figuring out where you stand.
"Like any business advice, you say, 'Do what you're good at, then get help with the rest,'" he says. "Understand all the elements you need to have and then seek professional assistance with the ones that are difficult. Now, routinely, this is not done by attorneys because the number of hours it requires is a better fit for a consulting practice."
That said, there are other areas where an experienced cannabis attorney will come in handy.
Access to Sufficient Capital
"The area we see the most problems is getting the money," Truitt says. "Most potential licensees don't understand that they can't just take money from family and friends as investors without doing paperwork as private security. So that's the area where we think it's first prudent to get an attorney involved."
Nevada state law requires cannabis industry businesses to prove that they have access to sufficient capital to launch and support their commercial operations. Starting a marijuana business in Nevada is not cheap—to obtain a state license for a marijuana retail store companies must pay at least $20,000 in fees. Of course, that is just one aspect of the total costs.
For example, Truitt says: "We say that you should have $100,000 for your professional budget—that's finance, strategies, consulting, legal, all that." As far as the business is concerned, it depends on the size and type, but even a small retail operation will likely need at least $1 million.
"You need to have the money, not only to start up but to get to profitability," Truitt adds. "The second part is where people fall short because opening your doors for business is not profitability."
An Approved Real Estate Location
Finally, marijuana industry businesses need to find a location that is acceptable. State regulators will carefully review the location and the specific premises to ensure that it meets all relevant legal standards. Notably, this includes following all local land use and zoning requirements. To be clear, marijuana businesses are not allowed in certain local jurisdictions in Nevada. You must find a location that permits the operation of a cannabis business.
"Obviously, you can't get a mortgage for a property like this and people don't have the capital on hand to buy real property, especially commercial real properties, with cash. We help them navigate a hard money mortgage, which is often challenging," says Truitt.
"Cannabis isn't a type of law. It's a type of business. You need a business lawyer that knows about cannabis," he continues.
That said, be sure you're dealing with reputable counsel. "I think a lot of scam artists are out there who understand that cannabis is sexy, so people are looking for help and they get those people's money and convince them that they need this level of assistance. I'm aware of people who have spent seven figures plus on seeking a license and ended up empty handed."
For more information on this area of law, see our overview of cannabis law.
What do I do next?
Enter your location below to get connected with a qualified attorney today.
Additional Cannabis Law articles
Attorney directory searches
Helpful links
Find top lawyers with confidence
The Super Lawyers patented selection process is peer influenced and research driven, selecting the top 5% of attorneys to the Super Lawyers lists each year. We know lawyers and make it easy to connect with them.
Find a lawyer near you