An Overview on Toxic Torts Law
When injury was caused by exposure to dangerous chemicals
By Super Lawyers staff | Reviewed by Canaan Suitt, J.D. | Last updated on February 28, 2023
Use these links to jump to different sections:
Toxic tort cases are a special type of personal injury lawsuit that can be pursued by a single person or a group of people in class actions. Plaintiffs in toxic torts litigation are individuals who have suffered negative effects from exposure to dangerous substances—whether the toxic exposure happened at home, work, or from the water supply.
This overview is designed to help you understand the basics of bringing a toxic torts claim, as well as examples of chemicals and diseases commonly involved in these cases. Toxic torts cases can be complicated, and some elements are difficult to prove. This overview will help you evaluate whether you want to seek the assistance of a lawyer or not.
Overview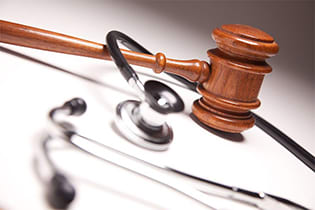 When you're injured by the actions of someone else, you may be able to bring a personal injury case against them. Personal injury is a broad area of law (also called tort law) that covers everything from car accidents to medical malpractice and mesothelioma cases. Products liability is a related area of law dealing with personal injuries that result from defective products. There are different theories of liability in tort law, which you will use depending on state law and your situation. When your personal injuries result from exposure to dangerous chemicals, you may have a toxic torts case.
Proving a Case
Proving your case can vary by jurisdiction and specific case, but generally you need to prove the following elements:
The substance was dangerous,
You were exposed to it, and
The exposure caused your injuries
Exposure can happen at work or at home, and you might also be exposed to dangerous chemicals through medications or other consumer products. You may choose to prove your case using negligence, strict liability, or fraud.
Negligence
To prove a case based on negligence, you will first need to show that the responsible party owed you a duty of care to provide you a safe environment or to make products that don't harm people. To establish the standard of care in a negligence case, a judge or jury will look at what a reasonable person would have done in the same or similar situations. You may need expert witnesses to testify as to the proper standards or procedures used within a profession or industry when establishing the standard of care.
You will then need to show that the defendant breached their duty of care by acting recklessly or carelessly, and that their breach of duty was what caused your harms.
Strict Liability
Some toxic torts are better proved using strict liability, which doesn't require you to show the other party was reckless or careless. In these cases, you will be able to use the fact that there was a defect with a product to show that the other party breached their duty. This is usually the preferred legal theory when you were harmed by a prescription drug or something similar.
Fraud
You might consider making an argument about fraud if you believe that the other party knew the substance that harmed you was dangerous, and concealed the danger or used misleading statements suggesting that the substance was safe. In these cases, it will be necessary to show that the other party had a legal obligation to disclose hazards.
In every case, causation will be the most difficult element to prove because effects of exposure to toxic substances can often take years or even decades to manifest. The other party will likely try to argue that your injuries were not caused by their products or on their premises, and were instead caused by an intervening cause.
Examples
Because the effects of exposure can take so long to become obvious, it can be difficult to identify what chemical caused your injuries or illness. Some examples of chemicals involved in toxic tort cases include:
Nerve agents
Mercury
Asbestos
Pesticides
Silica
There are also some diseases that are commonly caused by exposure to dangerous substances. If you are diagnosed with any of these, you may want to investigate whether you were ever exposed to a toxic chemical:
Asbestosis or mesothelioma
Hodgkin's disease
Leukemia
Lymphoma
Common Questions for an Attorney
Below are some common questions you might want to consider when meeting with a personal injury lawyer or toxic torts attorney for the first time.
Can I sue for chemical exposure?
What is the statute of limitations for bringing a toxic tort action?
What is a mass tort action?
How do I join a class action to sue for my injuries?
How do I know what chemical caused my injuries?
Will damages cover my medical expenses?
Am I eligible for workers' comp for occupational exposure to hazardous substances?
Finding the Right Attorney for Your Needs
It is important to approach the right type of attorney—someone who can help you through your entire case. To do so, you can visit the Super Lawyers directory, and use the search box to find a lawyer based on your legal issue or location.
To help you get started, you may want to consider looking for a personal injury lawyer with experience handling toxic torts.
Why Should I Talk to a Lawyer?
Because it can be hard to identify the cause of your injury or where you were exposed to harmful chemicals, it will be helpful for you to speak with an experienced attorney. Lawyers will be able to look at your medical and work histories to help you identify when and where you were exposed to toxic substances. They will also be able to obtain necessary documents from your employer, doctor or landlord to help you prove your case, and they can interview potential witnesses and get expert testimony as needed.
A lawyer will further be able to anticipate potential problems with your case and advise you on how to approach them, as well as keep track of deadlines and file all the paperwork with the necessary courts and agencies—giving you one less thing to worry about.
What do I do next?
Enter your location below to get connected with a qualified attorney today.
Additional Class Action/Mass Torts articles
State Class Action/Mass Torts articles
Attorney directory searches
Find top lawyers with confidence
The Super Lawyers patented selection process is peer influenced and research driven, selecting the top 5% of attorneys to the Super Lawyers lists each year. We know lawyers and make it easy to connect with them.
Find a lawyer near you