Can You Sue If Social Services Takes Your Kids?
What South Carolina attorneys look for in cases against DSS
By Trevor Kupfer | Reviewed by Canaan Suitt, J.D. | Last updated on May 2, 2023 Featuring practical insights from contributing attorney Lee D. Cope
Use these links to jump to different sections:
Diane and Otis Bass have three special needs children and work as hard as they can to provide for their family—even collecting cans to save up money for Christmas. Two of their children are on the autism spectrum, and were prescribed Clonidine to help them sleep. In April 2008, they were given a concentrated dose of the drug that was so severe it led to hospitalization. The South Carolina Department of Social Services received an alert that the children had possibly been poisoned.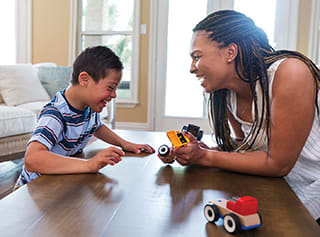 "The hospital staff did exactly what they're supposed to do," says Lee D. Cope, an injury attorney in Hampton who handled the case along with John Koon and Jamie Walters.
"Then DSS gets involved. They show up at the hospital, stick their head in, look at the children in the hospital bed, and inform the mother and the father they have to be at the DSS office tomorrow morning. So, mom goes to the DSS office, and the first thing out of the caseworker's mouth is, 'The children cannot go home.' There's no mention of a discussion with the nurses or doctors. There was no request for the medication administration records. There was no documentation of any drug testing that was performed. Nothing. So clearly DSS had not done anything to investigate these allegations that the parents may have contributed to their children's injury."
The children were removed from the home. But had DSS done their due diligence, they would have known that the hospitalization was due to a mistake on behalf of the compounding pharmacy, not the parents. After a weeklong trial, the jury sided with the Bass family and awarded them $4 million.
"I think that the jury, rightfully so, looked at this case and decided that it was a substantial damage for the children to be ripped out of their parents' arms. Especially when the parents are still struggling to try to figure out what happened to them," Cope says. "The greatest loss this family could suffer was being torn apart."
CPS Investigations and Family Members Suing
Cope has considered several DSS cases since, and one of his first questions is: Was there a family court hearing before removal? "The gatekeeper function of the judge is a needed tool, I believe, to make sure there's sufficient evidence to remove the kids from their families," he says.
Of the utmost importance to whether or not you have a case is the facts. "We try to get the records to determine what facts the DSS employees or agents are working off of," Cope says.
"In any type of institutional case, whether it's a DSS case, a nursing home abuse or neglect case, or otherwise—on its face, it won't look like much of anything. You really have to get the records and dig in to find out what was available to them when they make these really, really impactful decisions."
Cope doesn't agree to take on many of these cases because, often, there is evidence to support the DSS claim. "If there's an allegation that there's drug abuse in the home or there's domestic violence in the home and they're trying to remove them from that, we as lawyers need to be asking those tough questions. We've got to get the full picture," he says. "But it's only after you've done the legwork and looked at the evidence to know whether or not there's a foundation for their decision."
What Damage is at Stake?
In injury cases, a judge or jury can assign punitive damages to punish an offending party, as well as compensatory damages to try to make up for what the victim(s) lost. This includes medical costs, lost income, pain and suffering, and emotional distress.
"We actually brought in a psychiatric expert to talk about the impact this can have on children throughout their lives because it's disrupting a routine and they're not with the people that they love. One of the children who was especially distraught by this removal from family needed counseling," Cope says of the Bass case. "A big part of your damage claim is that time they were removed from their family. I think the jury can rightly look at that and say, 'That's an enormous injury to our family.'"
Diane Bass could hardly eat or sleep during the ordeal. And when she was about to take the stand as a witness in the trial, something happened that Cope will never forget.
"She said, 'You're sure they're not going to come back and take my children, right?' Even years after she had her kids back and the trial was going really well, her overriding fear was they were coming back to get her kids. If I could not have looked her in the eye and given her an assurance that we weren't going to let that happen, she would have never testified. She would have dropped the case right then and there."
Getting Legal Help
If you think child protective services has wrongfully taken your children, you may want to consult with an experienced family law attorney for legal advice and to possibly sue CPS.
Lawyers take these cases on a contingency fee basis, meaning they only get paid the case wins or settle. In that event, the attorney commonly takes one-third of the award, plus any accrued fees.
"South Carolina law says that children belong with their parents. We shouldn't have a government agency coming into our homes imposing their individual biases on how to raise our children. This is the parents' job," Cope says. "Anytime we as lawyers can get somebody's kids back home when DSS overstepped their bounds, we should be there for them."
For more information of this area of family law, see our overviews of injury law and child custody law.
What do I do next?
Enter your location below to get connected with a qualified attorney today.
Related topics
Attorney directory searches
Find top lawyers with confidence
The Super Lawyers patented selection process is peer influenced and research driven, selecting the top 5% of attorneys to the Super Lawyers lists each year. We know lawyers and make it easy to connect with them.
Find a lawyer near you