Can I Get Visitation Rights in Virginia If I'm Not a Parent?
How Virginia law views grandparent and other third-party child custody issues
By Super Lawyers staff | Reviewed by Canaan Suitt, J.D. | Last updated on May 2, 2023 Featuring practical insights from contributing attorney Dennis M. Hottell
Use these links to jump to different sections:
Under Virginia law, a grandparent, adult sibling, stepparent or other family member may be able to obtain visitation rights to a minor child. However, it is not necessarily easy to do so.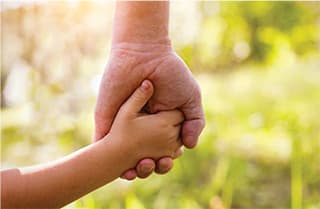 "It's very complicated—even for the judges," says Dennis M. Hottell, an attorney with Maddox & Gerock in Falls Church. "If judges grapple with this, you can imagine what it's like for a general practitioner—someone not experienced in custody issues."
Here are the most important things that you need to know about third-party child custody and visitation rights in Virginia.
Parties With a 'Legitimate Interest' May Be Granted Visitation
Any third party that has a "legitimate interest" can potentially be granted child visitation rights.
"Virginia is one of the few states that has a very broad definition of 'legitimate interest,'" Hottell says. "A lot of states say it's got to be a blood relative, which would exclude stepparents, but our statute says, 'It should be broadly construed to accommodate the best interest of the child.' So, Virginia is pretty liberal on legitimate interest."
Although there is a clear legal process in place for third-party visitation rights, it should be noted that it is often challenging if it involves objections of the child's parent.
Courts Give 'Due Regard' to Parental Rights
Virginia law requires state courts to give "due consideration" to the parent-child relationship. In practice, this means that courts will generally presume that the biological parent is in the best position to make lifestyle choices for their child. In other words, courts may be reluctant to give custody rights and visitation rights to a non-parent when the parent refuses to offer their consent.
"What I ask people when they're seeking visitation, the first question is, 'Does one of the parents support your petition?' If the third-party has the support of at least one parent, it is much easier for the third-party to obtain custodial or visitation rights," Hottell says. "If they do not, then you're up against a united front and you might not be able to overcome it."
When it comes to third-party custody and visitation, he adds, many look to the 2000 Supreme Court case Troxel v. Granville. "It stands for the proposition that parents have the fundamental right or interest in the care, custody and control of their children's upbringing. But Troxel didn't say that authority is infinite or unlimited. It recognized there could be special factors that exist and allow the court to interfere with that presumption. They said the state courts are best equipped to address this."
In the case of Virginia, Hottell points to the 1986 case Bailes v. Sours, which dictated the special circumstances in custody challenged by a third party. The case outlines five factors that courts can consider to rebut a parental opinion:
Parental unfitness, substance abuse or mental health
Parental abandonment
A previous custody order of divestiture—"meaning a court order that granted a third party custody, joint custody, or visitation rights," Hottell says
Voluntary relinquishment of custody of the child—a parent gave the third party custody
A finding of special facts and circumstances constituting an extraordinary reason for taking physical custody of a child from its parent or parents (such as child abuse or domestic violence)
The Best Interests of the Child
Virginia law states that family courts can grant third-party visitation rights when presented with "clear and convincing evidence" that the best interests of the child would be properly served by such an arrangement. If one parent testifies on behalf of the third party, Hottell says the judge may proceed straight to the "best interest" standard. This is a consideration of all factors material to creating an environment that best promotes a child's health, safety, emotional well-being, and social development.
Custody and visitation cases are always complicated and have a lot of nuances, Hottell adds. As clear and convincing evidence must be provided, it is imperative that third parties protect their legal rights and get legal advice from an experienced Virginia child visitation family law attorney. If you'd like more general information about this area of the law, see our custody and visitation law overview.
What do I do next?
Enter your location below to get connected with a qualified attorney today.
Related topics
Attorney directory searches
Find top lawyers with confidence
The Super Lawyers patented selection process is peer influenced and research driven, selecting the top 5% of attorneys to the Super Lawyers lists each year. We know lawyers and make it easy to connect with them.
Find a lawyer near you