How To Pay for a Drug Charge Attorney
Heavy expenses up front can potentially lessen your burden later on
By Tim Kelly, J.D. | Reviewed by Canaan Suitt, J.D. | Last updated on May 16, 2023
Use these links to jump to different sections:
When confronted with drug charges, it's best to seek the services of a criminal defense attorney as soon as possible. However, that's never as easy as it sounds. Finding an affordable attorney can be difficult. This is why many criminal defense lawyers offer various fee structures to meet the financial constraints of their clients.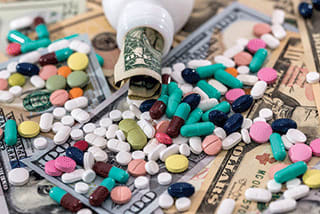 In the United States, you can face serious criminal repercussions from law enforcement for drug charges. People face criminal drug charges when they are found to be in the illegal possession of a controlled substance. Controlled substances are drugs that the federal and state governments have deemed to pose a risk of addiction or harm when abused or misused.
If you're wondering how a drug charge defense attorney is paid, keep reading to learn about the various options standard in the criminal defense industry.
What You Need To Know
When charged with drug crimes, there's no time to waste in securing your legal defense.
Still, every defendant has different financial considerations they must weigh in seeking out a competent criminal defense.
Location and experience play significant factors in how much an attorney charges for their services.
Most criminal defense attorneys offer multiple payment structures allowing their clients to select the option that best suits them.
Weighing Your Financial Options
Time is of the essence when you have been charged with a drug offense such as possession of a controlled substance or drug trafficking. It would be best if you struck a balance between moving quickly and gathering the proper amount of information to allow you to determine whether a particular attorney is a fit for your needs. In addition to finding an attorney that has experience fighting drug charges, you must also be sure that you can afford your services. As you might expect, the best criminal defense isn't cheap.
Criminal defense attorneys can cost anywhere between $100-400 an hour. Because of this, it helps to figure out what you're willing to pay an attorney before you begin attending initial free consultations. Consider that you can often save many in the long run by paying for the best legal defense from the very beginning, securing the best possible outcome in the long run.
Initial Down Payments Are Common
After you've attended some initial consultations with drug crime defense attorneys in your area, it's time to make a final selection. Whichever payment structure you and your defense lawyer agree on, you will probably have to make an initial payment to secure your attorney's services.
Factors That Affect Criminal Defense Attorney Costs
Many factors can affect how much you will need to pay for a criminal defense lawyer before you even begin attending initial consultations. Here are some of the determining factors that affect the cost of your legal representation in your criminal case:
Geographical location: The cost of a criminal defense lawyer varies throughout different parts of the country. You can expect to pay higher legal fees in densely populated areas like Los Angeles and New York City. In rural or suburban areas, criminal defense costs tend to be lower in comparison but still pricey.
Attorney experience: Criminal defense lawyers and law firms with significant expertise and in-court know-how will charge higher attorney fees. However, this experience can prove invaluable and save you in the form of legal fines and other significant penalties later on.
Severity/nature of charges: This is where the facts of your drug charges come into play. When you stand accused of drug crimes, the complexity of the case and the type of drug play into the general attorney fees. For example, misdemeanor drug possession often requires fewer billing hours and prep work than felony drug charges. If a simple misdemeanor can be quickly resolved without court appearances, you can expect to pay less in legal fees. How much your lawyer costs will greatly depend on what type of case you have. In a felony case, expect to pay considerably more.
Court costs and trial: How much a drug crimes lawyer charges can often be affected by factors outside their control, such as the cost of court filing fees and expert witnesses. These are issues that you must consider should your case go to trial.
Payment Methods For Criminal Defense Attorneys
The criminal legal industry is vast, and many criminal defense lawyers accept one or several of the following fee structures. This is information you can gather early, either by phone call or during your initial consultation.
Free through public defense: Technically, this isn't a payment method. Still, it's worth mentioning up front: you have a right to an attorney in the United States. If you do not have the means to pay for an attorney, the court can appoint you a public defender. The qualifications and thresholds vary from state to state, so ask the presiding court to obtain criminal legal defense for you if you cannot afford it. If you have the means to pay for your legal defense, you will need to seek out the services of a private lawyer.
Flat fee: This is where the attorney charges an upfront, one-time fee that covers all expenses in addressing the criminal matter. The flat fee is one of the most common and straightforward methods of paying your criminal defense attorney. While this can be a reasonable way to pay for legal costs, one potential drawback is that the size of the fee can be rather large depending on the complexity of the case.
Retainer: Retainers are another common form of legal defense in drug cases and in general. Retainers are where a client deposits cash to an account that the attorney withdraws from as they work on your case. The private attorney works off the retainer until it runs out, at which point the client will need to put more money into the account. Typically, there is a minimum balance limit that the client and criminal defense attorney have agreed to before they begin working on the case. Retainer fees can be a great way to pay for your defense if you are able to keep the account funded.
Financing plan: This method works no differently than financing a piece of furniture or a car. Here, the criminal defense lawyer is paid upfront through a personal loan taken out by the client. The client then pays the loaner back over time, usually plus interest. This option can seem like quick relief, but those interest charges can become costlier over time.
Payment plan: Here, you pay the attorney directly over a set period through installments. Depending on the amount of time you have to pay back your attorney, these installments can range from affordable to near impossible, factoring in your financial limitations. If you go this route, make sure that the monthly installments fit your overall household budget.
Finding the Right Drug Charge Attorney
You must seek the right attorney from the outset—someone with experienced legal knowledge in defending drug charges. The right attorney will look at the facts of your case and determine the best course of action. Your attorney will present you with their informed legal advice as they work to resolve your matter and hopefully keep your criminal record clean. Visit the Super Lawyers directory and search for a Drug & Alcohol Violations attorney in or around your local area.
Should I Speak With a Drug Lawyer?
It is always good to speak with an experienced attorney when you're facing legal repercussions for a drug charge. An experienced criminal defense lawyer versed in drug charges can look at the facts of your case and provide you with invaluable legal advice. Your defense attorney can assist you in dealing with the prosecution and any potential plea agreements to be negotiated. You can never underestimate the benefit of a solid attorney-client relationship for these reasons.
A skillful drug charge defense attorney knows the ins and outs of the legal process, providing you essential peace of mind during a difficult time in your life.
To learn more about this area of law, see our overview on drug and alcohol violations.
What do I do next?
Enter your location below to get connected with a qualified attorney today.
Additional Drug & Alcohol Violations articles
State Drug & Alcohol Violations articles
Related topics
Attorney directory searches
Find top lawyers with confidence
The Super Lawyers patented selection process is peer influenced and research driven, selecting the top 5% of attorneys to the Super Lawyers lists each year. We know lawyers and make it easy to connect with them.
Find a lawyer near you