What To Do When Facing Drug Charges
Tips for forging a strong legal defense
By Tim Kelly, J.D. | Last updated on April 6, 2022
Use these links to jump to different sections:
If you're facing criminal drug charges such as drug possession or drug trafficking, it's never too early to consider your legal defense. Criminal cases for drug crimes can be complex, time-consuming and stressful.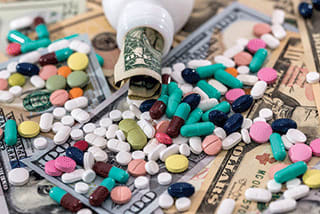 In the United States, you can face serious criminal repercussions for drug charges. People face criminal drug charges when they are found to be in the illegal possession of a controlled substance. Controlled substances are drugs that the federal and state governments have deemed to pose a risk of addiction or harm when abused or misused.
Whether you're facing possession or trafficking charges, you should know your constitutional rights under the law. Serious drug possession charges can lead to some of the harshest punishments in criminal law. Educate yourself on this complicated area of law before seeking legal representation.
What You Need To Know
Nobody wants to be charged with drug offenses, but it's best to stay clearheaded as you prepare for your criminal defense.
It will be best to understand your rights before, during and after your arrest on drug charges.
Once you've reviewed the facts of your case and the crimes with which you've been charged, you must begin seeking a defense attorney.
Work with your attorney and heed their legal advice as your criminal case proceeds.
Confronting Your Drug Charges Head-On
When confronted with criminal prosecution for drug offenses, it's best to stay level-headed. This long and complex process can lead to severe legal penalties, but there are ways to mitigate these risks with the proper know-how and legal representation.
Know Your Rights When Facing Drug Charges
If you are stopped by law enforcement, it is important to understand your constitutional rights.
First, the Fourth Amendment prevents United States citizens from being unlawfully searched or having their property unlawfully seized. This means that a police officer needs to have a reason to stop you. In the criminal justice system, this is referred to as "probable cause." To have probable cause, an officer must be working off more than mere suspicion. For example, if a police officer approaches you and encounters a heavy odor of marijuana around your person, that might give them enough probable cause to detain and search you.
If police detain you, know that you do not have to speak with them and can instead invoke your constitutional right to an attorney. An effective criminal defense attorney can analyze the facts of your case and determine if your constitutional rights were infringed upon by law enforcement. Any evidence that has been deemed to be obtained unlawfully will be inadmissible against you in criminal court.
Your rights extend far beyond your initial arrest. You are entitled to have an attorney present with you during the investigation and court proceedings. This includes criminal lineups and interrogations. Don't hesitate to request that an attorney be present whenever questioned.
Study the Facts of Your Case
Before you seek out an attorney, sit down and gather the facts of your case. This means reviewing your criminal report and any other documentation provided to you by police. While you don't need to memorize your case or get too in-depth with the law, it helps to have at least an understanding of what you're up against before you relay your situation to legal professionals.
Hire a Criminal Defense Attorney
If you're worried about the costs associated with a criminal defense attorney, consider that delaying hiring an attorney can lead to a shoddy, haphazard criminal defense strategy. This could lead to more severe penalties in the form of hefty fines and more jail time.
While you should never spend beyond what you can afford, it's best to assess your financial outlook and begin your search for an affordable, experienced criminal defense attorney right away. It may save you money in the long run to have an attorney with you from the beginning.
Work With Your Attorney To Seek a Resolution
If you've been charged with drug offenses, a solid attorney-client relationship built on mutual trust can be effective in avoiding severe drug crime penalties such as fines or jail time.
A criminal defense attorney's job is to inform clients of their options and advise on the next steps. This can involve working with criminal prosecutors to negotiate a plea bargain. While you can go it alone, the criminal justice system is not friendly to novices, especially if your case goes through a trial.
Finding the Right Drug Charge Attorney
You must seek the right attorney from the outset—someone with experienced legal knowledge in defending drug charges. The right attorney will look at the facts of your case and determine the best course of action. Your attorney will present you with their informed legal advice as they work to resolve your case. Visit the Super Lawyers directory and search based on your legal issue or location to begin your search.
Search for a Drug & Alcohol Violations attorney in or around your local area.
Should I Speak With a Criminal Defense Attorney?
The sooner you seek effective legal representation, the better. Even if you anticipate being charged or served with a search warrant, it is never too early to sit down with an experienced attorney for a free consultation.
It is always good to speak with an experienced attorney when you're facing legal repercussions for drug charges. An experienced criminal defense lawyer versed in drug charges can look at the facts of your case and provide you with invaluable legal advice. Your defense attorney can assist you in dealing with the prosecution and any potential plea bargains to be negotiated.
A skillful drug charge defense attorney knows the ins and outs of the legal process, providing you essential peace of mind during a difficult time in your life.
What do I do next?
Enter your location below to get connected with a qualified attorney today.
Additional Drug & Alcohol Violations articles
State Drug & Alcohol Violations articles
Related topics
Attorney directory searches
Find top lawyers with confidence
The Super Lawyers patented selection process is peer influenced and research driven, selecting the top 5% of attorneys to the Super Lawyers lists each year. We know lawyers and make it easy to connect with them.
Find a lawyer near you