How To Find the Best Drug Charge Defense Attorney
Ease your search with a few quick tips and methods
By Tim Kelly, J.D. | Reviewed by Canaan Suitt, J.D. | Last updated on May 15, 2023
Use these links to jump to different sections:
While no one ever wants to face drug crime charges, having a great criminal defense lawyer at your side can sometimes make all the difference between a plea agreement and jail time.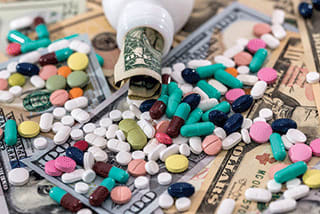 In the United States, you can face serious criminal repercussions for drug charges. People face criminal drug charges when they are found to be in illegal possession of a controlled substance. Controlled substances are drugs that the federal and state governments have deemed to pose a risk of addiction or harm when abused or misused.
Finding a lawyer can seem like an intimidating and time-consuming prospect if you're facing criminal charges such as drug possession or drug trafficking. But the good news is that you have many options, each of which can lead you to an experienced drug crimes lawyer.
What You Need To Know
Criminal cases involving controlled substances can lead to jail time
Finding the right criminal defense attorney right away can be the key to forging a competent legal defense
There are a variety of ways to find lawyers, such as testimonials from friends and family, bar associations, and third-party online databases
Seek a trustworthy attorney that has experience defending the sort of drug crimes with which you've been charged
How To Research Drug Charge Defense Attorneys
When facing drug charges, it's imperative to consider your legal defense as soon as possible. Consulting an experienced criminal lawyer is the first and best step in mounting a legal defense.
Here are three steps you should consider taking to find a competent criminal defense lawyer:
1. Know Your Charges
Drug cases, especially serious criminal drug charges, can take a significant amount of time to make their way through the criminal justice system. From the outset, you should familiarize yourself with what drug laws you've been accused of violating. Here are some questions you should be prepared to answer should a defense lawyer ask:
Were you brought up on misdemeanor or felony drug charges?
What type of drugs were you accused of handling?
What information, if any, did you provide willingly to police officers?
Were any drug paraphernalia found on your person?
Have you been charged with drug crimes in the past?
Do you have a criminal record?
Your drug defense attorney will ask questions regarding your most recent charges and your criminal record if you have one. Any information you can convey to your attorney will save them valuable time and effort that can be dedicated to other areas of your defense. It's best to go into any consultation prepared with any documentation provided to you by law enforcement and a history of your criminal record.
2. Survey Your Resources
Whether you're facing misdemeanor or felony drug charges, the good news is that there are various methods at your disposal for getting in touch with an attorney. Here are a few suggestions as you seek capable drug crime defense:
Referrals: One of the best ways to find competent legal representation is by seeking testimonials of past legal experiences from family and friends. Do you have a relationship with anyone who has faced hardship as serious as fighting a drug offense? Ask loved ones and people you trust about their experiences, if any, with criminal lawyers.
Local Bar Associations: Searching through state and local bar associations can be a great way to secure representation. Perform a quick internet search for state bar associations. These websites often include databases for local attorneys. Most of these databases allow you to seek attorneys by your location or through the area of law you're searching.
Third-Party Services: Locking down a great attorney can help with your time and stress levels. If you've been charged with drug crimes, consider visiting the Super Lawyers directory and searching for a drug & alcohol violations attorney in or around your local area.
3. Reach Out to Attorneys and Attend Free Consultations
Once you've compiled a list of attorneys in your area, it's time to start contacting them to schedule meetings. Most attorneys typically offer free consultations where they can learn about your case, and you can ask questions to determine if they're the right fit for your needs.
Best Traits To Look For in a Drug Charge Lawyer
If you're going through the trouble of finding a great drug lawyer to represent you, it would be best to consider a few critical factors before hiring. Here are some characteristics to look for when seeking a drug offense lawyer:
Local Practice
Criminal charges involving controlled substances can often be a tangled mess of state and federal drug charges. Seek out attorneys that have legal practice experience fighting serious charges in your area.
Whether you're being prosecuted by the local district attorney or the federal government, you'll want a lawyer that knows both the jurisdiction and the prosecutors. A lawyer well-versed in fostering plea agreements could be just the ticket for avoiding jail time.
Skillful Experience Defending Drug Charges
It cannot be stressed enough how important it is to find an attorney that has worked on cases similar to yours. Don't be afraid to ask attorneys about their experience defending these crimes. Asking the right questions early on can avoid potential headaches for you and any potential law firms when it's too late.
Trustworthy
You'll need a lawyer you can trust if you've been charged with misdemeanor possession of marijuana or something more severe like drug trafficking. A strong attorney-client relationship with open communication and trust can be the key to your criminal defense.
Should I Speak With a Criminal Defense Lawyer?
It is always good to speak with an experienced attorney when you're facing legal repercussions for a drug charge. A criminal defense lawyer experienced in drug charges can look at the facts of your case, give invaluable legal advice, and help provide you peace of mind during a difficult time in your life.
Search the Super Lawyers directory to find an experienced drug & alcohol violation attorney in your area. To learn more about this area of law, see our overview on drug and alcohol violations.
What do I do next?
Enter your location below to get connected with a qualified attorney today.
Additional Drug & Alcohol Violations articles
State Drug & Alcohol Violations articles
Related topics
Attorney directory searches
Find top lawyers with confidence
The Super Lawyers patented selection process is peer influenced and research driven, selecting the top 5% of attorneys to the Super Lawyers lists each year. We know lawyers and make it easy to connect with them.
Find a lawyer near you