Connecticut Employee Rights in the COVID Era
What does a return to the office look like?
By Amy White | Last updated on January 20, 2023
Use these links to jump to different sections: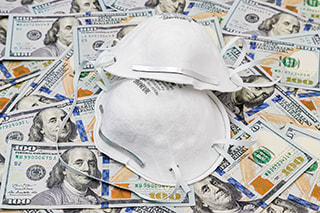 As Connecticut workers begin to head back to their workplaces, there will be many questions about protections, safety, COVID-19 pandemic protocol and work-from-home-continuations. The problem, according to 
employment and labor attorney Mary Kelly
, is that the answers to many such questions are a bit murky. "All of these [employment] statues were created for other reasons and being 
applied
 to COVID," she says. "It's very hard to know right now how the law will evolve, but it will—and labor and employment law probably evolves faster than most." Kelly weighs in on some frequently asked questions below:
How Protected Am I?
How protected you are is really dependent on what job you have, where you work and whether you have a disability. Like most things right now, the law is sort of spotty. There is a right here, and a right there, and maybe a right over there: You may be covered by three statutes, or not any. It's very tricky. There is no one-size-fits-all, which is frustrating to both employers and employees.
Will There Be Options for Parents Who Work Full-Time and Have a Virtual Learner at Home?
The answer is, for most Connecticut employers, if your school is open—as in, if your child could go to school—then there really isn't any requirement for accommodating you to work from home. If a school or childcare provider is closed, the Families First Coronavirus Response Act could cover up to 10 weeks of paid time at two-thirds pay. However, some parents in this position might find that their employers are flexible, as a result of most employees trying to keep social distancing and a safe workplace. An employer might find if someone can work remotely, it actually works out for them.
What if I'm Just Genuinely Afraid to Return?
There are legitimate fears of going back. Those fears may be related to a health condition or age. One of the biggest protections is ADA [Americans with Disabilities Act]. If you have a disability, and you can perform the essential function of your job at home without causing your employer an undue burden, then your employer should try to accommodate you. An employer can choose between effective accommodations, but for some disabilities only remote work will be effective. There have been a lot of questions about what are 'essential functions,' and what part of being in the office is 'essential.'
What Risk Factors Require Accommodation?
Employers are obligated to accommodate people who have a disability or who are pregnant, but there is no requirement to accommodate if the risk factor is age. Again, all of these statues were created for other reasons and being applied to COVID. There's also no requirement for an accommodation because you have someone in your family who has a serious health condition whom you don't want to expose by returning to the work place. You might be entitled to an accommodation because 
you 
have asthma, but you are not entitled to accommodation under the Americans With Disabilities Act because your husband may be going through chemo.
If I Get COVID, Can My Boss Tell My Coworkers?
You are protected by privacy provisions, so, no, your employer should not disclose that Bob has COVID. They can disclose that an employee who was working the first shift in Building L has tested positive, and then begin contract tracing by going to those employees, who may have been exposed. But they need to keep your identity private.
Can My Employer Make Me Get the Vaccine When It's Available?
Perhaps. Generally, employers will encourage employees to get a COVID-19 vaccine, like the flu shot, rather than require it. But an employer arguably can require it. Again, employees who are pregnant or have a disability may ask for accommodations related to vaccine exemptions and resulting unemployment benefits.
Can My Employer Put Travel Restrictions on Employees?
If you travel somewhere, say Florida, a private employer can't tell you what you can or can't do on your own time. But he or she can tell you that you have to quarantine for 14 days according to the CDC and not come into the office.
If I Worked From Home This Long, Why Can't I Just Keep Doing It?
A lot of people have decided they really like work from home, and are asking, 'Why can't I just do this forever?'. The EEOC [Equal Employment Opportunity Commission] has said pretty clearly if an employer chose to voluntarily make an accommodation during a pandemic, that does not mean they have to do it forever. The real question to ask is, 'Am I able to perform the essential functions of my job at home without causing an undue burden to my employer?'
What if My Employer Isn't Following COVID Protocol?
If you go back to work and no one is wearing masks and no one is cleaning or social distancing, I'd first advise speaking with your employer and trying to resolve it. If that doesn't work, you may have to contact OSHA [Occupational Safety and Health Administration]. In most cases, medium- to large-sized employers might not even be aware of the problem, but small-business owners most likely are. The problem is, you don't control your workplace. So do you quit your job? Then you may potentially delay or even forfeit unemployment. Sure, OSHA can come investigate and request additional information, but in the meantime, you either go to work or you don't. These are the tough conversations I've been having with nurses and teachers for months. The best advice I have is to try to work it out if you can, and seek legal advice about Connecticut law if you cannot reach an agreement. Everything evolves, and what I think is going to be interesting is how things change in different parts of the country as we take time to come to a consensus. What a district court in the State of Connecticut decides may not be the same as the court in Georgia or Minnesota. Also count on work environments evolving. No one would have thought five years ago that a professor could teach his or her students online. If you couldn't be there, you couldn't teach. But I think a lot of things will be different going forward. In the meantime, I think simply reaching out to the employers is a good start—there's a lot of empathy going around right now. If you have questions or concerns about your rights as a worker, an experienced 
Connecticut employment lawyer
 can help. For more general information about this area of law, see our 
employment law overview
.
What do I do next?
Enter your location below to get connected with a qualified attorney today.
Related topics
Attorney directory searches
Find top lawyers with confidence
The Super Lawyers patented selection process is peer influenced and research driven, selecting the top 5% of attorneys to the Super Lawyers lists each year. We know lawyers and make it easy to connect with them.
Find a lawyer near you