When Being Treated Differently Crosses a Legal Line
Workplace discrimination law basics in Indiana
By Steph Weber | Last updated on March 11, 2022
Use these links to jump to different sections:
While there are federal protections that prohibit the use of factors like race, gender, disability and age in employment decisions, workplace discrimination occurs more often than you might expect—more than 70,000 new complaints are reported to the U.S. Equal Employment Opportunity Commission each year.
"It takes a long time for behaviors and beliefs to change," says Kimberly D. Jeselskis, an employment and labor law attorney at Jeselskis Brinkerhoff and Joseph in Indianapolis. "[I still see] a lot of the same issues that women, minorities and older workers deal with on a day-to-day basis."
There are signs of progress, she says. Empowered by the #MeToo movement, more employees are voicing their concerns. Many employers are also committed to improving workplace culture, training initiatives and written policies.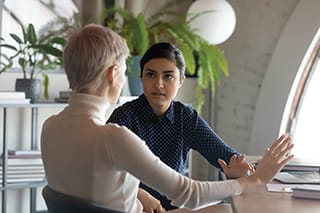 Unfortunately, some companies have yet to fully embrace equality. For example, when an employee with a degenerative back condition requested the intermittent use of a stool, a reasonable accommodation allowed under the Americans with Disabilities Act, the employer refused—agreeing to the accommodation only after a lawsuit was filed.
"That is not how the reasonable accommodation process is supposed to work," says Jeselskis. "It should be a fairly swift, interactive process conducted between the employer and employee outside of the court system."
Discriminatory Acts and Legal Action
Common discriminatory practices, like unequal pay, often have decades-long effects, says Indy-based employment lawyer Jason Cleveland of Cleveland Lehner Cassidy. 
In 2006, a female teacher accepted a position at a residential high school located on the Ball State University campus and tried to negotiate a higher starting salary. "The executive co-director told her that she didn't need any more money because he knew her husband was a professor at Ball State, so they would have a fine salary between them," says Cleveland.   
She remained employed there until 2018, when she discovered that male colleagues were earning substantially more for the same work. Cleveland filed a suit on her behalf, alleging gender discrimination under the Equal Pay Act and Title VII of the Civil Rights Act. 
They won on appeal. If pay is set unequally, even if it was years ago, and you continue to receive discriminatory paychecks from that initial decision, says Cleveland, the ongoing pay disparity provides sufficient grounds to pursue legal avenues. 
Attorneys recommend that those who feel unfairly targeted or experience an adverse employment action—such as a demotion, termination or failure to hire—should keep a detailed journal of events. Having a solid timeline is critical because age-related discrimination claims in Indiana must be submitted to the EEOC within 180 days, and all other claims within 300 days, says Jeselskis. 
It's also prudent to report incidents to your employer's human resources department. "In a harassment context, employers typically have the right to address it," says Cleveland, who routinely advises clients on Family and Medical Leave Act disputes. "You've got to tell your employer about it and give them an opportunity to correct it. If they don't, then they may be exposed to additional legal ramifications."
Employees are sometimes hesitant to assert their rights or speak out about the mistreatment of coworkers because they risk losing their livelihood and access to employer-sponsored healthcare. It is a legitimate fear, the attorneys say. Retaliatory firings—while illegal—do occur, though anti-retaliation protections exist to shield whistleblowers. 
Ultimately, Indiana is an employment-at-will state. "That means you could be hired or fired for any reason or no reason at all," says Cleveland. "But you can't be fired for an illegal reason, and we have laws that protect employees from being terminated or discriminated against based on certain characteristics."
What do I do next?
Enter your location below to get connected with a qualified attorney today.
Attorney directory searches
Find top lawyers with confidence
The Super Lawyers patented selection process is peer influenced and research driven, selecting the top 5% of attorneys to the Super Lawyers lists each year. We know lawyers and make it easy to connect with them.
Find a lawyer near you