Estate Planning for Dementia
Note to self: Do it now, before it's too late!
By Judy Malmon, J.D. | Last updated on June 22, 2022
Use these links to jump to different sections:
A diagnosis of dementia for you or your loved one is a lot to take in. Depending on the particular diagnosis, progression may be fast or slow, but inevitably, there will be a decline in decision-making ability. The good news is that some important protections can be put in place right away. Because you may not recognize when it's too late, now is the time to make certain legal planning arrangements to ensure you and your family are protected.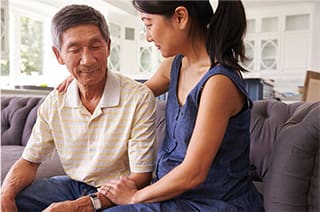 Spokane elder law attorney Richard Sayre, of Sayre Sayre & Fossum, has worked for many years with families managing this type of transition. He affirms that the best time to begin planning for any kind of limitation is immediately, as we never know what tomorrow will bring. "You have to do the planning first, then live your life, and if something horrible happens, we can deal with it," he says. "I'm a motorcycle rider, and I could go out tomorrow and crash. It's not just about getting dementia, or getting to be a certain age."
Sayre has seen the gamut, from people who plan well in advance to those who come to him after it's already past the point when a client with dementia can legally sign their own estate planning documents. "There are many types of dementia, so actually even getting a diagnosis doesn't really tell you that much about what to expect," Sayre says. "I've seen a lot of different things over the years."
Power of Attorney
The first thing he does with a client with concerns about a dementia diagnosis is have them sign a durable power of attorney, appointing an individual to make financial decisions including transfers to cover bills, qualify for Medicaid, and make health care decisions. "Durable is the only one you can use because the general power of attorney ceases when someone loses capacity," Sayre adds. Even when an incapacitated person is married, Washington requires a power of attorney for certain actions, such as selling jointly owned real estate or transferring assets to access Medicaid and avoid recovery liens—being a spouse is not enough.
When working with a client with dementia issues, Sayre emphasizes the importance of verifying mental capacity, as well as ensuring that the choices clients are making, such as in a living will, are in fact their own. He typically meets with clients on multiple occasions, asking them each time if they understand the nature of the actions they're taking, and speaking to the client alone without other family members present. "I know some other attorneys who use psychological tests to determine legal capacity, but I'm not a psychologist. If someone tells me the same thing three different times, I figure they're aware of what they're doing. So long as things aren't unusual, I don't get alarmed, but if she brings in one kid and says, 'I don't trust my husband or other kids anymore,' then things come to a grinding halt."
The Influence of Others
He's seen his share of attempts to influence elder family members by adult children, including one instance where the client's adult son stood outside the office with his ear pressed to the wall, as observed by Sayre's assistant. That client also returned draft documents with a number of changes to what they had discussed, all favoring the son. "When I told him he couldn't listen at the door," Sayre recalls, "they left and never came back."
He described yet another circumstance in which a man with approximately $5 million in assets approached Sayre to help get his ailing wife on Medicaid to cover her long-term care costs. Sayre explained that they had sufficient assets to cover her medical treatment needs and still live a comfortable life, so he wouldn't do it for ethical reasons. "It was the kids who were driving it. They wanted mom on Medicaid so, when they die, the kids get more money," Sayre says.  
These kinds of conflicts can create challenges in representation. "This area of practice can be an ethical minefield because clients will typically come to me with their spouse or adult children, and everyone in the room thinks of me as their lawyer. Everybody's got a different interest, and bringing all that together in a fashion that works is no mean feat. My primary responsibility is always to the client, the person who's signing the documents. Family members don't always understand this, but it's my job to make sure they do."
It's important to seek experienced counsel when wading through delicate planning issues involving an aging or ailing family member. Talk to a knowledgeable elder law attorney sooner rather than later.
For more information on this area of law, see our overviews of estate planning, wills, trusts, and probate and estate administration.
What do I do next?
Enter your location below to get connected with a qualified attorney today.
Additional Estate Planning & Probate articles
Related topics
Attorney directory searches
Find top lawyers with confidence
The Super Lawyers patented selection process is peer influenced and research driven, selecting the top 5% of attorneys to the Super Lawyers lists each year. We know lawyers and make it easy to connect with them.
Find a lawyer near you