Washington's Human Composting Law and How It Works
It's the first of its kind, and will likely be regulated like cremation
By Trevor Kupfer | Last updated on April 7, 2022
Use these links to jump to different sections:
In May 2019, Washington Gov. Jay Inslee signed into law a bill that allows natural organic reduction—or, in layman's terms, Washingtonians can now opt to have their dead bodies composted.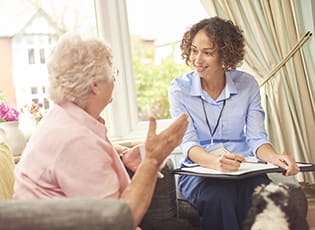 "I'm not surprised that Washington is the first state to do this," says Xan Gerson, an attorney at Metis Estate Planning. "Maybe it's me living in a Seattle bubble, but what I'm writing most often into [disposition of remains] documents is some manner of ecofriendly burial."
The details of what this means and how to request it are still being worked out before the law takes effect May 1, 2020. But legal experts say it's not all that different from cremation.
The Paperwork: What You Need to Fill Out
"In Washington, we have a statute that basically allows clients to set forth what happens to their remains upon death. We call it a directive regarding disposition of remains, and it's part of a typical estate planning package," Gerson says.
"It's a short form," she continues, "and not terribly involved. It usually has check boxes for things like burial, cremation, and few lines for specifics like, 'I want to be buried in the cemetery' or 'I want my ashes spread in the Puget Sound' or whatever their wishes are. They sign and date it in front of a witness, and that's their binding agreement about what happens to their remains."
Now, composting is another checkbox option.
The Estate: Who Pays and Makes Decisions
In the event of your death, the disposition of human remains is meant to be carried out by whomever you designate to do so on the document. Sometimes clients leave the disposition up to interpretation—say, "whatever is most ecofriendly"—and that decisionmaker may determine burial in a pine box as more green than embalming or cremation.
"It'll be interesting to see what the process becomes—like if there's an option to prepay for composting and, depending on where facilities are located, how a body might be transported," says Gerson.
With any end-of-life request, estate planning attorneys act as advisors as well as guides to help clients navigate the variables. So whatever the composting process requires, attorneys will adjust as they always have.
"If someone wants something extravagant, like, 'I want my ashes disposed of on Mount Everest,' I'd suggest setting aside some money in your will for that purpose," Gerson says. "But for standard disposition, it's simply your estate that pays for it. … I have a client trying to do cryonics—having your body preserved—and that requires payment with a life insurance policy because it's so expensive. But that is one of the more complicated ones I've seen."
The Industry: Where You End Up
Recompose is currently the only business in Washington's human composting space, says Tanya Marsh, an attorney and law professor specializing in funeral and cemetery law. But others will be coming.
"Basically what the legislature did is legalize this method of disposition. Now they're in the process of creating regulations for the industry that will provide it. My understanding is they will be based on the regulatory structure that currently pertains to the cremation industry," she says.
"Some people have this idea that, 'Composting is legal now, so we can just do it in our backyard.' Um, no, you cannot—no more than you can cremate someone in your backyard."
Before the bill came up for voting, "Recompose wanted to be able to answer the legislature's questions and concerns, like, 'What happens to the medications in our systems? What happens to the heavy metals? Is it safe? Is it inert?'" says Marsh. So they tested the feasibility through Western Carolina University and Washington State University.
"From an estate planning side, I think it's going to be identical to cremation, honestly. But it's a new option, so attorneys will need to learn all about it so they can know for their clients," she adds.
"I've really been amazed how comfortable people are becoming with this, and how much demand there is. It's going to be really interesting to see what happens. It's an exciting time to be involved in this work."
For more information on this area of law, see our overviews of estate planning, wills, trusts, and probate and estate administration.
What do I do next?
Enter your location below to get connected with a qualified attorney today.
Additional Estate Planning & Probate articles
Related topics
Attorney directory searches
Find top lawyers with confidence
The Super Lawyers patented selection process is peer influenced and research driven, selecting the top 5% of attorneys to the Super Lawyers lists each year. We know lawyers and make it easy to connect with them.
Find a lawyer near you