Legal Tips for Michigan Commercial Liability Insurance
Should you contact an attorney for all professional liability insurance claims, or just denials?
By Steph Weber | Last updated on August 15, 2022
Small business owners pay substantial premiums for insurance coverage year after year. When a claim or lawsuit arises, they anticipate the policy and insurer will afford them reasonable protection. But they don't know until they file a claim.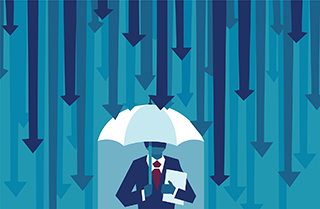 Although commercial policies vary, general liability insurance typically covers bodily injury and property damage—the latter "not so much if you had a fire in the building, but if your employee went and damaged somebody else's property and that caused liability," says Andrew Portinga, a policyholder insurance attorney at Miller, Johnson, Snell & Cummiskey in Grand Rapids. Policies may also have an "advertising injury" provision, he says, that includes a "grab bag of things like business defamation and copyright infringement."
The list of legal theories supporting a commercial general liability insurance suit against a business is limitless. Claims usually come about when a business is sued for a personal injury, says John R. Monnich Sr., an insurance litigator at Ottenwess Law in Detroit. The injury may be caused by the company's product, from a slip-and-fall on company-owned property, or "because the company did or wrote something that libeled or slandered somebody," he says.
When this happens, business owners need to inform their carrier about the claim "as soon as reasonably practicable," says Portinga—often within 30 days. Failure to do so may give the carrier grounds for denying coverage.
Larger companies frequently have risk management departments to handle such communications. But those without in-house expertise may wish to seek counsel early on, especially if they have any questions about the process or what to expect from the insurance company. A consultation can be particularly beneficial for small to midsized businesses that may not "have a full appreciation of what their coverage is," says Portinga.
Once notified, the insurer determines if the claim is within the scope of coverage. The answer isn't always clear-cut. "The person suing you can name all the theories they can think of that might make you responsible for their loss," says Monnich. "There might be 10 counts. [They're] throwing a bag against the wall and seeing what sticks."
The simplest resolution occurs when the insurance carrier covers the claim in full. Since a liability insurance agency has a duty to defend its insured against a lawsuit, says Portinga, if the claim falls within the policy guidelines, the insurer should assign an attorney to the case and pay the associated fees.
The appointed attorney communicates regularly with the carrier; however, it's a common misconception that the two are "in cahoots," says Monnich. Instead, the attorney "looks out for the insured's interests" although it reports to the insurance company. Due to this assistance, many businesses can navigate the processing of a covered claim without obtaining additional legal guidance.
In some instances, the carrier cannot make a final determination and needs to gather more information. At that point, they will issue a "reservation of rights," which "reserves their rights to defend and indemnify you" in the future, says Monnich. "If the insured receives any letter containing the words 'reservation of rights,' it is incumbent upon the business owner to consult their own attorney, [who] will want to read the policy, analyze the complaint, and see whether he or she thinks the claim is covered."
If any part of a claim is ultimately denied, policyholders are left to mount their own defense. "Immediately contact your personal counsel," Monnich says. "And your counsel should probably hire another attorney who specializes in the defense of these matters. Insurance is a very sophisticated area."
Occasionally, an insurer will reverse their decision if the attorney writes a letter on behalf of the insured and explains why they think the denial is incorrect. But if they stand by their original determination, "at that point, you've got to decide whether you want to sue them or not," says Portinga.
One caveat: A business should always aim to settle out of court in the event of an overage. "If the claim is worth more than it's insured for, if it goes to trial, the verdict could exceed its policy limits," says Monnich. Then, they are "on the hook for what's left over after insurance has paid." If the plaintiff agrees to accept an amount within the policy's limits, you'll want an attorney who can "put pressure on the insurance company to settle the claim within the policy limits," he says. "You do not want that claim tried. It's like rolling the dice."
Commercial liability claims can run into the tens of millions and destroy a company's bottom line if not handled carefully. Both experts agree that liability insurance is technical because policy language is subject to interpretation. Businesses may need to consult an insurance litigation attorney to settle outstanding claims and maximize insurance coverage.
What do I do next?
Enter your location below to get connected with a qualified attorney today.
Related topics
Attorney directory searches
Helpful links
Find top lawyers with confidence
The Super Lawyers patented selection process is peer influenced and research driven, selecting the top 5% of attorneys to the Super Lawyers lists each year. We know lawyers and make it easy to connect with them.
Find a lawyer near you