Can You Get Out of a Lease Agreement?
Yes, but there are some caveats in Northern California
By Andrew Brandt | Last updated on April 22, 2022
Whether people are fleeing cities for more square footage or coming back to them thanks to rent decreases, a lot of folks have moved during the pandemic. And they haven't always waited for their current lease to expire before doing so.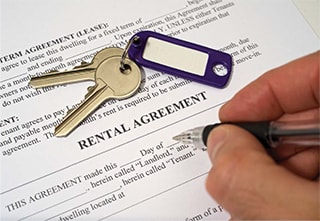 Daniel Wayne, a tenant's rights attorney at Wolford Wayne in San Francisco, says his firm has seen lots of renters looking to get out of leases during COVID-19. "For tenants who are locked into a year lease, there isn't really a perfect way to get out of it, there is no early termination" he says. "If your landlord will not allow you to terminate the lease without penalties, then your best option is to try to negotiate for some sort of fixed amount in exchange for severing your obligation."
Patricia A. Boyes, a real estate attorney at BoyesLegal in San Jose, adds that tenants can break leases whenever they want. "The real question," she says, "is whether a landlord is going to do anything about it."
In California, landlords have a duty to mitigate their damages, meaning they have to make an effort at re-renting the property to a new tenant. Therefore, it's in a renter's best interest to alert their landlord as soon as they've decided to terminate the lease, so the landlord has more time to find a replacement. 
Generally, any rent remaining on the lease while the building or rental property sits unoccupied is the lease-breaker's responsibility. However, a landlord cannot charge the ex-tenant for each month's rent payment all at once.
"If the tenant signs a rental agreement in January for one year, and the tenant moves out in April—and there's still eight months left until the end of the lease—they can't just say that all the money is due now," says Wayne. "If they find a replacement tenant, they're not entitled to that rent twice."
Two years ago, he adds, it might take two weeks to find a new tenant. While rentals have moved slower during the pandemic, "a landlord still can't sit on their thumbs and just collect their checks from the tenant who has vacated."
If a landlord does decide to go after a tenant over unpaid rent on a lease termination, the parties will end up in small claims court—where attorneys are not allowed. There, the burden will fall on the landlord to prove they've attempted to re-rent the space. "If rentals are in demand and it's going to be snapped up right away, there's less incentive for the landlord to go after the previous tenant," Boyes says. 
While you can never guarantee what your landlord will or won't do, there are a number of things tenants can try to reduce their liability risk. 
Both Boyes and Wayne have seen parties negotiate what is essentially an opt-out. "You pay a certain amount of money to have the apartment lease agreement and all future obligations terminated," Wayne says. "In other words, 'I'm going to move out in 60 days. I know I have X number of months left on my lease. I'm willing to pay an early termination fee to cancel it.' It takes away any lingering issues that may arise thereafter. On the flip side, you're paying money out of pocket you may not have otherwise owed." He recommends having a New York lawyer draft the contract so there's no room for confusion.
Other tips include offering to put the listing online yourself, or saying in writing that you're willing to help find a replacement. "If the landlord says, 'No I'll handle it,' the landlord has taken on a certain amount of obligation to address that vacancy," says Wayne. "They have put the burden on themselves to find somebody."
Wayne also warns that while landlords cannot make you pay future rent, your lease may include a provision involving a brokerage fee, stating that a tenant will have to help pay to find a new tenant. Similarly, Boyes says, landlords can apply a security deposit toward unpaid rent. 
At the end of the day, however, it all comes down to communication. "If you need to move and break the lease, talk to your landlord and see if you can work something out that's mutually agreeable," Boyes says. 
"Try to work out a compromise that both parties can live with. Because the landlord really only cares about getting the rent. He doesn't care who he's getting it from."
For more information on this area, see our landlord and tenant law overview.
What do I do next?
Enter your location below to get connected with a qualified attorney today.
Additional Landlord/Tenant articles
Related topics
Attorney directory searches
Helpful links
Find top lawyers with confidence
The Super Lawyers patented selection process is peer influenced and research driven, selecting the top 5% of attorneys to the Super Lawyers lists each year. We know lawyers and make it easy to connect with them.
Find a lawyer near you