A Deadly Delay in Diagnosis
Filing a medical malpractice claim in Florida for errors in diagnoses
By Christine Schuster, Trevor Kupfer | Reviewed by Canaan Suitt, J.D. | Last updated on May 9, 2023 Featuring practical insights from contributing attorneys Virginia M. Buchanan and Andrew L. Ellenberg
Use these links to jump to different sections:
Cancer is the second leading cause of death, but medical malpractice often plays a role in its progression. Studies show that over 250,000 Americans die each year from medical malpractice. Failure to order the proper testing or read test results accurately delays such diagnoses.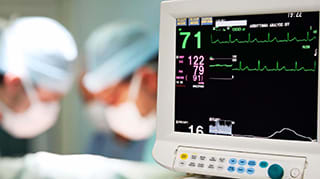 "When you have a mass and you don't get a biopsy, everything essentially becomes just a gut feeling and not something that is really reliable as a firm diagnosis," says Virginia M. Buchanan, a medical malpractice attorney at Levin Papantonio in Pensacola. "Misdiagnosis actually is a very common basis for medical malpractice claims, not just in Florida, but across the country."
Was the Standard of Care Reasonable and Prudent?
The standard required to prove a health care provider was negligent in such cases is: Would a reasonable and prudent provider have done the same thing?
An expert who practices and teaches in the medical field involved in the case is asked their opinion, under oath, in an affidavit. If the expert says a reasonable and prudent provider would have done the same, a patient can't bring a claim in Florida.
If said expert says the opposite and you can bring a claim, there still remain some hurdles in order to recover damages when a doctor didn't give a correct diagnosis in a timely manner.
What You Have to Prove with Diagnostic Errors
Though the circumstances of a case may vary, "the elements of [proving] a claim are the same," explains Andrew L. Ellenberg, whose Miami firm, Needle & Ellenberg, handles wrongful death and catastrophic injury cases throughout Florida. "Did someone do something that they should or shouldn't have done? And then, as I tell all my clients, the biggest issue is something I call, 'Yeah, and so what?'" This is the defense team's response to a claim, meaning: Even if you can prove a health care provider did something wrong, you still have to prove that it caused or contributed to the claimed damages.
Take, for example, parents who bring their child to a hospital with a fever and seizure-like symptoms. The emergency room takes some blood and urine for testing, observes the child for a few hours, then says, "It's probably just a virus," and sends them home. When the child doesn't improve, the parents take the child to a pediatrician, who seeks out the findings from their recent hospital visit. To the physician's surprise, the lab produced a bad result that was never communicated to the doctor, the patient's family, or loved ones. Ellenberg had such a case.
"Failing to communicate test results is a common problem that produces a delayed diagnosis," he says. "There are standards and accepted practices for the communication of critical test results, but those weren't followed, and it resulted in severe brain damage in this child because it was a remediable, addressable situation. He required antibiotics, but didn't get them, and the infection permanently damaged his brain."
In this case, Ellenberg proved that those few days at home made all the difference for the child's illness. But not all cases are equal. As another example, take a patient whose CT scan is misread and delays a cancer diagnosis for another three months. If the cancer was metastasized at the time, it's likely that the patient wouldn't be able to show a change in prognosis or treatment due to the delayed diagnosis. It's often easier to prove malpractice than it is to prove a connection to some damage or injury to the patient.
"The patient has to prove survivability or a better outcome. So it's very difficult to bring medical malpractice cases; that's why most people never sue, most lawyers are unable to take the vast majority of claims that are brought to them, and many cases are lost at trial just because of the difficulty and the complexity of overcoming that hurdle, and proving, more likely than not, that there was a difference and there was malpractice," Buchanan says.
Taking Your Medical Malpractice Lawsuit
When you bring your story to a reputable medical malpractice lawyer or law firm, the most important aspect in the attorney's mind is how you were hurt. "Is it permanent? Is it catastrophic? Is it disabling?" Ellenberg says. "If your answer is, 'I'm fully recovered,' that often ends the inquiry." Even if you can prove negligence, you must have provable damages.
It's all about your personal circumstances, and the state in which you were harmed—because each handles medical negligence slightly differently. "For example, in Florida, if we get a call on a death case from a bereaved family member where medical negligence may have resulted in the death of a widowed parent, and there are no children under 25, that's a terrible misfortune, but under Florida law there are no statutory survivors. Generally, you need a surviving spouse, and/or children under 25, for a medical negligence wrongful death claim in Florida," Ellenberg says.
Time is another factor in any medical malpractice case, and while your attorney may do everything they can to move things along, the reality is that the system can take several years to reach a result. "You engender as much urgency as possible, but you're dancing with several things at once," Ellenberg says, citing schedule conflicts and judicial caseloads.
"Malpractice is not uncommon and is a serious problem in health care," Buchanan says. "We know that there are people who are devastated by medical malpractice on a daily basis and, most of the time, the defendants, the insurance carriers, the hospital, and the physician groups recognize when there is serious malpractice and nearly every case is resolved when they have those elements.
"Juries are affected by the egregiousness of the details that they hear, so if there are multiple mistakes, and there's disdain by the physician, a lack of remorse, just a real lack of caring and gross sloppiness, I think the jury is affected by that and takes it into account."
If you'd like more general information about this area of the law, see our medical malpractice law overview.
What do I do next?
Enter your location below to get connected with a qualified attorney today.
Attorney directory searches
Helpful links
Find top lawyers with confidence
The Super Lawyers patented selection process is peer influenced and research driven, selecting the top 5% of attorneys to the Super Lawyers lists each year. We know lawyers and make it easy to connect with them.
Find a lawyer near you