How Much Does a Product Injury Case Cost in Colorado?
Also, how long does it take to resolve?
By Trevor Kupfer | Reviewed by Canaan Suitt, J.D. | Last updated on August 14, 2023 Featuring practical insights from contributing attorneys Joseph Riegerix and Sean Dormer
Use these links to jump to different sections:
Unless the product that caused your injury has a well-established history of causing injuries, chances are good your case will take a while to resolve—at least six months, if not closer to three years.
To make matters worse, these kinds of cases are expensive. But, at least on the second point, there is some good news.
Lawyers Advance Costs for Good Personal Injury Claims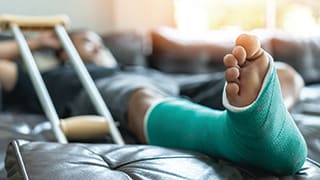 "If you have a good case and you're confident about winning it, the lawyer will advance costs for you, and then the costs will be covered by the settlement or verdict," says Sean Dormer, an injury attorney at Dormer Harpring in Denver.
"Most good lawyers have the goal of netting their clients more than the lawyer's fee. And I think most firms that do a quality-over-quantity approach take that philosophy to heart and succeed at exercising it. And that's really important in product cases because the costs are really, really substantial."
"Sometimes the law explicitly says you receive attorney's fees and costs if you prevail, in addition to whatever the verdict is," says Joseph Riegerix, a product liability attorney in Denver. "It's not always the case. But in Colorado, typically, you do tend to receive an award including the costs of pursuing the litigation if you prevail."
Personal Injury Attorneys Get Paid on a Contingency Fee Basis
Commonly in these types of cases, law firms take them on a contingency fee basis after a free consultation. This means they will be compensated only by a percentage of a settlement or verdict.
When you reach out to the personal injury lawyer, they will likely say that percentage is between 33 and 40. "Usually, it's going to be one-third earlier in the case and 40 percent if the case proceeds beyond a certain point, whether it be filing a lawsuit or some other status," Dormer says.
In return for that percentage, attorneys are often taking a risk because experts, discovery, and depositions come at a significant cost. "It can get pricey in a hurry if you travel to perform site inspections to investigate the facility where something is manufactured or if you must travel around the country over many months taking depositions," Riegerix says.
"Depending on the nature of the case and product, [the costs] can range from monumental or next to nothing. If there's already abundant work that other people have done and you can share in [such as a Multi-District Litigation], it makes it a lot easier to pursue. But, for instance, I have a case right now where we're going to have to use all kinds of experts to prove that a toxic exposure happened sufficiently to cause cancer. That can really add up."
The Timeline for Defective Product Cases Can Be Lengthy
Just as costs can be significantly lessened by a previously established product defect (say, by an FDA recall or prior lawsuits), so too can your lawsuit's timeline.
"The average personal injury case is usually settled within six months," Dormer says. "That is not true of product cases because they are less likely to settle, require a lot more attorney work, it's much more difficult to put together a case, and much more complicated. For a lot of those reasons, unfortunately, it's hard for people to get access to justice if they're hurt by a product. We're not really able to change the time factor, unfortunately."
Judges in the state of Colorado are usually good about keeping cases moving, Riegerix says, but cases can still stretch out despite your best efforts.
"Before Covid, we did a good job of getting cases to trial within a year, and that's still the goal in state court," Dormer says. "If you're in federal court, it can take a lot longer. In some ways, that can be good because it gives you more chances and more time to investigate the case and dig into discovery. But in federal court, it often would take a couple of years, even if you really fast track to get to trial."
Find an Experienced Product Injury Attorney in Your Area
For more information on this area of personal injury law, see our overview of product liability law, or reach out to a personal injury attorney for legal advice.
What do I do next?
Enter your location below to get connected with a qualified attorney today.
Additional Products Liability articles
Attorney directory searches
Helpful links
Find top lawyers with confidence
The Super Lawyers patented selection process is peer influenced and research driven, selecting the top 5% of attorneys to the Super Lawyers lists each year. We know lawyers and make it easy to connect with them.
Find a lawyer near you