Buying a House on Leased Land
What you need to know about residential land trusts
By Katrina Styx | Last updated on January 27, 2023
Use these links to jump to different sections: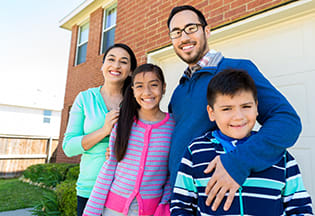 If you've ever been in the market for a new house, you may have encountered a listing that seems priced much lower than the market value of comparable houses in the same condition, in the same city or even neighborhood. Maybe the listing mentions that the home is part of a land trust. What does that mean, and what do you need to do if you're interested in purchasing the home? A land trust, sometimes called a land lease or a ground lease, is one way to offer homes at a more affordable price. "You save on the cost of the land, that allows you to buy a bigger house, or it allows you to afford the home," explains
Keith Gantenbein
, a real estate attorney in Denver. Land trusts are uncommon, with 225 registered across the U.S. There are six land trust communities in Colorado. How does it work? "These organizations purchase large swaths of land in certain communities, and then they create a land trust," Gantenbein says. "And then they sell the homes to individuals at an affordable price, and then they manage the common areas and the grounds with a lease a lot like an HOA." It's similar to how trailer parks are operated, he notes, but there are some key differences. First, a mobile home can be moved, while a home on a land lease is a fixed structure. Second, mobile home parks tend to have shorter-term leases.
Not Your Typical Real Estate Transaction
If you are considering buying a home on a land-lease property, you'll need to pay attention to a few extra things. The first thing to understand is that it might be harder to find financing. "Because it does create affordable housing, it also makes lending very hard and resale very hard, because only certain types of lenders will issue loans on these kinds of houses," Gantenbein notes. Once you start the home purchase, you'll get a land lease agreement alongside the purchase agreement for the home. Homebuyers need to review and understand the additional cost, terms and length of the lease that come alongside the home's purchase price. A standard end of the lease is in 99 years, and often the lease is refreshed each time the house is sold, but non-standard or shorter terms could have an impact. "If you plan on living in that home longer than the ground lease, you want to make sure you have that option to extend the lease or lengthen it," Gantenbein says. One thing to watch out for is that the cost of the lease can increase each time it's renewed. "So the longer your lease term, the better," Gantenbein says. You'll also need to understand what additional terms the lease includes: "What are you paying for? What are they maintaining?" he says. Leases can include clauses about common areas, shared driveway usage, road maintenance, special assessments and other charges for large improvement projects. Watch out for extra fees, which can be added with those clauses or if there's an HOA fee or shared cost of leasing the land. Another key point is first right of refusal. "If you sell the home, generally the builder or the landowner will want to have the first right to buy that home," Gantenbein says. There will always be some risk when you don't own the land on which your home is built, but by being careful early on, homeowners can work to reduce the chance that a change in landowners could raise your lease rate or push you out of your home.
It's Worth Seeking Legal Advice
It's important to consult with an experienced
real estate attorney
if you're considering leased-land property purchase over a traditional home purchase. "In a normal residential real estate transaction with a realtor involved? No, I don't think a lawyer should be involved in 80% of the transactions," Gantenbein says. "Affordable housing purchases and ground leases or land trusts? Yes, I think an attorney should be involved. Because of the complexities of, one, getting a mortgage loan, and two, negotiating or understanding the terms of the underlying ground lease. It really controls your marketability of the home in the event you want to sell it in the future, and it may restrict your use and enjoyment of the property later on in life." How much will a lawyer charge to help with a ground lease? While the exact cost will vary depending on how involved your transaction is, buyers can estimate a typical lawyer's fee to range between $300 and $1,500, Gantenbein says. A lawyer will walk buyers through the ground lease and help them understand each of the terms and options. Some land trust owners are willing to negotiate some things, and in those cases, a lawyer can help buyers achieve a more favorable lease. A lawyer can also help protect buyers in the event the land is sold or if buyers encounter unfavorable terms along the way. Additionally, a lawyer will help ensure financing documentation is in proper order for the appropriate federal loan programs, ensuring your financing is ready for your purchase. And, when you're ready to sell your home, a lawyer can help there, too. "You want to make sure you're disclosing everything properly, that the lease is being properly transferred or renegotiated," Gantenbein explains. Want to know more about real estate law? Read our
overview article
.
What do I do next?
Enter your location below to get connected with a qualified attorney today.
Additional Real Estate articles
Related topics
Attorney directory searches
Helpful links
Find top lawyers with confidence
The Super Lawyers patented selection process is peer influenced and research driven, selecting the top 5% of attorneys to the Super Lawyers lists each year. We know lawyers and make it easy to connect with them.
Find a lawyer near you