What Happens to the Family Business in a Divorce?
It depends if both parties are willing to reasonably negotiate
By Trevor Kupfer | Last updated on January 11, 2023
Use these links to jump to different sections:
Richard Renkin
has handled dozens of divorce cases where not only a marital relationship hangs in the balance, but also a business. The family law attorney at Renkin & Associates law firm in Encinitas says some are straightforward while others are complicated, and typically, the spouses themselves determine the difficulty.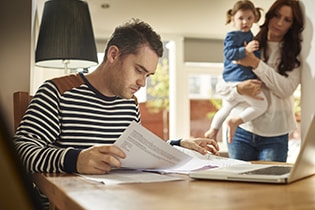 "I just had a case where they literally spent more on attorney's fees than they had in equity on the business and the house. They just would not negotiate," Renkin says. "These things don't have to be contentious if everyone acts in good faith and has a reasonable expectation. Everything is negotiable. When you take your mind off of winning and you put your mind on working through this, these things generally work out. Problems arise when someone insists on winning, or is out to hurt the other party."
Who Gets the Business?
As with anything, these cases depend largely on the circumstances, but, ideally, when the business came into being, its owners/partners outlined the worst-case scenarios. "When you've got a partner who's not your spouse, you need to ask: Do you have a partnership agreement? Because, if you don't, that partnership may become three partners," Renkin says. Planning can alleviate a lot of headaches, but isn't always done. If the main point of contention is which spouse can continue the business, Renkin says the question becomes: Who runs it
now
? "That's not always as easy as it sounds, as one person maybe does the sales and another does the administrative work. It can get kind of sticky as to who gets the business—particularly if they both want it," he adds. The circumstances are another variable to take note of. Did one spouse begin the business before they were married? Did one spouse use their personal funds, or that of an inheritance or 401k, for startup capital? "There's a whole different way of calculating ownership," says Renkin. "If the business was started during the marriage, it's about how to divide it. We look for 2640 credits if someone put their separate property into the business. And how was that money spent: payroll or to buy a desk? If the business was started before marriage, we call that a
Pereira-Van Camp
situation." If an agreement cannot be reached between the parties, sometimes the court will have to determine which person is more critical to the operation and maintenance of the business, Renkin says. "You mediate and negotiate everything, but sometimes you need an expert to step in and assist the court, and sometimes the judge just makes a decision."
Be Willing to Negotiate
Renkin says virtually everything—aside from the children—is a possible bargaining chip in a negotiation where one spouse
keeps the business
and the other (the "out spouse") asks for a buy out. "A lot of times you have an expert do a business valuation to figure out what the business is worth. Then you take half of that amount and try to compensate the out spouse, whether it's the house, current existing funds, a note; all of that is negotiable," he says. "In San Diego, we have a joint expert. It's someone everyone agrees upon or is court-appointed." Renkin has even had a case where two exes continued to work together after their divorce, until they were in the position to refinance or sell the business. "It's always an option, although I think it's pretty rare," he says. Also rare: one of these cases going to court. "Overall, a small percentage of them go to trial because people get exhausted or are reasonable right from the start," he says. Even fewer are liquidated or ordered sold, which is the equivalent of dissolving both parties' involvement in the business and something the court has the ability to do. It benefits both parties if the business continues, Renkin says. "Usually that's what's keeping the family financially stable, and both sides want to keep that going. … If someone has to pay child and spousal support, you should want the business to continue so the payments keep coming. If you have to take a note for your share of the business, you want it to be successful for your note to be paid."
Pre-Divorce Planning
Sometimes it's all about the accounting, Renkin says. If business owners take extra care in their recordkeeping, it can make these business asset divisions much easier. "Some people are aggressive in how they look at their books. Some people are, 'This is what we did; let's live with it,'" he says. "If you spend $30,000 to put a putting green in the back of your house, is that a business expense? If not, do you roll it into the value of the business? You have to work through all of those things. Some of this is done in pre-divorce planning, some is while it's going on. Other times, liberties are taken or not at all. The out spouse should look at the books, and get a copy, before they're locked out of the company."
A reputable divorce attorney
with experience in
family business cases
can guide you through this, and Renkin recommends finding one well in advance of the divorce process. "There needs to be some planning done before the divorce. Find your plans, find your documents, find your receipts, find your books, and bring them to your divorce lawyer. Sometimes it takes a long time." For more information on this area, see our
business litigation overview
 and our overview of
closely held business
.
What do I do next?
Enter your location below to get connected with a qualified attorney today.
Additional Business Litigation articles
Attorney directory searches
Helpful links
Find top lawyers with confidence
The Super Lawyers patented selection process is peer influenced and research driven, selecting the top 5% of attorneys to the Super Lawyers lists each year. We know lawyers and make it easy to connect with them.
Find a lawyer near you