You Aren't Alone: The Class Action Path for Sexual Misconduct
Another legal avenue in the civil court system for survivors of sexual abuse and harassment
on February 8, 2018
Updated on January 12, 2023

Sexual harassment and abuse have been on the front page for months. In the wave created by the #MeToo movement, more light has been shed on top level executives, politicians, celebrities, clergy and others who are alleged to have perpetrated alarming acts. With the allegations often surrounding repeated offenses, as opposed to isolated incidents, scrutiny has likewise turned to systemic problems.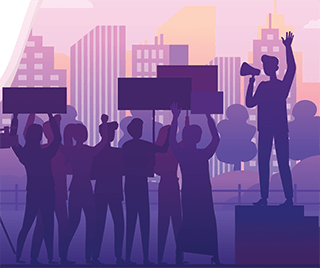 What can these scores of victims do to achieve the justice they deserve? Criminal charges are one answer, but jailing a predator isn't always the most effective form of justice. Another option is a class action lawsuit.
What to Know About Class Actions
A class action suit is aimed at giving a large group of people the ability to have their claims heard. A single or small group of named plaintiffs can bring a lawsuit on behalf of a large number of victims, gaining the advantage of expediency and pooled resources to right a wrong. Once the lawsuit is filed alleging a wide harm to a large group of people, the biggest hurdle is convincing the court to "certify the class."
To do that, attorneys must prove four things:
Numerous: There are enough people harmed that prosecuting each individual claim would be impractical and the process may be streamlined by joining the group in one action.
Commonality: There is a common question of law or fact, and the determination of its truth or falsity will resolve an issue that is central to the validity of each claim.
Typicality: The claims of the named plaintiff are typical or substantially similar to those of the entire class of people harmed.
Adequacy: The attorney or team of attorneys are sophisticated enough to represent the interests of all party members.
Sexual Misconduct Class Action Examples
In the wake of a class action lawsuit brought by the survivors of sexual abuse by Catholic priests in Minneapolis, the Archdiocese in Minneapolis filed for bankruptcy. The more than 400 claimants in the suit have demanded $80 million, while the church has countered with $13 million. Not unlike most class action cases, this one has been ongoing for several years and the ultimate result will likely be a settlement.
In August 2017, Ford settled a sexual harassment lawsuit at two of its plants for $10.1 million; it was filed in 2014. In 2012, the owner of a Wisconsin McDonald's franchise agreed to pay $1 million plus damages to 10 female employees. For even more recent examples, look no further than the class action filed against Harvey Weinstein in December 2017 and, in the same month, the lawsuit filed against the leaders of the Fundamentalist Church of Latter Day Saints.
If you are the victim of sexual assault, abuse, or harassment, find a reputable and experienced class action attorney to explore your options for seeking justice and preventing others from experiencing such harm in the future. For more information on this area of law, see our overviews of sexual harassment and class action and mass torts.