What to Do If You're Targeted by Discrimination at Work
What workplace discrimination looks like in Massachusetts law
By Steph Weber | Last updated on April 28, 2022
Workplace discrimination can take many forms, but ultimately it boils down to this: "It's about being treated differently than your coworkers," says employment attorney Lori Jodoin, a partner at Powers, Jodoin, Margolis & Mantell in Boston.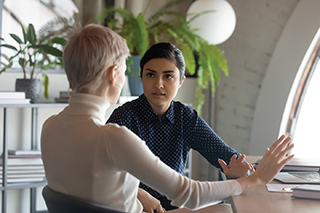 Under federal law, protected characteristics—specific employee traits that cannot be used to make employment decisions or otherwise adversely affect job status—include an employee's sexual orientation or gender identity, race, disability, religious beliefs, national origin, mental health and age. Workers are also entitled to equal pay and a work environment free from harassment or retaliation.
"If you're being treated differently because you have a blue shirt on versus somebody wearing a red shirt, that's OK," Jodoin says. "But if you're being treated differently because you're a woman versus a man, that's unlawful."
While just one incident can be sufficient to establish an employment discrimination claim, some victims endure a series of transgressions, from outright sexual harassment and racial harassment to inherent bias that is "more subtle, nuanced, below the surface," says employment law attorney Matthew Fogelman of Fogelman Law in Newton.
Proving the type of discrimination is essential, but sometimes challenging.
"Documenting issues is always good," says Fogelman. Filing a complaint with the human resources department can often be a very good option, and engaging in protected activity in Massachusetts protects you from employer retaliation.
Track incidents yourself. This way, key details, such as dates and verbal exchanges, are preserved; and a timeline is formed, which is important should counsel become involved. Before any case can advance to the court system, for example, an employment lawyer must file a discrimination complaint with the Massachusetts Commission Against Discrimination within 300 days of the date of any discrimination, says Fogelman.
Employee handbooks and company records, including internal communications and the employee's personnel file, can also be procured to substantiate allegations.
When a client of Ellen Messing's was fired from a high-ranking position in the financial services industry, it was her colleagues' emails and instant messages that revealed the underbelly of office dynamics. "Even we were shocked by the things said about her and women in general," says Messing, a labor and employment attorney at Messing, Rudavsky & Weliky in Newton, who settled the case out of court. "In an office of mostly men, she was deeply resented for being successful, and a brutal campaign was started to humiliate her and drive her out.
"People in certain categories are scrutinized more heavily," adds Messing, with notable upticks during periods of economic instability. A "cyclical pattern of harshness" ensues, she says, as companies seek to maximize control over their staffing by eliminating employees with young children or protected characteristics, like an advanced age, pregnancy or disabling medical condition.
After an older man "was terminated out of the blue without any warnings or write-ups," Fogelman found that a new manager was singling out the employee while younger workers were given multiple chances to correct behaviors.
Identifying these patterns of inconsistencies—who gets hired, fired, promoted, disciplined or the best work assignments—can signal the presence of discriminatory practices.
"Some employers can be well-intentioned, but misguided," says Jodoin. If an employee develops a health condition, the manager may preemptively reduce their workload or exclude them from advancement opportunities, thinking they are being helpful. But doing so is "extremely discriminatory," says Jodoin, and should only be done if the employee asks for changes or makes a request for reasonable accommodations.
Similarly, an employer's refusal to work collaboratively with an employee to identify a reasonable accommodation should prompt the employee to consider legal action as well.
Despite progress, workplace discrimination remains pervasive. "It takes great courage to stand up against unfairness," says Messing, "but it's the only way discrimination laws get enforced."
What do I do next?
Enter your location below to get connected with a qualified attorney today.
Additional Employment Law - Employee articles
Related topics
Attorney directory searches
Find top lawyers with confidence
The Super Lawyers patented selection process is peer influenced and research driven, selecting the top 5% of attorneys to the Super Lawyers lists each year. We know lawyers and make it easy to connect with them.
Find a lawyer near you