When You Need an Employee Benefits Attorney
Reach out to prevent harm at your Illinois company
By Benjy Schirm, J.D. | Last updated on May 16, 2022
It's hard as a business owner to know exactly where your resources should be allocated. Both time and money are required to protect your future and to repair the mistakes of the past. With all of the facets of your business, what is most essential?
Malaika Caldwell says employee benefits plans should be on the top of the list.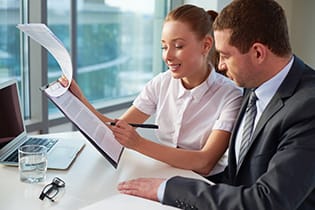 "People call me on an annual basis to ensure compliance with all of the regulations," says Caldwell, an employee benefits attorney. The Employee Retirement Income Security Act, or ERISA, is the main law covering her field. "There are a lot of documents that the government requires from companies every year and there are consistent changes in the law that must be followed."
Knowing that benefits need to be reviewed annually is one thing, but there other times where it's worth making the call to an ERISA attorney. "Companies should call me when there is an issue with communications to employees. I do a lot of communications that companies give to their employees during open enrollment and summary plan descriptions, or the open enrollment materials that describe executive compensation, retirement plans, pension plans and health care," says Caldwell.
If you are considering any change, or communicating anything about benefits to your employees, the communications given out should be created and/or checked by an benefits attorney.
"Employers contact me when things go wrong," she adds. "With a 401k account, issues can arise if, after taking funds from an employee's paycheck, they aren't transferred to the 401k account within the proper time. If it doesn't happen timely, there are issues with the Internal Revenue Service (IRS) and we recommend filing a voluntary correction to correct these types of errors."
Caldwell also receives calls when there are disputes with employees who have submitted life insurance and medical claims and may lead to a lawsuit. "If they aren't covered in the way they thought they were covered under the plans, we will work with the employer to make sure that employee was covered correctly. We will also draft responses to any claims made against an employer, and follow it through to its conclusion," she says.
If you just started a business and are wondering when to first reach out to a benefits attorney, Caldwell says, "the earlier the better. If we can get started on the right foot and we can make sure your documents are up to par to start, that is the best practice. ERISA kicks in when you have 50 or more employees, so while you still should follow these guidelines if you have less than that, if you are approaching that 50-person threshold, you should certainly be contacting an attorney to shore up any holes in your documentation."
Business owners certainly don't want to overlap in spending. One major concern in hiring a benefits attorney is that they already have a benefits coordinator being paid to look out for all of these issues. However, "Often in larger companies there isn't a dedicated benefits manager," Caldwell adds. "ERISA is very complex, and most individuals in the HR function don't know enough to be compliant with federal law and many consultants will, in their communications around benefits, have a disclaimer at the bottom of their page that says, 'This cannot be construed as legal advice.' I think it's important to make sure that all areas of a business are covered to maintain legal compliance. Even with a dedicated benefits manager, there are wrinkles in the law they won't know. I was a benefits manager for years before attending law school and I thought I was doing things right. But there were many times I was not, and I had to call employee benefits attorneys to fix my mistakes."
Allow the mistakes to be avoided before they arise, continue to be vigilant, and solve problems when they happen in the most efficient and productive ways. For many businesses, benefits are the second largest budget item every year. In deciding where your legal resources need to be allocated, be certain to allow funds for a reputable and experienced employee benefits attorney.
For more information about this area, see our overview on employment law for employers.
What do I do next?
Enter your location below to get connected with a qualified attorney today.
Additional Employment Law - Employer articles
Attorney directory searches
Find top lawyers with confidence
The Super Lawyers patented selection process is peer influenced and research driven, selecting the top 5% of attorneys to the Super Lawyers lists each year. We know lawyers and make it easy to connect with them.
Find a lawyer near you