How to Defend a Discrimination Claim
Employment lawyers give their advice
By Jessica Glynn | Last updated on May 16, 2022
Julie A. Gafkay, an employment lawyer at Gafkay Law Firm, thinks the best way for a company to avoid the employment actions she sees most often—sexual harassment and wrongful termination—begins with preventative measures and a little common sense.
"The best way to avoid a discrimination lawsuit is to be fair, consistent and treat people equitably," she says.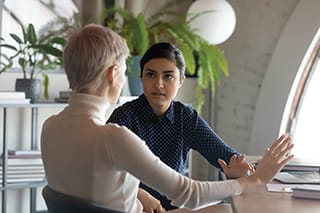 Michigan is an at-will state, meaning employees can be discharged at any time, with or without cause—so long as they aren't a member of a protected class and being targeted for discriminatory reasons. It is illegal to refuse or terminate employment or base compensation on religion, race, color, national origin, genetic information, age, sex, marital status, arrest record or disability. 
Assumptions can be a problem, Gafkay says. One of the most common employment decisions is that older employees cannot change with the times. "One way to avoid discrimination cases is to give your older employees an opportunity for continued training and techniques," she says. "Don't just assume they're not going to embrace that."
If an older employee feels they have been replaced by a younger hire to save the company money, that's not necessarily grounds for a claim. "You could say, 'We've made a business decision to make the salary for the position $10,000 less.' That would help you avoid a discrimination lawsuit—if you gave that person an opportunity to stay and they didn't want to do it," Gafkay adds.
A pattern of replacing older employees could be problematic, however. Timothy H. Howlett, labor and employment practice leader at Dickinson Wright, says it is important to investigate how others have been treated. "If an older employee is being terminated, you would want to find out how many people are in that department, what their ages are, what the ages are of people making the decisions, whether there were other terminations and what their ages are," he says. "If there are people still working who are older than the person terminated, it's much less likely that age was a factor."
Gafkay also sees employers mistakenly assume pregnant women are fragile or on their way out. "I've had several cases where an employer actually said, 'You're a liability with your pregnancy,'" she says.
In trying to show an employee was terminated for non-discriminatory reasons, performance history is key. "It's very important to document issues," Howlett says. "The employee has to make the case that something happened because of his or her protected category. The employer says, 'No, it was a non-discriminatory business reason,' and then it gets into questions about whether that reason was documented and what witnesses there are."
It's also important to understand each client's business, says Kotz Sangster employment litigator John T. Below. "What I have found is that people who sue an employer are often let go for some other reason than any unlawful discrimination," he says. "They didn't fit with the business plan and/or were not performing. That has to be explored in every case. Who are the people? Why are they doing what they're doing? You figure that out and attack that from each angle." 
Under Michigan State law, sexual harassment constitutes illegal discrimination, so companies can be held liable if, for example, a supervisor makes a proposition and there's an adverse action for the employee who doesn't comply. The situation Gafkay sees most often is less cut-and-dried: an employee goes to their team leader with a problem and it never gets addressed because the team leader doesn't know what to do about the complaint and there are no company policies.
"It starts from the ground up," she says. "Corporations feel all set because HR deals with employment matters, but it's all the supervisors' and leaders' responsibility to be aware of discrimination and address it, not just brush it off or let HR deal with it."
Part of Below's practice involves conducting HR audits for clients, ensuring they have proper employment applications, agreements and handbooks. "I like to call it building a platform for keeping employment discrimination claims down to a minimum," he says.
Gafkay says something as simple as giving an employee the opportunity to tell their side can go a long way. "Providing a person with that process," she says, "can avoid phone calls to attorneys because he or she feels like there's been some unfairness." 
For more information about this area, see our overviews on employment law for employers and discrimination.
What do I do next?
Enter your location below to get connected with a qualified attorney today.
Additional Employment Law - Employer articles
Related topics
Attorney directory searches
Find top lawyers with confidence
The Super Lawyers patented selection process is peer influenced and research driven, selecting the top 5% of attorneys to the Super Lawyers lists each year. We know lawyers and make it easy to connect with them.
Find a lawyer near you