Lawyer Up Before Signing Sponsorship or Licensing Agreements
How a California attorney can protect athletes from future problems
By Super Lawyers staff | Reviewed by Canaan Suitt, J.D. | Last updated on May 4, 2023 Featuring practical insights from contributing attorney Jeremy M. Evans
Use these links to jump to different sections:
In September 2019, California Gov. Gavin Newsom signed the Fair Pay to Play Act, allowing NCAA athletes to participate in endorsement and sponsorship deals and without eligibility punishment. Now, athletes will be paid by those who use their name, image, or likeness.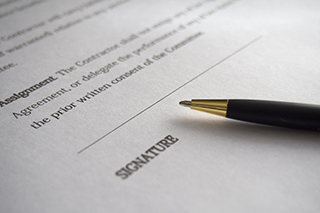 Unfortunately, many gifted young athletes enter the professional ranks without an understanding of how the business of sport actually works. They most likely do not have a solid grasp of the legal issues involved with, say, signing a contract. This can prove detrimental when it comes to entering into sponsorship, endorsement, or licensing deal with a large company. After all, the company has a team of lawyers to help draft these agreements, while the athlete may have nobody advising them.
"It's great that athletes can make money through their image, name and likeness," says Jeremy M. Evans, an entertainment & sports lawyer in Los Angeles. "The biggest thing, to me, is the fact that they are allowed to hire an agent and/or attorney to help represent them. That was a big no-no before … in the traditional NCAA model."
It is in the athlete's best interests to contact a law firm and seek legal advice with an experienced California entertainment attorney who can represent them in contract negotiations. But if you are still unclear as to why an attorney is necessary, here are just a few potential traps an athlete can fall into when signing a sponsorship deal.
What Does the Agreement Actually Require of Me?
Contracts are all about details. And the fine print of a sponsorship agreement may create more obligations than the athlete realizes.
You might think a sponsorship will require nothing more than wearing a company's product at a press conference or allowing your image to be used in marketing materials. But it may also require a specific number of personal appearances that represents a significant chunk of a busy athlete's free time.
It is therefore crucial to hammer out the precise obligations beforehand to avoid misunderstandings later.
Is This an Exclusive Deal?
Many sponsorship deals contain noncompete or exclusivity clauses.
Essentially, these clauses state that if you endorse a company's product, you cannot simultaneously endorse a competing product.
But again, the devil is often in the details. Some sponsors will demand the right to approve any future endorsement deals you sign, even for products that do not directly compete with their own. And some noncompete clauses may even continue in force after the sponsorship deal ends.
The last thing you want is to sign away your future ability to earn income.
Social Media and Morals Clauses
Successful athletes operate in a 24/7 media bubble. Their every action is often covered by the press. And many athletes embrace their celebrity by maintaining an active presence on social media.
But be warned: Anything you say or do in public could trigger a morals clause in your sponsorship deals. The terms of these clauses can vary wildly, but the basic idea is that the sponsor reserves the right to terminate the agreement if you engage in conduct that may poorly reflect on the company.
Keep in mind, a morals clause does not necessarily refer to criminal activity. It can be triggered by a controversial Twitter or Facebook post. And if you are arrested or charged with a crime—even a misdemeanor offense, like a DWI—the sponsor may have the right to end your deal even if you are ultimately acquitted in court.
As with all contractual provisions, however, morals clauses can be negotiated. This, again, is why it is always a good idea to work with an attorney who solely represents your interests in negotiating any endorsement or licensing agreement.
Evans believes most attorneys and agents will work on a contingency fee basis, partially due to the fact that a collegiate athlete may not have the money to pay an attorney an hourly or flat fee. He notes that industry standard is 10 to 20 percent for an agent and/or attorney for a sponsorship deal. You can ask about lawyer's fees upfront.
When meeting with a lawyer to discuss your rights as an athlete, here are some questions you can ask:
What is your practice area focus? What legal services do you offer?
How do I protect my intellectual property rights as an athlete?
What are your fees for reviewing contract terms or negotiating sponsorship arrangements?
"We all need experts to help ups, even if it is just to strategize or take the burden off of ourselves," he adds. "It's great, because you're bringing experts into the field to help negotiate deals."
If you'd like more general information about this area of the law, see our entertainment, sports and leisure law overview.
What do I do next?
Enter your location below to get connected with a qualified attorney today.
Additional Entertainment & Sports articles
Attorney directory searches
Find top lawyers with confidence
The Super Lawyers patented selection process is peer influenced and research driven, selecting the top 5% of attorneys to the Super Lawyers lists each year. We know lawyers and make it easy to connect with them.
Find a lawyer near you