Do Domestic Abusers Keep Their Guns?
Tennessee has taken steps to require surrender of an abuser's guns
By Doug Mentes, Esq. | Reviewed by Canaan Suitt, J.D. | Last updated on March 28, 2023
Use these links to jump to different sections:
In 2009, Tennessee enacted a law that requires that domestic abusers "dispossess" their guns. But there appears to be little enforcement of the state law.
Domestic violence offenders in the state are required to file a "Dispossession of Firearms" form with the court, but, again, evidence shows that domestic abusers are on their honor to report possessing guns to authorities.
What is the Law?
Federal law prohibits many domestic abusers from gun ownership and ammunition. The law applies to victims who were in a relationship with the abuser, including: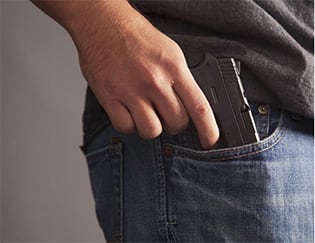 Spouses
Former spouses
Unmarried parents
Significant others or intimate partners, who live, or have lived, together
If the abusive partner has been convicted of a misdemeanor crime of domestic violence, the abuser is subject to the federal firearm ban. The crime must include an element that the abuser used, or attempted to use, physical force. The crime need not be labeled domestic abuse, but may include any crime of physical force—including assault and battery.
Tennessee has enacted gun laws that strengthen the federal ban for domestic abusers. Those convicted of domestic violence offenses, or those subject to a domestic violence protective order, are now required to file an affidavit with the court. The affidavit states:
Whether the abuser owns or possesses firearms or handguns
How the abuser dispossessed themselves of any guns
Further, law enforcement officers have the authority to remove guns from an alleged domestic abuser at the crime scene. However, if an abuser has multiple guns, police officers may only be able to confiscate the gun used, or threatened to be used, in that crime.
What if the Abuser Has Not Been Convicted of a Domestic Abuse Crime?
If there is not a criminal domestic violence restraining order in place between the abuser and victim, seeking a civil protection order is often the first step in protecting victims of domestic violence from further domestic abuse.
A protective order will prohibit any contact from the abuser for a period of time. Once in place, it will activate the protections provided in the federal gun ban.
For the gun ban to be in effect against an abuser, the abuser must have had actual notice of the hearing on the protection order. This means that the abuser was both:
Served with notice of a hearing
Given an opportunity to appear at that hearing
It's irrelevant whether the abuser voluntarily decides not to appear at the hearing. This notice requirement is important, because protective orders are often issued without a hearing. In addition, the federal law requires the protective order contain both the following findings:
The abuser is restrained from harassing, stalking, threatening or engaging in conduct that would place the victim or child in reasonable fear of bodily injury
The domestic abuser is a credible threat to the physical safety of the victim or victim's child; or, by its terms, explicitly prohibits the use, attempted use or threatened use of physical force that would reasonably be expected to cause bodily injury
Once the protective order expires, the abuser can get their guns back. However, the gun ban for abusers will stay in effect until the conviction is expunged, set aside or pardoned.
What if an Abuser Is Hiding Their Guns?
Unfortunately, enforcement responsibilities in Tennessee may fall on the abuse victims and their family members.
In domestic violence cases, victims should verify the abuser filled out the dispossession affidavit completely and truthfully. If not, they should alert authorities immediately.
Anecdotal evidence indicates that law enforcement may remove guns from an abuser if alerted to the unlawful gun possession through a domestic inquiry or traffic stop. If the victim or their loved ones can assist law enforcement in catching abusers in the act of possessing firearms, or assist in locating the abuser's firearms, law enforcement officers may have no choice but to arrest the abuser and take their guns.
For victims, there are several potential traps in the law that could exempt the abuser from being subject to the firearm prohibition. They should talk to an experienced Tennessee family law attorney, who can assist in ensuring the abuser is prevented from keeping their guns.
For more information on this area, see our overview of family law.
What do I do next?
Enter your location below to get connected with a qualified attorney today.
Additional Family Law articles
Attorney directory searches
Helpful links
Find top lawyers with confidence
The Super Lawyers patented selection process is peer influenced and research driven, selecting the top 5% of attorneys to the Super Lawyers lists each year. We know lawyers and make it easy to connect with them.
Find a lawyer near you