3 Reasons to Set Up a Conservation Easement
Why agricultural, industrial and environmental projects might seek one
By Trevor Kupfer | Last updated on January 26, 2023
Use these links to jump to different sections:
G. Braiden Chadwick
 has established countless conservation easements for a wide assortment of clients in California and beyond. The legal agreement between landowners and government agencies not only protects the land for conservation purposes, but has financial benefits for the landowner as well.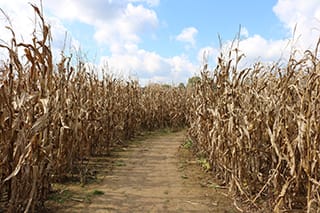 "The drivers for looking into doing a conservation easement are varied and many, as are the benefits," the Roseville 
land use attorney
 says. "It could be from a landowner desire to protect agricultural uses, for tax write-offs or a profit. It could be spurred by the needs of a project proponent to mitigate impacts of development elsewhere or to generate credits for a mitigation bank. Or, it could be on the environmental side of things, for habitat restoration, or preservation of a unique property. I've seen motivations running the gamut from all kinds of situations. It might seem big and scary, but if you get the right person and the right team together, it's something that could provide great value to a project proponent or property owner in a litany of ways." Most of Chadwick clients fall into one of three categories:
agricultural conservation operations
part of an industrial project, such as mining
environmental mitigation and/or habitat restoration
Agricultural Purposes
"I've worked with a lot of farming interests, especially in California, who have used conservation easements to great effect to provide a long-term permanent assurance that the land that they are currently farming will remain forever an agricultural operation," Chadwick says, citing Napa wine operations, Central Valley stone fruit and almond producers, and more. Often, he says, they sell the easement to a third party for a mitigation project, or they create it for tax benefits such as an income tax write-off. "You can work miracles for your bottom line, because you are taking a reduction in the value of that land, generating a tax deduction, all the while continuing to farm in the same manner you always have," Chadwick says. "I've done this for several large farming operators who have had a bumper year in production and sales profits. What they will do is put a conservation easement on large areas of their agricultural land that they have no intention of ever abandoning anyway, which limits the use of that land to agricultural operations and buildings." The restrictions in the easement generate a tax deduction allowing the farming operation to keep more of what it earns that year.
Industrial Purposes (Such as Mining Projects)
Creating easements in conjunction with sand and gravel mining is common, Chadwick says, because aggregate mining is generally allowed on agricultural land. "Despite being the source of all the materials society needs to build roads, schools, buildings and everything else, no one likes a mine in their backyard," he says. "So mines are pushed further and further out of town, and mining operators are forced to operate on agricultural-zoned land." Areas such as Fresno County, he says, have created ordinances that demand agricultural mitigation be established along with the mining project to mitigate the impact of mining on that farmland. "Under the California Environmental Quality Act, you have that same obligation to analyze and mitigate impacts to agricultural uses, if you're going to impact them at all," Chadwick adds. "You see that in a very similar situation for biological impacts, for riparian and stream impacts, for impacts to species and habitat.  Agricultural impacts are no different."
Environmental Purposes
Conservation easements are an integral part of habitat restoration, including mitigation and conservation banking. "A mitigation bank will go out and purchase a property. Let's say it's a full section of land, 640 acres. The mitigation banker will still have to go through an entitlement process, with the alphabet soup of state and federal agencies," Chadwick says, citing the EPA, California Department of Fish and Wildlife, U.S. Fish and Wildlife Service, regional water quality control boards, and more. "They'll undergo a permitting process, much like any other project. As part of that, they will usually have an enhancement proposal to restore habitat, and will place a conservation easement over that 640 acres, protecting it in perpetuity." At the conclusion of permitting, it will vest that property with a number of "credits" in accordance with the type and amount of habitat conservation values of the property. What that does, Chadwick explains, is allow the mitigation banking company to sell credits to developers who need to mitigate impact for situations such as those mentioned with mining or other development. In the cases of habitat restoration, Chadwick continues, often a client will pair up with a state and/or federal agency to restore large swaths of the ecosystem. "For example, I'm working on several projects right now in the Delta, restoring tidal habitat to benefit the Delta smelt and other fish species. My clients have restoration proposals for their properties and found a willing partner with the California Department of Water Resources to take thousands of acres of land that had been cut off from the Delta with levees and farmed, and restore the tidal habitat, including levee breeching and removal and contouring the land. They go through the same permitting processes as any other development, and then they will place a conservation easement over all of that property where it will remain as beneficial habitat in perpetuity."
Conservation Easements Work Much Like a Land Trust
When Chadwick works with landowners, it's not uncommon for them to seek an easement much like an estate planning tool—meaning, they want to ensure the land will remain useable for their children, children's children, and so on. "It happens all the time—especially with intergenerational farming families who want to keep the farming tradition alive forever," he says. "I'm going through it right now with a client who is purchasing easements for farmland, because the land provides habitat for snakes, hawks and burrowing owls. One of the motivations of the family who is selling the easement to my client, in addition to the financial rewards they're reaping from it, is that they want to keep that land in their family for agricultural uses forever," Chadwick continues. "They said, 'We can cash part of this property out and still provide the type of lifestyle we want to provide our family, and it will provide our family with the wherewithal to be able to continue the farming practices, whether it's open space, or whether it's grazing or farming, forever.'" Like a lot of things, conservation easements sound a bit scary on the surface, Chadwick says. "But it can be explained in context in a much simpler way: providing a financial incentive for continuing to farm or ranch, and that it's definitely something that shouldn't be out of the conversation when an agricultural landowner is looking at estate planning, especially when a farmer is looking for ways to keep a family farm in business and profitable for future generations. It's worth a conversation." For more information on land use and zoning law, see
our overview
. For more information on conservation easements, and what you can expect from working with an attorney on one, read
this article
.
What do I do next?
Enter your location below to get connected with a qualified attorney today.
Additional Land Use/Zoning articles
Attorney directory searches
Helpful links
Find top lawyers with confidence
The Super Lawyers patented selection process is peer influenced and research driven, selecting the top 5% of attorneys to the Super Lawyers lists each year. We know lawyers and make it easy to connect with them.
Find a lawyer near you