What Makes a Good Personal Injury Case in Texas?
Injury, liability and someone with the ability to pay
By Erik Lundegaard | Reviewed by Canaan Suitt, J.D. | Last updated on May 2, 2023
Use these links to jump to different sections:
What do attorneys look for in a good personal injury case? Two Texas attorneys use the same metaphor: They look for a three-legged stool.
The legs are constructed from three questions:
Is someone else at fault?
Are you injured?
And can someone pay?
You need to be able to say "yes" to all three questions to have a solid case.
Liability in Personal Injury Law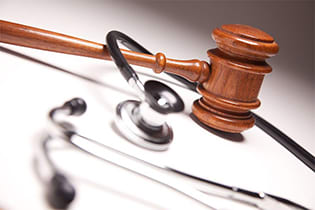 The first leg is all about liability or fault.
"If you said to someone, 'I was drinking at a bar and on the way home I ran a red light and hit somebody,' well, that's not good," says Randy Sorrels of Sorrels Law in Houston.
"On the other hand, if you say, 'I was sitting at a red light and someone rear-ended me, and there are witnesses,' that's a different story. Not every case is as clear as those two examples. There are a lot of gray areas, and that's where an experienced personal injury attorney can do something with it."
Serious Injuries Are Part of a Personal Injury Lawsuit
The second leg of the stool is injuries or damages.
"Oftentimes, we have situations where we hear clients say, for instance, 'Well, that could've killed me,'" says Todd Clement of Clement + Speer law firm in Dallas.
"It's a situation where, basically, you got shot at but they missed, or it's a bad accident, a bad wreck, but somebody walks away. Well, that's not a case because the injuries or damages leg of the stool is not there."
"Damages mean, 'I'm hurt,'" adds Sorrels. "'They took me by ambulance from the scene and I was admitted into the hospital with broken bones.' That's hurt. That's different from, 'I waited six months to go to the doctor even though I tried to work on it. I went to the gym and went to the massage therapist.' That's a case that has a whole lot more questions that need answering."
Can the At-Fault Party Pay?
But even if the first two legs of the stool are strong, there needs to be a source of funding for damages. "Most of the time, we're thinking about insurance coverage," Clement says.
Take car accidents. "The minimum amount of insurance that you're required to have to be on the roads in Texas is $30,000," says Clement. "If someone has a clear liability—a DWI case with a head injury or a paraplegic, a horrible case worth millions of dollars—but the funding source is limited to $30,000, that funding is limited regardless of how bad the injury is… The client doesn't make any money, you don't make any money, it's just a mess."
One way to improve the third leg of the stool on your own, Clement adds, is to buy adequate uninsured/underinsured motorist coverage.
He estimates that about 25% of drivers are uninsured and more than 75% underinsured. "Basically, you're buying insurance for yourself, to benefit yourself and your family if you're involved in a crash that is the fault of someone else and they don't have enough insurance."
Finding a Personal Injury Lawyer
Sorrels recommends talking to at least two attorneys before hiring someone. Do due diligence: Go to the state bar website to see if the attorney is board-certified; politely ask questions about their experience and success rate.
Clement has a story on why it helps to talk to more than one attorney. Several years ago, he received a phone call from a young man who said he'd been horribly injured, and his dog killed, because of a drunk driver. He had two legs of the stool. But the car that hit him was a 13-year-old Honda Accord, and the young man had already been turned down by several attorneys. "They assumed that because the car was incredibly old, there wouldn't be much insurance," Clement says.
But Clement did some digging, and "come to find out the at-fault driver was the boyfriend who had taken over from a young girl that was out celebrating her birthday, and he got incredibly drunk," he says. "And the car was insured under this girl's father's policy. And in the end, there was $2.3 million worth of insurance. We ultimately recovered that $2.3 million and completely changed the young man's life."
An experienced Texas personal injury lawyer can help you through the process. To learn more about the types of personal injury claims, see our overview on personal injury, as well as on specific practice areas including auto accidents.
What do I do next?
Enter your location below to get connected with a qualified attorney today.
Related topics
Attorney directory searches
Helpful links
Find top lawyers with confidence
The Super Lawyers patented selection process is peer influenced and research driven, selecting the top 5% of attorneys to the Super Lawyers lists each year. We know lawyers and make it easy to connect with them.
Find a lawyer near you