Who Can I Sue for Defective Product Liability?
Understand who's responsible for product defects
By Canaan Suitt, J.D. | Last updated on May 2, 2023
Use these links to jump to different sections:
Defective products, often household or consumer items, injure millions of people every year. Some of these injuries can be severe, requiring medical treatment and resulting in lost wages and future earning potential.
If a defective product has injured you or a loved one, you may have a good product liability claim to recover money for your injuries and losses.
This article will explain the different parties that could be responsible for a defective product and how a lawsuit works.
What Are the Types of Product Defects?
There are as many kinds of product defects as there are products. From a toothbrush to a blender to a weedwhacker, everyday products can have defects unique to them.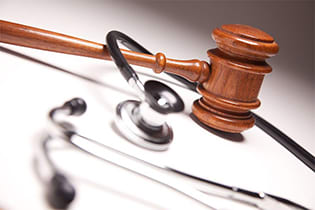 Despite the variety of defects, New Jersey personal injury lawyer Michael J. Epstein says there are three general categories in product liability cases:
Manufacturing defects. This is errors in the manufacturing process. The design of the product is sound, but the product is built incorrectly or with flaws.
Design defects. This is when the product may have been built correctly, but the product's design is poor or defective.
Marketing defects. Also known as "failure to warn," this is when the product may not be defective. Still, it is dangerous, and the supplier or retailer does not adequately warn consumers about the dangerous product. An ordinary consumer wouldn't have known about the dangers otherwise. Perhaps there is no label or instruction manual that explains the risks.
How Do You Prove a Product Liability Claim?
There are differences in product liability law from state to state. In general, though, there are four things you must prove in a products liability case regardless of the state you live in:
The product injured you
The product was defective
The product (and not some other factor) is what caused your injuries
You were using or operating the product as intended when the injury occurred
There are a few different ways that a supplier could be at fault under products liability law:
Strict liability. In strict liability, you don't have to prove the defendant was negligent. You just have to show the product was, in fact, defective. If the product was defective, the defendant will be liable regardless of how careful they were in making or distributing it.
Negligence. In a negligence case, you have to show the defendant acted without reasonable care in making or distributing the product. Maybe the defendant rushed the manufacturing process or didn't follow procedures.
Breach of warranty. In this type of claim, you must show the product's defects violate your product warranty. The warranty could be express (written or orally communicated) or implied (assumed to apply by law).
Learn more about proving a products liability claim.
Who Is Liable for a Defective Product?
In a product liability case, "multiple players can be at risk of getting sued or could be sued, including the manufacturer, the retailer, or someone between the retailer and manufacturer," says Epstein.
In thinking about who could be liable for product defects, it's helpful to think about the product's chain of distribution:
Who made the product? Look at the manufacturer of the product. Perhaps there was more than one manufacturer, with different companies or factories making component parts of the product. Is the manufacturer domestic or foreign?
Who distributed it? What person or entity was the distributor or wholesaler of the product? Were there any middlemen?
Who sold it? Who is the retailer you purchased the product from? Did you buy the product new or used?
Answering these questions will help you identify possible defendants in a lawsuit. The task can be very complex, and it's best to consult with a product liability lawyer about your case.
What Is Joint and Several Liability?
Once you have identified all the parties that could be responsible, how do you know who to sue? After all, not all of them caused the defect.
This is where the legal doctrine of joint and several liability comes in. The rule varies by state, but it generally means that every defendant in a product liability lawsuit is both individually liable and liable together with all the other defendants.
What does this mean practically? If one of the defendants can't pay for your damages, the other defendants must step in and foot the bill. This rule helps ensure that injured plaintiffs get compensation. It avoids a situation where you sue and win, but the person or company you sued can't pay.
Speak with a lawyer in your area about the rules governing joint and several liability in your state.
What Can You Get in a Products Liability Lawsuit?
The damages in a product liability lawsuit are not an "award" but "compensation to make the injured person whole," says Epstein.
The money you can get in a lawsuit falls into two "buckets"—economic and non-economic losses. These two types of damages together can cover:
Medical bills not covered by insurance
Loss of past and present wages
Loss of future earning potential
Loss of consortium (meaning loss of benefits of a relationship, including companionship, caregiving, intimacy)
Loss of enjoyment in life
Sometimes there can also be punitive damages, which are "designed to punish a defendant," says Epstein. To get punitive damages, "you have to show heightened wrongdoing" instead of simple negligence, he says.
Questions for a Products Liability Attorney
If you are considering a product liability lawsuit, consider speaking with an experienced personal injury lawyer about your case.
Many product liability attorneys provide free consultations to learn about your case. These consultations offer legal advice and help decide if the attorney or law firm meets your needs.
To get the most out of a consultation, ask informed questions such as:
What are your attorney's fees?
What do I have to prove in a product liability case?
What is the statute of limitations for filing a lawsuit?
How likely is a settlement before going to trial?
Once you have met with a product liability lawyer and gotten your questions answered, you can begin an attorney-client relationship.
Look for a product liability attorney in the Super Lawyers directory for help with your product liability case.
What do I do next?
Enter your location below to get connected with a qualified attorney today.
Additional Products Liability articles
State Products Liability articles
Attorney directory searches
Helpful links
Find top lawyers with confidence
The Super Lawyers patented selection process is peer influenced and research driven, selecting the top 5% of attorneys to the Super Lawyers lists each year. We know lawyers and make it easy to connect with them.
Find a lawyer near you