How Much Money Do I Leave for a Special Needs Trust?
With public funding under pressure, your child may need trust funds more than you think
By Trevor Kupfer | Last updated on January 29, 2023
Use these links to jump to different sections: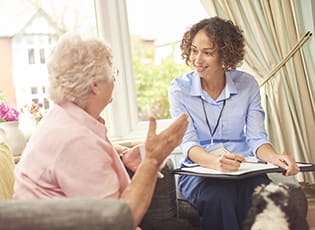 "The challenge in the world of disability and what is now more commonly called special needs planning is that some of the most expensive or significant financial costs that will happen in the future are very difficult to put dollar figure on," says
Edward V. Wilcenski
, an estate planning attorney out of Queensbury, New York. To make matters worse, he adds, "The system that serves people with disabilities out there, typically a Medicaid-funded system, is continually under pressure. And it's not getting more generous over time." "In New York State, the Medicaid program is one of the biggest line items in every county and on an annual basis is subject to cuts," adds
Tara Anne Pleat
, an attorney out of Clifton Park, New York. "So agencies that are providing support are being asked to do more with less every year, and what we have been advising families and what we're seeing is that there's really a growing need. If you want a high level of care and oversight, there's a growing need for private case management—meaning privately paid. You can't rely on the system for absolutely everything; it has a breaking point. So how do you go about thinking about how you're going to do that?" It's a great question, but one that's unfortunately difficult to answer in this ever-evolving world of benefit programs. But it's one that attorneys try to answer for clients as best they can, given their eligibility and individual circumstances.
Where Will They Live?
"Where a child is going to live is the first order of business," says Wilcenski. "Who is going to make sure, when a location is selected, that the people who are charged in caring for them are doing their job? Those variables are huge and are so significant." If you want to finance a home where a child will live for the rest of their life, anyone can typically work out that math, he says. You figure out the property taxes, the budget for maintaining the home, the costs for home care, et cetera, and carry it out over their life expectancy. "And that will tell me what I'll need in order to fund this trust with," he adds.
Who Provides Care and Oversight?
But other aspects are more difficult. "Who do we pay? Who do we have to provide oversight, if it's not a family member? And if I have to pay them privately, how much will I pay them and how much time will they need to spend?" Wilcenski says. "Those are much more difficult things to put a figure on." For those who don't work in this area, it's hard to predict all the variables (e.g. healthcare costs, medical benefits, government benefits, supplemental security income, SSI)—not to mention the continued erosion of public funding, Wilcenski says. That makes finding a lawyer experienced in this area of vital importance for advocacy. "If you don't live the life of someone who has a family member with a disability, you just don't see this stuff," says Wilcenski, who has a brother with special needs, while Pleat has a son. "So from a distance you'll say, 'I'm familiar with a special needs trust, I can set aside money so there will be money available, so that my child go to Disney World or buy Yankee tickets and have some fun above and beyond what the basics are.' That's the old notion of what these things do. It's still good to have money for entertainment and quality of life things, but over time what's happening is that this money is being used to fill gaps in the system. And those gaps are only going to get bigger, and that's what we try to stay abreast of." This is why Wilcenski and Pleat tend to err on the side of caution with families—"so they can think realistically about how they allocate their estates between children, and how they think about where they're going to get money to support a family member with a disability and some of the living arrangements that they aspire to create," he says. "Once you start putting flesh on the bones, you find that the decisions that families make are often much different than what they thought they were going to be doing when they walked through the door."
What To Do Before Meeting an Attorney
"We ask for folks to do some homework before they come and meet with us, so that when we're sitting down with a family, it's not a two-hour information gathering session," Pleat says.
"So we'll send out a three-, four-, or five-page worksheet, asking for information about the family—who are the players, what objectives the family has, and then what's the asset mix," she adds. They customize their approach to your circumstances and, as those change, they encourage you to rethink them. "It's always a good idea with
estate planning documents
, whether you're doing special needs work or traditional estate planning, to pull them out on a periodic basis and see: if you have the right people in the right places; if you want to allocate money differently, say, if one child wins the Powerball and the other files for bankruptcy, then you're going to change the disposition of your property based on those life circumstances," Wilcenski says. "This area is evolving quickly, and the law is not as well-established as the more traditional areas of estate planning. It's an area with a lot of uncertainty. And it will continue to be, I think, for a number of years. That uncertainty creates a certain amount of nervousness."
What do I do next?
Enter your location below to get connected with a qualified attorney today.
Related topics
Attorney directory searches
Helpful links
Find top lawyers with confidence
The Super Lawyers patented selection process is peer influenced and research driven, selecting the top 5% of attorneys to the Super Lawyers lists each year. We know lawyers and make it easy to connect with them.
Find a lawyer near you