A Power of Attorney Primer
Who needs one, what needs to be in it, and what if I already have one in Georgia?
By Benjy Schirm, J.D. | Last updated on June 23, 2022
Use these links to jump to different sections:
As people age, there is a finite amount of time in which they can continue to manage their medical decisions, financial affairs and more. After that point, it can be difficult for a third party to make certain decisions on their behalf. And for good reason: Banks and other financial institutions must protect the assets of their customers from fraudulent claims. The legal document needed to authorize another person to manage another's personal affairs is called a Power of Attorney (POA).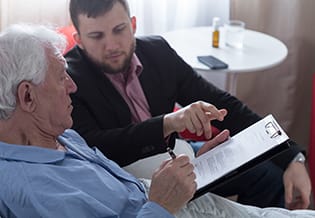 A legislative shift in Georgia may have revoked old POA documents by adding in new rules and protections for senior citizens. The Uniform Power of Attorney Act, enacted by the Georgia legislature in 2017, added requirements for creating a valid POA. Mary Galardi, an estate planning attorney in Atlanta states, "Some POAs get stale, and banks will refuse to honor them if they are five to 10 years old, which is when they often are most effective and used."
What is needed under the law?
The law allows agents with valid POAs to force banks to accept the authority of POAs if certain conditions are met. These conditions are:
the power of attorney is effective when executed;
the power of attorney is durable (not terminated by principal's incapacity);
an agent is not entitled to compensation, but is entitled to reasonable reimbursement of expenses incurred in performing the acts required by the principal;
the power of attorney is dissolved when an action is filed for dissolution, annulment or separation of agent's marriage to principal;
co-agents may exercise their authority independently; and
an agent that is not an ancestor, spouse or descendant of the principal shall not create an interest in the principal's property. Note also that the power of attorney does not authorize the agent to make health care decisions for you.
A promising feature of the UPOAA is that it provides for the ability to force third parties, such as banks, to accept a POA if certain conditions are met. First, a POA must be a "statutory form power of attorney," as defined by the statute, or it must meet all of the requirements listed above. If an authorized agent has a valid POA and presents it to a bank or other institution they now have a statutory right to enforce their rights to the information and finances that are requested in a short time period as long as requests from the institution are followed. 
"In updating an estate plan to the new statutory form, it can grant much more power to an agent than was previously allowed, including the power to change a principal's estate plan. So in enacting a new plan be certain to understand each power given to the agent as one initials the forms." Galardi says.
What does all this mean?
If there is a person that needs help managing their finances or other life decisions, they need to have someone step in as their agent. To do this with the least amount of issues, this person needs to have a valid POA enacted with the agent (attorney-in-fact) named, otherwise financial institutions, email accounts and other personal information will be unavailable to someone just trying to help. 
People assume that this only applies to older people, but think of what could happen if you are in a car accident today that leaves you incapacitated. When the unexpected happens, how will you access the money and information you need?
When asked if she has any advice for consumers regarding POAs, Galardi says, "Get one. An estate plan is often not as difficult as people make it out to be, people think the process is going to be cumbersome and hard but with the help of a reputable and experienced estate planning attorney, the process is really quite easy."
For more information on this area of law, see our overviews of estate planning, wills, trusts, and probate and estate administration.
What do I do next?
Enter your location below to get connected with a qualified attorney today.
Additional Estate Planning & Probate articles
Related topics
Attorney directory searches
Find top lawyers with confidence
The Super Lawyers patented selection process is peer influenced and research driven, selecting the top 5% of attorneys to the Super Lawyers lists each year. We know lawyers and make it easy to connect with them.
Find a lawyer near you