Estate Planning for Your Digital Presence
How and why New Yorkers should do it
By Matt Chandler | Last updated on May 18, 2022
Use these links to jump to different sections: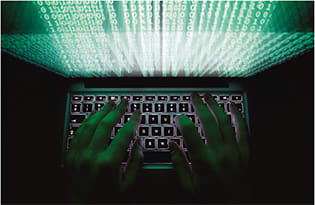 For more than four decades, Donald Hamburg, an estate planning and probate attorney at Golenbock Eiseman Assor Bell & Peskoe in New York City, has worked with clients to protect their assets. His practice has centered on what to do with real estate, family business, cash and heirlooms.
These days, there are two words he stresses to every client who comes through the door: username and password.
What Are Your Digital Assets?
The digital revolution has changed the way attorneys approach estate planning simply because digital assets—such as documents stored on the cloud, personal websites, blogs, and social media accounts—so often can get overlooked in the estate planning process.
"Most of the time," he says, "we are the ones informing our clients about the need to deal with digital assets when we are preparing a will and we alert them to the fact that they have digital assets, and that any will should make a disposition of those things."
"There was a time, when to figure out what assets an estate had, all you had to do was wait for the mail to come," says Arthur Trakas, who has a solo law firm in Astoria. "Today, they are pushing everyone to go paperless, so finding those assets can be more challenging if the person hasn't accounted for everything."
Share Your Login Information to Online Accounts
Though it may sound counterintuitive to what has long been preached—protect your passwords with your life—Hamburg says in the digital world, the processing of an estate upon a person's passing is immediately complicated if their electronic records and financial accounts cannot be easily accessed.
"Somebody must know your username and password for your email accounts; that is the number one priority," he says. "Number two are bank accounts, brokerage accounts, investment accounts, and any other important digital assets."
Otherwise, he adds: "It can present a huge problem for the estate."
Fortunately, the state of New York has taken steps to mitigate the all-too-common practice of not sharing log-in information. Article 13-A of the New York State Estates, Powers, and Trusts Law of 2016 specifically addresses the administration of digital assets.
"This is a very important piece of legislation because it gives fiduciaries access to your digital assets and allows them to manage, distribute, copy or delete digital assets," Hamburg says.
Before the passing of 13-A, if an estate wanted to get access to the Gmail account of a deceased person, Google held all of the power. Now, Hamburg says, that control is placed with the fiduciary or fiduciaries working on behalf of the estate.
Creating a Digital Estate Plan
Access is only one part of the equation. The next challenge is understanding what people have in their digital asset inventory. Hamburg says every individual, regardless of net worth, should review these three categories when planning their estate.
Digital Devices: "Whether it is a cellphone, laptop, iPad, camera, flash drive, SIM Card, SD Card, we are talking about devices you can typically hold in your hand," he says.
Digital Assets: "A digital asset is any file stored on your computer, phone, in the cloud, and so forth," Hamburg says. "That could be document, photos, software, or video."
Digital Accounts: "These include email, social media, blogs, websites, banking, shopping, and the like," he says.
If it sounds crazy to include your Instagram account in your estate plan, Hamburg says that account, and the digital assets stored within it, can be assigned a value for estate planning purposes.
"The bottom line is they are part of the client's estate," he says. "Whether they are traditional assets, or some form of a digital asset, they should be accounted for in any estate plan."
Trakas believes it is an issue that will be on the rise. "With a lot of my older clients, they may not have a lot in the way of digital assets to worry about," he says. "As this younger generation that grew up with the technology begins to consider an estate plan, the idea of protecting these types of assets will probably be second nature to them."
An experienced estate planning attorney can help you through the legal process. 
For more information on this area of law, see our overviews of estate planning, wills, trusts, and probate and estate administration.
What do I do next?
Enter your location below to get connected with a qualified attorney today.
Additional Estate Planning & Probate articles
Attorney directory searches
Find top lawyers with confidence
The Super Lawyers patented selection process is peer influenced and research driven, selecting the top 5% of attorneys to the Super Lawyers lists each year. We know lawyers and make it easy to connect with them.
Find a lawyer near you