What To Do if Someone Steals Your Art Online
How to copyright your work and take action against those who steal it
By Amie Stager | Last updated on January 26, 2023
Use these links to jump to different sections:
to license it
. Maybe they will be compensated. Maybe they won't.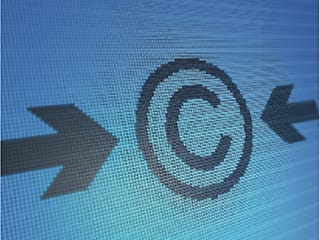 According to New York intellectual property attorney
Amy Lehman
, there is no one-size-fits-all answer for artists who want to take action when their work has been copied on the internet. "They can file a takedown notice with the server, or whoever is supporting the images or the websites," Lehman, the director of legal services for the nonprofit Volunteer Lawyers for the Arts (VLA), says. "If somebody finds, on YouTube, a film that includes some of their own footage or images, they write to YouTube and file a takedown notice. YouTube will investigate. If the complaining artist has their material copyrighted, they can include a copy of their copyright notice to demonstrate they own the material. But the investigation won't always end up with the material being permanently taken down. It depends on all kinds of factors."
Legal Action for Stolen Art on the Web and Social Media
Enacted in 1998, the
Digital Millennium Copyright Act
(DMCA) covers copyright infringement on the Internet. The act allows people to ask website administrators to remove online content without having to resort to litigation, and Lehman says that material does not need to be copyrighted to file a takedown notice. However, a counter notice to the takedown request can be filed, and material can be reposted. If the artist hasn't created a derivative work of someone else's material without the right to do so, then the artist can register for copyright as soon as the work is fixed in a tangible medium. They don't have to register the work immediately after it's created, and even if it's registered, it still doesn't prevent someone from taking the work. "People take, right? But you can't sue them over it unless you've registered with the copyright office," says Lehman. If you're concerned someone may infringe upon your original work, the best way to protect your rights is to register with the copyright office. You do not need a lawyer to register: You can go to the U.S. copyright office's
website
and follow the instructions. To further make it more difficult for someone to infringe on your copyright, you can place a watermark, your name, and the date of the copyright on your work.
Legal Advice on Suing Under Copyright Laws
According to Lehman, pursuing a lawsuit can be difficult if there are no proven damages. "If you've registered your work and you can prove that it was willful infringement, you can then acquire statutory damages," she says. But discovery of infringement and proving willful infringement can be tricky. "Let's say you have evidence that you contacted the person," she continues. "If you've approached them and said, 'You're infringing, please take it down,' and they don't do that, from then on you have your evidence that they're intentionally infringing." Lehman believes the courts don't always get it right, at first. For example, VLA filed an amicus brief in support of a case filed in the Eastern District of Virginia,
Brammer v. Violent Hues Productions
. At issue? A film festival made unlicensed use of an artist's stock photograph on their website to demonstrate their location. The Fourth Circuit decided to reverse the district court's decision, which Lehman says clearly "didn't understand the fair use standard"—which permits the use of copyrighted work in certain situations, such as criticism or parody. "The district court made its decision based on what it said was precedent in their district, except that those cases were also decided badly," says Lehman. "In VLA's advocacy, we can try to help that outcome come out more in favor of artists." Of course, there's a difference between copyright infringement and
art theft
—wherein someone stole a hard copy work of art. But art can be stolen online, too. And if you believe your work has been stolen, reach out to an
experienced intellectual property attorney
. "It's an infinite virtual world out there," Lehman says. "There's an unending supply of artists in need." For more information on this area of law, see our
intellectual property
overview.
What do I do next?
Enter your location below to get connected with a qualified attorney today.
Related topics
Attorney directory searches
Find top lawyers with confidence
The Super Lawyers patented selection process is peer influenced and research driven, selecting the top 5% of attorneys to the Super Lawyers lists each year. We know lawyers and make it easy to connect with them.
Find a lawyer near you