How Much Does It Cost To Hire a Personal Injury Attorney?
The financial impact of making a crucial hire
By Tim Kelly, J.D. | Reviewed by Canaan Suitt, J.D. | Last updated on April 6, 2023
Use these links to jump to different sections:
Personal injury cases can be long and expensive. While you might think that hiring a personal injury attorney is too costly, it is the best decision you can make in most instances. Personal injury lawyers work diligently to secure the highest possible compensation for your injuries—potentially saving on medical bills and legal fees in the long run.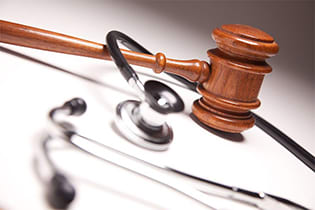 Paying your personal injury attorney can seem daunting. But what exactly are you paying for? And how much will their services ultimately cost you? This article will explore the financial costs of hiring a personal injury lawyer. You might be surprised to find out exactly how your money is used on the way to achieving a fair settlement.
What You Need To Know
Personal injury attorneys typically work on contingency fee agreements
These are agreements between attorney and client that detail what contingency fee percentage of your financial settlement or jury decision they are entitled to should they win your case
Attorneys that obtain a settlement amount or civil court decision for their client typically ask for between 33-40% of the financial award
Additionally, there are certain court costs and expenses such as filing and investigatory fees
Personal injury attorney fees are generally pretty expensive, but they're also negotiable and flexible. The below examples are standard methods by which attorneys can receive payment for their services.
However, the best way to determine how much a viable local attorney costs is to sit down with them for a free consultation. There, you can discuss the facts of your case and work together to determine the best means of compensation. Consider using a third-party database like Super Lawyers as you conduct your search.
In the meantime, here are some commonly used methods to compensate personal injury lawyers:
Contingency Fees and the One-Third Rule
Very few personal injury lawyers charge an hourly fee or retainer. Instead, most accident lawyers work on what is referred to as a "contingency fee basis." Contingency fees arrangements are what they sound like: they are contingent on whether your legal representation wins your accident case or not.
Often, personal injury attorneys will only charge their client fees for cases where they receive compensation. This means that if you receive a settlement amount or a jury decision, your personal injury lawyer will take a contingency fee percentage of your award. Typically, accident lawyers that can settle their personal injury cases before filing a lawsuit will charge about one-third of your financial award. The number is usually higher for cases that settle after filing: approximately two-fifths of the award. You can negotiate your personal injury attorney's contingency fee percentage upfront.
Additional Court Costs and Expenses
This is where a long, drawn-out court case can become expensive. The further your case goes down the trial court path, the costlier these expenses will become.
Personal injury attorneys all have their own preferences on charging for these costs. So, it's best to ask about them during your free case evaluation. Some might charge you an upfront cost that they will draw from as needed to pay these fees. Other attorneys will deduct the amount of court fees and expenses from your percentage of financial payout.
Here are some of the charges you can expect to incur during your personal injury claim:
Court filing fees
Investigation expenses to gather evidence such as police reports and medical records for potential trial exhibits
Administrative fees such as copying documents and paying for postage
Deposition costs
Expert witness fees
Travel costs
The Potential Costs of Not Hiring a Personal Injury Attorney
A personal injury lawyer might seem expensive, but consider the drawbacks of not having legal representation.
Suppose you've suffered severe injuries in a motorcycle accident that were further compounded by medical malpractice. When medical expenses rise, and the insurance company offers little recourse, accident victims can often feel overwhelmed and without a place to turn. When you've been injured, and another party is at fault, you owe it to yourself to recoup the costs of your pain and suffering with the help of an accident attorney.
A personal injury lawyer can provide you with the necessary legal advice to put your concerns at ease in a single free consultation. You can discuss the next steps in your personal injury lawsuit, talk about attorney fees, and ask any questions that are on your mind. This is where you can begin to see what type of attorney-client relationship you will have.
When you're looking for a personal injury lawyer but want to skip the hassle of a long, drawn-out search, you should consider services provided through a third-party database like Super Lawyers. Let our database put you in touch with the right personal injury law firm today.
Finding the Right Attorney for Your Needs
It is crucial to approach the correct type of personal injury attorney—someone who can help you through your entire case. To do so, search the Super Lawyers directory, using the search box to find a lawyer based on your legal issue or location.
You'll want to find a personal injury lawyer with experience filing your specific type of case. Attend initial consultations and free case evaluations, and don't underestimate the benefit of a strong attorney-client relationship as you embark on this legal process.
Why Should I Talk to a Personal Injury Lawyer?
Personal injury law can be complex, especially when medical care is involved. A lawyer can help you get your medical records, obtain police reports, and request documents from the person who harmed you. They can also help you understand the pros and cons of accepting a settlement offer or proceeding to trial.
An accident lawyer will help you deal with the insurance company, anticipate potential problems with your claim, and advise you on approaching them. They may even be able to help your accident case avoid potential problems altogether. Your lawyer will also keep track of deadlines and file all the paperwork with the necessary courts and agencies in the appropriate amount of time, giving you one less thing to worry about.
Here are some key things to consider discussing during your free case evaluation:
How are your personal injury lawyer fees structured? Contingency fee agreement, retainer, or an hourly fee?
Does your attorney specialize in a particular area of personal injury law, such as medical malpractice or property damage?
When can you expect a settlement offer?
Can you recover for lost wages and medical expenses?
Are you entitled to a payout from an insurance company?
Look for an experienced personal injury attorney in your area.
What do I do next?
Enter your location below to get connected with a qualified attorney today.
State Personal Injury articles
Attorney directory searches
Helpful links
Find top lawyers with confidence
The Super Lawyers patented selection process is peer influenced and research driven, selecting the top 5% of attorneys to the Super Lawyers lists each year. We know lawyers and make it easy to connect with them.
Find a lawyer near you