Should You Trademark Your Business' Name or Logo?
The importance of brand standing in Michigan
By Andrew Brandt | Last updated on August 16, 2022
If your business has both a brand name and a logo, you are not required to register them with the United States Patent and Trademark Office. However, there are several benefits to doing so.  
Two drawbacks to not registering, says Jeremy Bisdorf, an intellectual property attorney at Jaffe Raitt Heuer & Weiss in Southfield, include: not knowing if you're infringing on someone else's mark, and lacking stronger protection for your brand moving forward.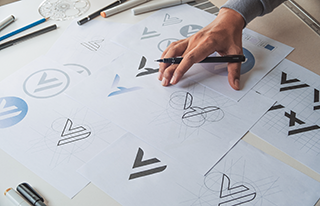 Although you are still sheltered by common law rights if you don't register, the legal remedies can be inadequate, says Kristen Pursley, an intellectual property attorney at The Dobrusin Law Firm in Pontiac. "The obligation will be on you to establish that there's some sort of likelihood of confusion," she says. "The proof that you have to establish in court is going to be a higher burden, and any compensation you get will not be as good as if you had registered for your trademark."
Once you have decided to register a trademark for your business name or logo, when is the best time do so? The sooner the better, Bisdorf says, but don't fret if your business has more pressing priorities. "I would much rather have a nice storefront that gets me good presence for my brand than I would spend money necessarily seeking a registration," he says.
According to Pursley, if you are choosing between registering the two, in most situations, you should trademark your brand name before the logo. "The word mark is going to protect any way in which a third party were to use that word—in the middle of a mark, in a different-looking logo," she says. "Whereas, with a logo mark, while it does protect the words to a point … when a third party starts using something similar to yours, the analysis is going to include whether or not there's a likelihood of confusion with the marks as a whole."
This is just one of numerous pitfalls involving registering for trademarks that business owners simply don't know—and why they should work with an expert when beginning the process. "It's something you really want to talk through with a lawyer, to figure out what the important pieces from a branding perspective of your business are, and what makes most sense, financially, to spend money protecting," Pursley says.
A common issue both attorneys see when clients have attempted to register on their own is incorrectly listing goods or services within the application. For example: "'I want to sell vodka, so I'm going to sell this whole class of alcohol—vodka, gin, brandy, bourbon,'" says Pursley. "Then, if they're only selling vodka, a third party could very easily request that the trademark office cancel their mark, because they're not using it on all the goods that were listed."
When you file a trademark application, you need to be a stickler for the details. "There are some modifications you can make after filing," Pursley says, "but most often, you are stuck with what you file." It's not like a provisional patent application, which is more forgiving; if you make a minor mistake, an attorney can often modify it. However, Pursley adds, when it comes to trademarks, "If someone comes to us after they've attempted to register and have been rejected, nine times out of 10, we have to refile." 
USPTO fees for initial filing depend upon how many classes of goods you're filing for, but often cost between $250 and $350 per class. Pursley says attorney fees range from $600 to $1,000 or more. If there are minor rejections, most are a low cost to fix, but if you're running up against a previous mark that's similar to yours, it can cost thousands to prepare an argument. 
How long could it take a trademark filing to go through? "I would definitely give it a year," says Pursley. "It varies greatly based on the different trademark-examining attorneys at the office, and who your application goes to. Some are much faster than others." 
Without the aid of an attorney, though, the trademark registration process can take much longer—and therefore be much more costly. 
"By having spoken to an expert, the process is shorter, because you have done the things required and maximized the opportunities for success of the application," says Bisdorf. "The process, without having obtained counsel, is more likely to get tripped up in what would otherwise be easy-to-avoid mistakes or non-optimal branding decisions."
For more information on trademark protections (legal protections), registered trademarks, exclusive rights (trademark rights), trademark infringement, the U.S. Patent and Trademark Office, the application process, and trademark attorneys, see our intellectual property law overview, as well as our trademark law overview.
What do I do next?
Enter your location below to get connected with a qualified attorney today.
Attorney directory searches
Helpful links
Find top lawyers with confidence
The Super Lawyers patented selection process is peer influenced and research driven, selecting the top 5% of attorneys to the Super Lawyers lists each year. We know lawyers and make it easy to connect with them.
Find a lawyer near you