10 Tips to Avoid Legal Pitfalls in Business
Super Lawyers selectees weigh in on practical legal considerations for businesses
By Emily Coon | Last updated on January 23, 2023
Use these links to jump to different sections:
Have Clear Dispute Resolution Agreements
When people start a business—whether its a corporation, partnership or limited liability entity—they usually have a common vision and, potentially, tight funds. It can be tempting to skimp on partnership and operating agreements, but contacting a law firm and seeking legal advice from
an attorney
to think ahead about how disagreements get resolved can contribute to the stability of the company. Inclusions like pre-dispute resolution clauses get parties talking before launching into costly litigation. Once you have your agreements, create clear employment policies to prevent future disagreements over issues like intellectual property, paid leave and maintaining an ethical workplace. Have everyone agree to an employee code of conduct and perform regular trainings to ensure policies are followed. While clear policies are not a panacea, resolving disputes becomes more efficient when compliance is easy to prove or disprove.
Elisa J. Dozono; Partner, Miller Nash Graham & Dunn; Portland, Oregon
Know Your Litigation Risks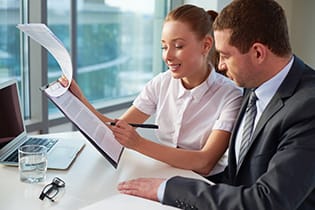 There is no one-size-fits-all approach to the handling of litigation on behalf of businesses, or assessing risks businesses reasonably face or anticipate in carrying out their practices. Some businesses are heavily regulated, while others aren't. Publicly traded businesses face challenges and litigation risks that other, privately-held businesses typically do not. Assessing a client's exposure and what is likely to be disclosed during the course of the discovery phase of litigation is of utmost precedence to determine how to best approach and handle litigation. The same is true for assessing business risks. If a policy is in writing, it should be clear, unambiguous and followed. On the other hand, not having a written policy on a particular issue may allow for more explanation, but does not necessarily shield a business from a lawsuit.
Jennifer R. Rossi; Owner, Law Office of Jennifer Rossi; West Hartford, Connecticut
Have a Crisis-Response Plan
I frequently represent companies in the aftermath of an engineering failure. Many companies are not prepared to respond to a major crisis. Effective crisis management requires prompt decision-making regarding the investigation of the accident; the preservation of privilege, key data and documents; disciplined internal communication; and appropriate public communication. I am fortunate to represent companies that want to do the right thing. In the chaotic rush to respond, however, the risk arises of creating or increasing
liability
. Before an accident ever occurs, I work to educate my clients about these risks and to develop appropriate policies and systems so that a crisis can be effectively and efficiently managed.
Dixie T. Wells; Partner, Ellis & Winters; Greensboro, North Carolina
Adopt a Mentoring Program
From Socrates and Plato to Obi-wan and Luke, the apprentice/protégé relationship has long been an integral part of society. Yet, in the business world, mentoring programs might begin with great gusto but are abandoned as workloads increase. A mentoring program need not be elaborate or formal and will vary based upon need and company size, but it is essential and should be consistent. After all, who will lead and guide the business when management is ready to pass the torch? Who will fill critical roles with clients and strategy when the CEO goes on a two-week vacation? Managers must ensure that their younger associates will be ready to competently assume leadership roles. Young associates should feel ready and sufficiently seasoned to confidently accept the torch when it is passed. Concentrating on mentoring as part of an overall succession plan will greatly enhance longevity and prosperity.
Cynthia C. Albracht-Crogan; Partner, Cohen Dowd Quigley; Phoenix, Arizona
Review Enforceability of Online Standards Terms and Conditions
In order to avoid potential disputes, smart e-commerce companies invest the time and resources to have experienced counsel regularly review the enforceability of their online standard terms and conditions of sale or purchase. The
law
addressing enforceability of common key provisions in terms and conditions is fairly well developed, but may vary state to state.
Elizabeth Herrington; Partner, Morgan, Lewis & Bockius; Chicago, Illinois
Know What Is And Isn't Confidential, And How to Protect It
Nearly all employers utilize restrictive covenants prohibiting the use or disclosure of "confidential information," both during and after employment. However, many employers typically fail to ask themselves, "What
is
confidential information?" Not every piece of business information is confidential. Another key inquiry is whether that information is actually protected. Many companies believe their customer lists are confidential, but provide lists of prominent customers on their websites. Employers need to actually protect their confidential information by keeping confidential files in secure locations or password-protected folders, or maintaining a written policy or handbook addressing how such files should be kept. Failure to protect the information can lead to a loss of proprietary protection for information at the cost of tens of thousands of dollars in litigation expense.
Richard D. Panza; Chief financial officer, Head of Litigation Department, Wickens, Herzer, Panza, Cook & Batista Co.; Avon, Ohio
Contracts: Know your 'Four Cs'
Crafting contracts for clients—rather than relying on ill-fitting, boilerplate documents—can provide huge savings in time, expense and preserved relationships. The "Four Cs" mark well-drawn contracts. First, contracts must be
clear
: Say what you mean and mean what you say. Murky language rarely benefits anyone. Too many clients find their most important agreements not clearly addressing their needs. For example, addressing problems with products or services goes beyond warranty waivers—contractual language can make these marketing opportunities. Second, keep contracts
current
. Like tailoring poor-fitting clothes, an annual review of key contracts ensures a better fit. Next is
conciliation
—what's the best method to resolve disputes? Alternative dispute resolution is a focus of the court system. Clients typically benefit from building in the same remedies before a case is ever filed. Finally, focus on
costs
of resolution. The specter of paying attorney's fees and out-of-pocket expenses can provide a significant disincentive to continue a fight.
Pete Woods; Partner, Haar & Woods; St. Louis, Missouri
Be Proactive
As a trial lawyer who has worked a wide variety of business law cases—for plaintiffs and defendants—I have learned that the single most important step a person can take to avoid legal pitfalls is to consult with knowledgeable counsel at the earliest stage of any significant business transaction. Our society is governed by a complex and interrelated web of federal, state and local laws, rules and regulations. In operating a business and documenting agreements, care must be taken to anticipate problems that may later occur if disputes were to arise. But when it looks like litigation may be on the horizon, pitfalls can be avoided in consulting with counsel at the earliest practicable time. If litigation can't be avoided, it is important to select the best trial lawyer you can for the task. The choice of counsel can make all the difference in the world.
Marc M. Seltzer; Partner, Susman Godfrey; Los Angeles, California
Mind your Ps & Ss
First, the
Ps:
Find your
passion
. Then pursue it with
preparation
,
perspiration
,
persistence
and
panache
. The pursuit is one of perspiration over a prolonged period of time with the right people in place. Then, the
Ss:
Strategic use of social channels
(Facebook, Twitter, Instagram, Tumblr, LinkedIn);
social advertising
;
strategic alliances
(documented with noncompetes, etc., avoiding, for instance, partnerships by conduct or "accidental partnerships") and
safeguard intellectual property
(trademarks, service marks, trade secrets, nondisclosure agreements and confidentiality).
Sofia Adrogué; Member, Gray Reed & McGraw; Houston, Texas 
Invest Early in Outside Counsel
Yes, I know such a tip sounds self-serving. Yes, I know that businesses want to minimize expenses. And, of course, I know that outside counsel is expensive. But investing early in outside counsel may pay dividends. For example, there are many pros and cons to including "attorneys' fees/prevailing party" clauses in contracts. In fact, in certain cases, like employment matters, including such a clause may increase litigation risk because the clause may boost the pool of attorneys who may sue a company. Investing early in outside counsel can help you determine whether including the clause is appropriate.   Even involving outside counsel in mundane decisions may yield benefits. For instance, consult with outside counsel when deciding levels of insurance coverage: too much insurance may make a company a litigation target; too little may force a business to pay substantial out-of-pocket costs.  Again, conferring early with outside counsel may help determine appropriate levels of insurance. Put simply, consulting with outside counsel at the initial stages of important decisions can help companies avoid legal pitfalls.
R. Omar Riojas; Partner, Kelley Goldfarb Huck Roth Riojas; Seattle, Washington
What do I do next?
Enter your location below to get connected with a qualified attorney today.
Additional Business/Corporate articles
State Business/Corporate articles
Related topics
Attorney directory searches
Helpful links
Find top lawyers with confidence
The Super Lawyers patented selection process is peer influenced and research driven, selecting the top 5% of attorneys to the Super Lawyers lists each year. We know lawyers and make it easy to connect with them.
Find a lawyer near you