Can Businesses Plan for the Next Pandemic?
Legal aspects of a company's risk management and future pandemic response
By Amy White | Reviewed by Canaan Suitt, J.D. | Last updated on October 9, 2023 Featuring practical insights from contributing attorney Heath Gilbert
Use these links to jump to different sections:
As business owners recall the outbreak of the Covid-19 pandemic and subsequent shutdowns throughout 2020, many might be wondering if there were proactive public health measures that could have been taken to somehow lessen the impacts. M. Heath Gilbert Jr. of Baucom, Claytor, Benton, Morgan & Wood in Charlotte, North Carolina, says while there's always room for preventative measures, business owners would have been hard-pressed to prepare for what happened.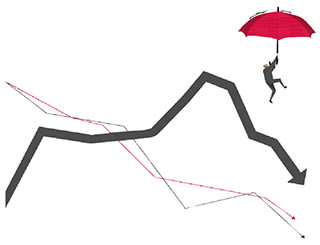 "This hasn't happened since 1918," Gilbert says. "How do you even begin to prepare for that? I really don't think there's any way." He says he can't think of a single industry untouched by the crisis. "It doesn't matter how big of an entity you are—you're impacted."
Below, the corporate attorney shares his best tips for businesses, big or small, to help weather the storm of an unprecedented event and have pandemic preparedness. Of course, no one wants or can forecast when the next pandemic will be, but a lesson of the Covid-19 crisis is that it's essential to be prepared if it does come.
Be Proactive About Debt
"Fight debt as hard as you can so in the event something like this happens, there's a little bit of a cushion," Gilbert says. "Be in the best position you can with finances."
But, of course, that comes with a warning: "If you don't have to exhaust lines of credit, try not to." He suggests creating your own line of credit. If you have money in a savings account, borrow against yourself, for example.
Scrutinize Your Leases—And Have Counsel Advocate for a Pandemic Clause
"I think going forward, many lawyers who review leases are going to look at these things through a whole different lens," Gilbert says.
Traditional leases for commercial space include clauses like acts of war or acts of god—"Things that, if they occur, neither side will be responsible for the terms of the lease during that period," Gilbert says. "It's usually a throwaway portion of the lease that comes close to the end, but I don't think that'll be the case anymore. And I've never seen one that speaks to a pandemic."
But Gilbert says that's likely to change. "I can promise you, I don't think there will be another lease negotiated from here on out that won't have a pandemic clause in it," he says. "And if it doesn't, I know I'll be fighting like hell for a client to have one."
But what if a landlord won't approve it? In that case, Gilbert says you need to ask yourself: How much do I really want to move forward with this?
Review Your Insurance Policies
Check to see whether you have business interruption insurance. If not, in the future, consider purchasing such insurance, Gilbert says.
"Additionally, consider purchasing 'key person' insurance on your principal owners, as the death of an individual could be financially devastating to a company, and having insurance to cover the loss of income or resources will be important in the short run."
Have Strong Decision-Making Protocols and Policies in Place
These can include creating employee handbooks with explicit guidelines, bylaws, operating agreements, simulations, and more. "Certain controls should be in place on how decisions are going to be made in situations like this," he says. "There should be a real understanding of the chain of command."
Count on employees having many questions and uncertainties. To that end, ensure strong policies are in place for employees—like health care, paternal leave, and retirement plans, for example.
Also, ensure your employees understand them. "Not only do things like healthcare and 401K retirement plans make a company competitive when acquiring and retaining employees, such benefits inherently support the quality of life of the employees," he says.
Maintain Relationships
While it's obvious that strong relationships and collaborations between colleagues will be paramount during a crisis, Gilbert says it's advantageous to have strong relationships in place with those outside of the inner sanctum, too.
"That means have good relationships with the bankers, good relationships with the accountants, and particularly, stay in touch with your legal counsel," he says. "With those relationships are good, when the earth collapses underneath you, you know for sure—'Ok, this is where I can go.'"
Embrace Technology
You can't be afraid of remote work. It's a part of pandemic planning, social distancing requirements, and the well-being of employees and business leaders alike.
"A lot of older generations believe that you have to have the brick-and-mortar to do good business," Gilbert says. "We've had to learn, over the past few years, to be more mobile. And the response is, 'Well, some of us can't be.'"
Healthcare providers, for example, could rightly argue that they're not as effective when not in person. But in unprecedented times, certain choices have to be made. "They can embrace telemedicine," Gilbert says. "Businesses that are able to utilize tech are going to have the best fighting chance."
Redefine Business Travel
Gilbert acknowledges that a lot of business is conducted outside of the boardroom.
"Relationships matter," he says. "Meeting for drinks at the bar, dinner—these things are a very important component of business relations. But I think certain levels of business travel will inevitably have to change." So how to navigate that? Consider what travel is paramount and what could work just fine as a video conference. "Some meetings may be necessary from a cultural standpoint; however, consider whether a Zoom conference call could work just as well," he says.
While Gilbert says the ways we do business might never be the same—from rethinking brick-and-mortar-only establishments to considering if we shake hands or not—he thinks that some change to come out of this crisis will be for the better.
"I think after all this, we become more human," he says. "We might be less likely to be curt, judgmental, or feel slighted because we've all been collectively through this thing, and we might be more supportive as a society. I think we begin to look at people less as numbers and more as individuals."
Find an Experienced Lawyer for Your Business's Needs
Preparing for the unexpected or undesirable is an aspect of all business legal planning. As 2020's coronavirus health emergency demonstrated, preparedness is essential for crisis management and business continuity during a health crisis.
For legal advice and guidance on preparing your business for future unknowns, consider speaking with an attorney. You can begin your search for a highly experienced business and corporate lawyer by using the Super Lawyers directory.
For more information on this area of law, see our overviews of business and corporate law and business organizations.
What do I do next?
Enter your location below to get connected with a qualified attorney today.
State Business/Corporate articles
Related topics
Attorney directory searches
Helpful links
Find top lawyers with confidence
The Super Lawyers patented selection process is peer influenced and research driven, selecting the top 5% of attorneys to the Super Lawyers lists each year. We know lawyers and make it easy to connect with them.
Find a lawyer near you