When Should I Hire a Criminal Defense Attorney?
Get legal counsel as soon as possible if you're facing criminal charges
By Tim Kelly, J.D. | Reviewed by Canaan Suitt, J.D. | Last updated on April 19, 2023
Use these links to jump to different sections:
Whether you're facing criminal charges, believe you're about to be charged, or even if you want to confess to a crime, "You really can't get a lawyer too soon," says Steven F. Fairlie, a criminal defense lawyer at Fairlie & Lippy in North Wales, Pennsylvania. "As soon as there's an inkling that there might be a criminal investigation filed against you, you want to get a lawyer."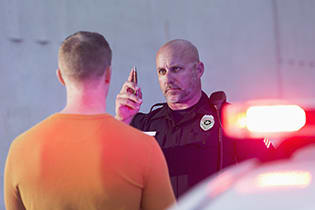 Effective legal counsel can help you navigate every possible outcome when facing criminal charges and possible jail time. Experienced criminal lawyers know the legal system like the back of their hands and can assist you in surmounting a capable defense strategy.
But finding practical legal advice can be easier said than done, especially when factoring in elements like cost and availability.
The good news is that finding an affordable attorney in your area has never been more straightforward. A third-party database such as Super Lawyers can put you in touch with capable, experienced attorneys today.
What Does a Criminal Law Attorney Do?
A criminal defense attorney is a lawyer who represents individuals or organizations that have been charged with committing crimes.
Just as there are many types of crimes at the state and federal levels, there are many areas of expertise under the umbrella of criminal law. An experienced criminal defense attorney will generally have a background in a few areas, or they might focus on a particular type of criminal case.
For example, some criminal lawyers focus their practice on representing individuals who have been charged with DUIs or drug-related offenses. Others tailor their practice to defending individuals or companies charged with financial crimes.
So, not every criminal lawyer is the same, and not every lawyer will be a good fit for your case. A good fit depends on what you've been charged with and the lawyer's area of expertise. When looking for a criminal defense attorney, read up on their background and the types of cases they take.
How a Criminal Law Attorney Can Help Your Case
Here are a few things that attorneys can do for you in your criminal case:
Provide legal advice. You don't want to navigate the uncharted waters of the criminal justice system alone. In this way, criminal lawyers serve as helpful guides. They advise you on your legal rights, constitutional rights, the US legal system, possible defenses and walk you through every possible outcome of your case. Their advice can help you avoid a lengthy prison sentence when you are in legal trouble.
Have your charges reduced or dismissed. No one wants their worst moments ending up on their permanent criminal record. From the moment your criminal defense attorney begins working on your case, they will apply their legal skills and knowledge to poke holes in your criminal charges and possibly minimize your legal jeopardy.
Negotiate potential plea bargains. A plea deal is where you and your legal counsel reach an agreement with the prosecutor to concede or admit guilt on certain criminal charges in exchange for a reduced penalty. Plea agreements can be common in first-time DUIs and drug crimes, but it helps to have an attorney that is familiar with the process and knows how best to achieve this outcome.
Speak for you at every stage. Why speak for yourself in complicated legal matters if you do not have to? There are many stages before trial where the presence of an attorney can shield you from incriminating or misrepresenting yourself with law enforcement. Where it is a photo identification, an interrogation, or your arraignment, it would be best to be represented by an attorney.
Why It's Important to Get a Lawyer As Soon as Possible if You're Facing Criminal Charges
Fairlie says that for most people, few events are as serious as getting charged with a criminal offense. It's not a time to delay in getting legal help.
"There are times when people spend money on a lawyer and they probably would've gotten the same result without the lawyer," says Fairlie. "However, I've seen far too many people come to me after they've tried to handle a case on their own or with a lawyer who wasn't an expert in that area of criminal law—and the case is now damaged goods and perhaps irreparable."
If such defendants had sought legal help upfront, "We could have gotten a better result, but through inexperience or lack of understanding of the subject matter, the person misses an advantage that was there to be obtained. But you can't go back and fix it after the fact," adds Fairlie.
Long-Term Benefits of Hiring a Criminal Defense Attorney From the Start
You might be looking at an attorney's fees and thinking their asking price seems a little high. But consider this: delaying hiring an attorney can lead to a shoddy, haphazard criminal defense strategy. This could lead to more severe penalties in the form of hefty fines and more jail time.
While you should never spend beyond what you can afford, it would be best if you assess your financial outlook and begin your search for an affordable, experienced criminal defense attorney right away. It may save you money, in the long run, to have an attorney with you from the beginning.
Plus, many criminal defense attorneys provide free initial consultations. You can at least meet with an attorney in order to make a fully informed decision about retaining legal counsel.
Remember: You Have the Right to An Attorney If You Can't Afford One
Fairlie recommends that people find the best criminal defense lawyer they can afford, given the gravity of criminal charges.
How much lawyers cost depends on various factors. "Key components of an attorney's fee are going to involve knowledge, experience, and past results, as well as demand for services," says Fairlie. It's smart to discuss costs with a lawyer upfront, during the initial consultation.
It's important to note that the Sixth Amendment of the United States Constitution affords the right to an attorney at every stage of criminal prosecution, from a defendant's initial appearance all the way through their appeal. Unless a defendant waives this right, they can ask to have their attorney present for every stage of the proceeding.
So, if a defendant does not have the means to afford an attorney, they can notify the court, at which point a public defender will be provided to them at no additional cost.
How to Find the Best Attorney for Your Case
"A good criminal defense lawyer should have a well-rounded background in handling all sorts of criminal defense cases," says Fairlie. Often, criminal defense attorneys gain a wide experience by handling a huge volume of cases in a public defender's or district attorney's office early in their career.
So, it's important to look at an attorney's biography and experience. But, cautions Fairlie, don't just go off what a lawyer says about themselves.
"I always tell people to look for objective criteria," says Fairlie. "That is, not that the lawyers says they're the best lawyer in the jurisdiction, but that other people are saying that. Specifically, groups or entities that are objective."
When searching third-party directories, rely on ones like Super Lawyers that use objective criteria such as qualifications, peer review, and years of experience in their rankings.
Fairlie adds that while local bar associations don't provide attorney rankings, "having a leadership position in a bar association is certainly an indicator of a lawyer who is active, experienced, and well thought-of by their peers."
Be wary of attorneys who promise too much or who won't be straightforward with you. "In my experience, lawyers tend to paint a rosy picture of what they can accomplish. And that's why I recommend that clients look at objective ratings and reviews of lawyers to try to ensure that the promises they've been made are in line with the lawyer's actual reputation," says Fairlie.
But what if you already have a lawyer and the attorney-client relationship isn't working out? Is it okay to switch attorneys in some cases?
"It does make sense to switch lawyers if you have the wrong lawyer," says Fairlie. "I think one of many factors that can help someone make that determination is if they don't have confidence or trust in their lawyer. If you don't have that, you're not going to be able to rely on their advice and you're never going to be able to make proper decisions in the case. You have to have a lawyer that you trust and feel that you can rely on."
No Later Than Arraignment
This article has established that it's critical to your legal defense to have a lawyer working on your criminal case as soon as possible.
But suppose you attended free consultations at multiple law firms and could not find an attorney who satisfies your legal and financial needs. If your search has become unnecessarily prolonged, remember that it's critical to have an attorney present with you at your arraignment.
An arraignment is a hearing where the defendant is brought before the court to answer their charges formally. If you cannot afford legal representation, this would be an opportunity to inform the court.
Different jurisdictions have different financial thresholds to determine whether or not a defendant has the means to afford an attorney. Consequently, if you have the financial means, it's best to prepare a defense strategy well in advance. Part of that will be establishing an effective attorney-client relationship early on.
If your legal search has become time-consuming and you're facing arraignment without an attorney, narrow your search with a vast database of experienced criminal defense attorneys like the one provided by Super Lawyers.
What do I do next?
Enter your location below to get connected with a qualified attorney today.
State Criminal Defense articles
Related topics
Attorney directory searches
Helpful links
Find top lawyers with confidence
The Super Lawyers patented selection process is peer influenced and research driven, selecting the top 5% of attorneys to the Super Lawyers lists each year. We know lawyers and make it easy to connect with them.
Find a lawyer near you