Private Gun Sales: Are They Legal?
Going through the proper channels
By Tim Kelly, J.D. | Reviewed by Canaan Suitt, J.D. | Last updated on April 12, 2023
Use these links to jump to different sections:
Gun purchases are on the rise, but people looking to make a quick buck should take note: Gun purchases are heavily regulated.
Whether it's the F.B.I. or state police, you don't want to run afoul of a law enforcement agency simply because you weren't thorough in conducting a background search. This article offers tips for how to make private sales with handguns.
What You Need To Know
Handgun sales are regulated at both a federal and state level.
Gun sellers that obtain a federal license are subject to a higher degree of regulation than private sellers.
Still, private sellers who do not conduct sufficient background checks can be subject to serious legal jeopardy should they sell to someone restricted by law from purchasing a firearm.
Private gun dealers who want to ensure their background checks' sufficiency can complete their transactions through federally-licensed dealers.
Handgun Sales in the United States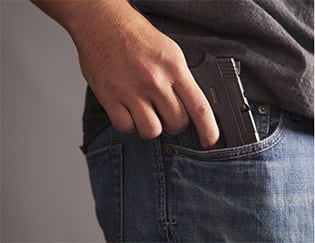 Gun sales by Federal Firearms License dealers (FFL dealers) provide a safely regulated, legal method for purchasing firearms.
Typically, the licenses are held by gun store owners, wholesalers, and some gun show sellers. FFL dealers can range from entities big and small throughout the United States. They can even oversee and facilitate transactions between private sellers and buyers under both federal and state law.
Still, some private sellers prefer to sell directly to their buyers without the regulation or safety provided through federal oversight. While the federal government forbids gun sales by firearms dealers to specific individuals, such as people convicted of violent crimes, each state imposes additional regulations you should also be aware of if you are planning on transacting in the sale of firearms.
Federal Law on Gun Sales
The Second Amendment of the United States Constitution (U.S.C.) affords United States citizens the right to keep and bear arms, but this right comes with certain restrictions. For example, FFL dealers are required by law to perform background checks.
Thanks to the passage of the Brady Handgun Violence Prevention Act of 1993, it is against federal law to sell firearms to individuals who are:
Convicted of crimes with a sentence greater than one year
Fleeing from the law
Addicted to controlled substances
Suffering from mental illness or have been committed for mental illness
In the United States illegally
Dishonorably discharged from military services
Currently the subject of a protective court order
Convicted of a misdemeanor for domestic violence
Under 18 years of age
Alternatively, the regulation around private sales is murkier. Some, but not all states, require private sellers to carry out background checks. The Bureau of Alcohol, Tobacco, Firearms, and Explosives (A.T.F.) lays out the expectations for FFLs when performing these checks on behalf of private sellers.
What Constitutes a Legal Private Gun Sale?
The answer to this question often depends on the state where the transfers of firearms occurred. This is because states have their own gun laws and regulations in addition to the federal regulations passed in the Brady Act. The list of people that gun dealers cannot sell to gets rather long, depending on which state you are in.
Additionally, some states impose a waiting period before the new firearm owner can obtain the gun. It's best to seek the legal advice of an attorney in your area – one with experience around this legal topic and local laws.  
Help Ensure the Legality of a Private Gun Sale
Private gun sellers have fewer regulations to abide by, but that does not necessarily mean their legal burden is eased.
Many private handgun purchases occur sufficient background checks that clear the firearms purchaser of all state and federal hurdles. Additionally, without the knowledge that comes with obtaining licensure, these private sellers may not even be aware of which rules and regulations apply.
This is why many private sellers complete their firearms transactions through licensed dealers. This way, the seller can be assured that they are not selling to a prohibited person with legal restrictions that could later come back to bite the seller.
The A.T.F.'s practical guide educates private parties on correctly completing a transaction through an FFL dealer. This method of gun control is designed with the intention of increasing public safety and limiting gun violence. Finally, there will always be a bill of sale record between the dealer and the new firearm owner.
Should I Speak With an Attorney?
If you took part in a private gun sale and have questions about the legality of the transaction, it's never a bad idea to speak with an experienced and knowledgeable attorney. For example:
Did you cross state lines to make a sale?
Did you sell to someone only to find out later that they have a protection order against them?
These are situations where it's best to speak to an attorney.
An experienced lawyer can evaluate the strengths and weaknesses of your situation while helping you make informed decisions. They also have a robust knowledge of the criminal justice system, state courts, and federal courts.
What do I do next?
Enter your location below to get connected with a qualified attorney today.
State Criminal Defense articles
Related topics
Attorney directory searches
Helpful links
Find top lawyers with confidence
The Super Lawyers patented selection process is peer influenced and research driven, selecting the top 5% of attorneys to the Super Lawyers lists each year. We know lawyers and make it easy to connect with them.
Find a lawyer near you