What Is The Difference Between Civil and Criminal Law?
Some key distinctions to build your knowledge
By Tim Kelly, J.D. | Reviewed by Canaan Suitt, J.D. | Last updated on April 13, 2023
Use these links to jump to different sections:
With a subject as vast and comprehensive as the United States legal system, it can get difficult to understand the distinctions between civil and criminal law properly. These two unique bodies of law both serve to deter or punish wrongdoing in the United States. However, that's generally where their similarities end.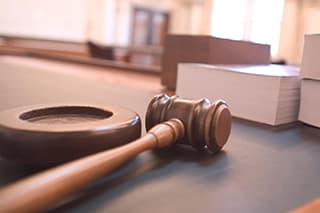 Criminal cases are prosecuted by the state or federal government. Criminal law is designed to protect the public and general society from offensive wrongdoings such as murder, drunk driving, battery, theft, or arson.
Alternatively, civil cases arise when one party initiates a claim for damages against another party or parties. One of the more prevalent areas of civil law is negligence (or personal injury) law. People can sue in civil court for claims such as wrongful death, breach of contract, defamation, trespass to property, and negligence, as mentioned above.
But this information merely scratches the surface. Keep reading to learn more about the many differences between civil and criminal law.
What You Need To Know
Civil law and criminal law are separate subsets of the United States legal system.
They are designed to punish wrongdoing and deter future offenses, but they accomplish these goals differently.
Criminal charges are brought by the government, while civil suits are filed by a private party known as a plaintiff.
Decisions between the courts are not mutually exclusive. Defendants can be acquitted in court and still found liable for damages during civil litigation, or vice versa.
Critical Distinctions Between Civil and Criminal Law
Most people know that civil court is where civil suits are litigated, while criminal court is where people are tried for alleged criminal offenses. The reality is that these areas of law have very little in common – and their differences run deeper than the above generalization.
Here are some of the main distinctions to help you tell the difference:
Case Filings – Plaintiff and Defendants: Civil cases are filed by attorneys on behalf of a private party (their client) referred to in court documents as the plaintiff. In civil law, the party that the plaintiff has filed their claim against is known as the defendant. In criminal cases, the state or federal government prosecutes the party alleged to have committed the criminal offense. Here, the accused party is also referred to as a defendant in court and case filings.
Burden of Proof: In civil court, the burden of proving the facts of the case fall on the plaintiff. The plaintiff must prove their case by a "preponderance of the evidence." This means they must prove in court that it is over 50% likely that the plaintiff committed the offense claimed. Alternatively, the government must prove criminal charges "beyond a reasonable doubt." This criminal standard is a higher standard of proof than civil court. It means the court has found no other logical explanation for the criminal offenses for which the defendant is charged; therefore, the defendant must have committed the criminal act.
Methods of Punishment: When a court finds for the plaintiff in a civil suit, there is typically some form of compensation for the damages the plaintiff incurred due to the defendant's actions. This compensation is often in the form of money or property. On the other hand, defendants convicted for a criminal offense can face fines, jail time, and (for the most severe felonies) the death penalty.
Verdicts: Unless the rules state otherwise, a jury hearing a criminal case must come to a unanimous verdict. Civil cases generally do not require that a jury reach a unanimous verdict should the case make it to a civil trial. The rules vary from state to state, so consult a local attorney in your area for more information.
Right to Appeal: In civil court, either party can appeal the decision in their case. In criminal court, only the defendant can appeal a decision.
Statute of Limitations: Whether you're facing civil litigation or a criminal charge, there are limitations on how long a plaintiff has to file a claim or how long the criminal prosecution has to press charges. These limitations vary state by state.
When Civil and Criminal Court Overlap
It should come as no surprise that there are times when criminal and civil court do indeed overlap. Suppose that a defendant is accused of battery where the victim is alleged to have suffered a permanent personal injury. In that case, the victim can file a civil suit against the defendant to recoup for damages they have sustained from the alleged injury.
Still, it's essential to remember that court rulings are not mutually exclusive. The defendant can be acquitted of the battery in criminal court but still found to be liable in civil litigation later on.
The distinctions are many:
If you're still wondering whether your case belongs in civil or criminal court (or both), you should reach out to an attorney with experience handling legal issues similar to yours
If your case is domestic violence against a family member, seek out an attorney specializing in family law
If your case involves personal injury, seek out a lawyer versed in tort law
Performing a little research early on can avoid headaches when the time comes to decide on your criminal defense or civil litigation strategy. You can never be too prepared for a criminal trial or civil lawsuit.
Should I Talk To a Lawyer?
Have you been accused of criminal acts or charged with a criminal offense? Then the answer is an unqualified "yes."
An experienced criminal defense lawyer will have a robust knowledge of the criminal justice system and can help you make informed decisions about plea agreements and whether you would like to testify at a criminal trial.
Below are some common questions you might want to consider when meeting with an attorney for the first time:
What is your experience and outcomes with criminal cases?
What will happen if I am charged with criminal offenses?
Have I been charged with a felony or misdemeanor?
When do the police have to read me my rights?
Do I have to accept a plea deal?
How can I avoid jail time?
Finding the right attorney for your needs is crucial. To help you get started, search for a criminal defense attorney in the Super Lawyers directory.
What do I do next?
Enter your location below to get connected with a qualified attorney today.
State Criminal Defense articles
Related topics
Attorney directory searches
Helpful links
Find top lawyers with confidence
The Super Lawyers patented selection process is peer influenced and research driven, selecting the top 5% of attorneys to the Super Lawyers lists each year. We know lawyers and make it easy to connect with them.
Find a lawyer near you