How to Choose a Medical Malpractice Attorney
Finding the right attorney for your needs
By Kimberly Lekman, Esq. | Reviewed by Canaan Suitt, J.D. | Last updated on May 9, 2023
Use these links to jump to different sections:
If you or a loved one has suffered from misdiagnosis, medical errors, prescription mistakes, or other medical negligence, you may be wondering whether you have a legal claim for medical malpractice.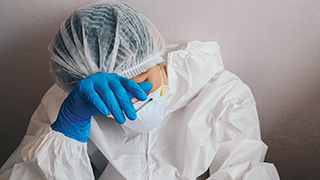 Medical malpractice law is a complex and specialized area. Choosing the right attorney can make a big difference in the resolution of your case. If you decide to sue your doctor, you can expect that they will have teams of lawyers working for them. In addition, they will get support from the hospital where they may work. So, you will need expert legal advice to help you navigate your case properly.
Choosing an experienced lawyer who understands the medical malpractice specialty will give you a better chance of recovering for your injury. Further, a medical malpractice attorney can help you collect the documents, charts and medical records needed for your case. Below, you will find guidelines for choosing the best medical malpractice lawyer for you.
What Is Medical Malpractice?
Medical malpractice occurs when doctors and other medical providers injure patients through preventable medical negligence.
When patients seek medical treatment, they should feel confident that their doctors and medical staff are treating them with the same level of expertise and care that a competent medical provider would use in similar circumstances. When doctors and medical professionals provide you with treatment that falls below the expected standard of care, you may suffer injuries. If these injuries are the direct result of medical negligence, you may be able to recover financially for medical malpractice.
Medical malpractice can occur in many ways and can cause any number of unfortunate outcomes. Some of the most common types of cases in the area of medical malpractice include:
Misdiagnosis or failure to diagnose. When your doctor does not diagnose you correctly, this can lead to treatment delays and further injury.
Surgical errors. Common surgical errors include operating on the wrong part of the body or leaving a foreign object inside of a surgical wound.
Medication errors. Pharmacists may fill prescriptions incorrectly. Or medical professionals may fail to recognize medication interactions that can cause harm.
Birth injuries. Unfortunately, medical malpractice sometimes occurs when a baby is born. Misdiagnosis and accidents during a child's delivery can lead to birth injuries that harm a mother and a baby.
Sometimes, medical mistakes might cause you to lose income due to a prolonged absence from work. In extreme cases, they can result in serious injury, increased medical bills, and wrongful death. If this has happened to you or a family member, you should seek legal advice from an experienced attorney.
How To Start Looking for a Medical Malpractice Attorney
Medical malpractice lawyers typically specialize in either defending health care providers or advocating for injured patients. If you are a victim of medical malpractice seeking legal representation, you will need to find a plaintiff's attorney.
Ask Friends and Family
A good way to start your search for an attorney is to ask your friends and family for referrals. If you happen to know anyone who has gone through a medical malpractice lawsuit, their experience and legal connections can be a great help. You should ask if they had a good experience with their lawyer and whether they would recommend them to you.
Even if you don't know anyone who has filed a medical malpractice claim, you probably know people who have hired lawyers for other purposes. These lawyers may be able to refer you to respected medical malpractice lawyers in your community.
Look for Malpractice Attorneys Online
The internet offers a wealth of resources for finding legal representation. To start, you should consider checking your state bar association. Each state has a bar association that licenses attorneys. The bar association's website usually provides a complete listing of local attorneys with information on whether they are licensed and in good standing. This can also be a handy tool if you are considering hiring someone you heard about through attorney advertising.
Next, you may want to look at other lawyer referral services. You can easily find these services online. For example, the Super Lawyers directory offers listings of top-rated attorneys based on practice area and location.
After you have finished browsing online and asking for referrals, you may have an extensive list of attorneys who you are considering. Once you have created a rundown of possibilities, you should arrange initial consultations.
Questions To Ask a Medical Malpractice Lawyer
Before you meet with a lawyer, it's helpful to prepare a few questions. Most attorneys offer a free consultation to help you decide whether you want them to represent you in your case. To make the most of this first meeting, you may want to ask some of the following questions:
How many medical malpractice cases has the attorney taken to court? Because medical malpractice is such a specialized field, experience is of utmost importance.
How much will the attorney charge? Ask whether they will represent you on a contingency fee basis. This means that they will not charge you upfront. Instead, they receive a percentage of any verdict or settlement you may receive.
Will paralegals and support staff perform a sizable portion of the work for your case?
What percentage of cases does your attorney settle rather than taking to trial? Insurance companies may feel more confident negotiating lower payouts with attorneys who have a track record for settling.
Does the attorney have connections to expert witnesses? You might need to hire medical experts to testify about whether your treatment met the standard of care in your area. You should ask whether you need to pay for expert testimony upfront.
Further, it would help to choose an attorney you trust and whose personality matches your own. You will be spending a lot of time working with this person, so it's essential to establish a good working relationship.
There may be logistical considerations to think of, too. You will need to choose an attorney whose office is conveniently located and who can meet with you during your available hours. Remember that experienced medical malpractice attorneys are often busy with a heavy caseload. So, you may need to be patient with arranging in-person meetings.
Additional Considerations When Choosing a Medical Malpractice Attorney
Before you commit to an attorney, it's a good idea to ask if they can estimate how long your medical malpractice suit might take. Although they won't be able to give you an exact timeline, an experienced attorney can probably provide a general estimate of the duration of your case. This estimate can help you decide whether to proceed.
As an extra layer of due diligence, you may want to check whether your chosen attorney is a member of a trial lawyers' association. There may be more information about them on the association's website if they are. If you haven't already done so, it's wise to verify that any attorneys you consider are licensed and in good standing with your state's bar association.
Reputation is another essential consideration when choosing an attorney. To learn whether an attorney has a record of success, you should consider using a third-party attorney selection service. For example, consider the Super Lawyers directory of top-rated medical malpractice attorneys. The attorneys in the Super Lawyers directory are recognized for excellence in their practice area. Super Lawyers uses a patented selection process for choosing legal professionals and only lists attorneys who members of the public can hire.
If you have been injured due to medical negligence, you should act promptly. It's important to secure the right medical malpractice attorney for your case as soon as you can. Your state may place time limits on medical malpractice lawsuits through a statute of limitations.
To learn more about this area of law, see our overview on medical malpractice.
What do I do next?
Enter your location below to get connected with a qualified attorney today.
State Medical Malpractice articles
Related topics
Attorney directory searches
Helpful links
Find top lawyers with confidence
The Super Lawyers patented selection process is peer influenced and research driven, selecting the top 5% of attorneys to the Super Lawyers lists each year. We know lawyers and make it easy to connect with them.
Find a lawyer near you