How Will I Pay a Medical Malpractice Attorney
Paying your attorney for their work
By Kimberly Lekman, Esq. | Reviewed by Canaan Suitt, J.D. | Last updated on May 9, 2023
Use these links to jump to different sections:
If you or a loved one have been harmed by medical errors or malpractice, you may be considering filing a lawsuit against your doctor or other healthcare professionals.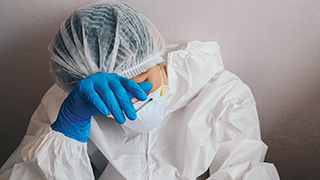 To do so, you will need an attorney. In addition to providing you with the legal advice you need, an attorney will go up against your healthcare provider's lawyers and their insurance company.
These parties will work hard to protect their client and reduce your award amount. So, you should choose a lawyer who has a track record for success and is respected in their field. The Super Lawyers directory is a helpful resource that enables you to find respected medical malpractice attorneys in your area.
Unfortunately, many injured patients are too worried about the expense of a lawsuit to pursue their valid claim. You might find it encouraging to know that you will not necessarily have to pay any legal fees upfront in a medical malpractice claim.
Most medical malpractice lawyers will work with their clients without requiring initial payment. Instead, they may offer to represent you and take payment in the form of a percentage of your malpractice award (if any). Before choosing a lawyer, it's a good idea to ask for a full breakdown of fees. You can then compare this to other attorneys you consider for your claim. You should feel free to negotiate your medical malpractice lawyer's fees as you would with any other service.
How Medical Malpractice Attorney's Fees Work
In the medical malpractice and personal injury specialties, attorneys will usually offer a free consultation. So, it shouldn't cost you anything to have an initial meeting to assess whether an attorney is right for you. You should choose a lawyer you like and trust to handle your case. To find out whether you can afford the attorney of your choice, you should ask how they handle fees and other expenses. Many lawyers offer a contingency fee arrangement.
Contingency Fee Arrangements
If a lawyer provides their services on a contingency fee basis, this means that they collect a portion of any verdict or settlement you may win. They commonly claim about a third of the award. However, this percentage can range from 25% to around 40%. It depends on the attorney, the location, and the case's complexity. It may be standard practice to give a sliding-scale contingency fee schedule in some locations. With a sliding-scale contingency, the attorney will receive a certain percentage of your payout up to a specific amount. The percentage then changes if the award goes above that amount.
Some states place a cap on the amount an attorney can take as their contingency fee. Further, state law may allow a judge to review the contingency fee agreement for appropriateness.
If a lawyer is willing to take your case on a contingency-only basis, they will only get paid for your case if you receive a payout. The only money the lawyer will collect from you is a portion of your malpractice award. For many malpractice clients, it's reassuring to know that their attorney has a vested interest in their case's success.
However, you should be aware that lawyers who work on a contingency fee basis may be more selective about their cases. To remain in business, they need to choose only medical malpractice claims with a reasonable chance of success. Otherwise, they may spend a significant amount of time and money on a case without recovering any of their losses. So, you may need to contact several attorneys to find one who is both willing to take your case and who matches your needs.
In addition to asking about their fees, it's wise to ask how many years of experience they have, how often they settle cases, and whether they have connections with medical experts to testify on your behalf. In fact, you should create a list of all your legal questions before you go to your initial consultation with an attorney.
Medical Malpractice Case Expenses
There can be considerable expenses associated with filing a medical malpractice lawsuit. These are in addition to a lawyer's fees. They can include:
Filing fees
Deposition fees
Court costs
Medical record fees
Travel expenses
If your case ends up in a trial, you will probably also need to hire a medical expert witness. This expert witness will most likely charge an expert witness fee in exchange for giving testimony about the standard of care in your area.
The standard of care is the legal term for the level of expertise and care that a competent medical professional would have exercised under similar conditions. To succeed in your medical malpractice lawsuit, you will need to show that the treatment you received fell below this normal standard of care. Further, you need to show that the substandard treatment actually harmed you.
These additional costs can add up, so you will need to have an agreement with your attorney about who will cover them. Some attorneys and law firms may be willing to pay these costs initially. This relieves the client from incurring ongoing expenses as the case moves forward. However, the attorney will usually deduct these costs from any award you will receive.
Medical Malpractice Attorney Fees FAQs
Are there limits on contingency fees?
Yes, some states limit the percentage an attorney can take of a client's award. One reason for these limits is to discourage excessive litigation. Another reason is to ensure that injured parties receive fair payouts to cover their medical bills and other expenses. Note that a judge can often limit fees if they are excessive under the circumstances.
Will I have to pay my attorney a retainer?
Usually not. In the medical malpractice field, most lawyers offer a contingency-based fee schedule which allows you to retain their services for free at the onset of your case.
Retainer fees are more common in other legal specialties, such as criminal defense, family law, and contract law. A retainer is a fee you will pay upfront to secure a lawyer's services. The lawyer then places these funds into a trust account. They will withdraw fees and costs from this retainer fee as they perform work. If any funds remain when your case is complete, they will return these to you. However, retainer fees are uncommon in the medical malpractice specialty.
What is the statute of limitation for medical malpractice?
The statute of limitation is a time limit on your ability to sue for medical malpractice injuries. These limits vary depending on your state's laws. State statutes of limitation typically give patients a couple of years after they discover their injury to file a lawsuit for medical malpractice. But state laws are subject to change. You should talk to an attorney as soon as possible after realizing that medical negligence has harmed you.
To learn more about this area of law, see our overview on medical malpractice.
What do I do next?
Enter your location below to get connected with a qualified attorney today.
State Medical Malpractice articles
Related topics
Attorney directory searches
Helpful links
Find top lawyers with confidence
The Super Lawyers patented selection process is peer influenced and research driven, selecting the top 5% of attorneys to the Super Lawyers lists each year. We know lawyers and make it easy to connect with them.
Find a lawyer near you