What is the Difference Between Medical Malpractice and Medical Negligence?
Know the difference before you speak with an attorney
By Kimberly Lekman, Esq. | Reviewed by Canaan Suitt, J.D. | Last updated on May 9, 2023
Use these links to jump to different sections:
If you or a loved one has suffered an injury at the hands of a medical professional, you may be considering taking legal action.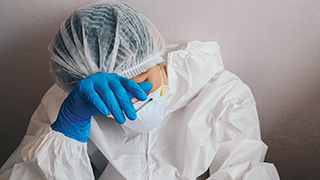 State laws vary widely regarding lawsuits against medical providers, so it's important that you seek legal advice from a skilled medical malpractice lawyer as soon as possible. Your medical malpractice attorney can help you understand whether your case was medical malpractice or medical negligence under your state's law. Further, they can evaluate whether the distinction matters in your case and whether you have a valid claim.
Laws regarding medical malpractice and medical negligence vary from state to state. However, there are certain things you generally must show if you want to sue a medical provider for injuring you during treatment:
Provider-patient relationship: There was a provider-patient relationship. You sought the medical provider's care, and they agreed to treat you.
Breach: The medical provider breached their duty toward you by deviating from the expected standard of care. This is often called medical negligence.
Damages: You suffered actual harm due to your healthcare provider's medical negligence.
Causation: Your provider's acts or omissions are the direct cause of your injury. In other words, your injury is not just a natural progression of your condition.
What Qualifies as Medical Negligence?
Medical negligence occurs when your medical provider treats you in a way that falls below the expected medical standard of care. The standard of care is generally defined as the level of skill and care that a competent medical professional would have exercised in the same conditions. Not all instances of medical negligence give rise to a valid legal claim. You must also demonstrate that you sustained actual harm due to the negligence.
One example of medical negligence would be if a nurse gives you another patient's medication, but you suffer no injury. In that example, the nurse was probably negligent. They likely breached their duty of care by failing to check that they administered the proper drugs. But you will not have a meritorious legal claim because you suffered no harm from this medical error.
The types of cases that usually result in injuries and often result in medical malpractice lawsuits include:
Birth injuries
Surgical errors
Anesthesia errors
Misdiagnosis or failure to diagnose
Medication mistakes
The above list covers some of the most common examples of medical malpractice cases. But improper medical care can cause injuries in many other ways too. Further, doctors are not the only medical providers who can be guilty of malpractice. Nurses, phlebotomists, support staff, and healthcare facilities themselves can be liable for medical malpractice too.
Medical Malpractice Versus Medical Negligence
In conversation, people may use medical negligence and medical malpractice interchangeably. However, there may be important legal distinctions depending on your state of residence.
In many states, the difference between medical negligence and medical malpractice lies in whether the plaintiff suffered harm. As discussed above, medical negligence occurs when a medical provider's treatment and care falls below the expected standard of care. An action for medical malpractice can arise if a patient suffers an injury due to this breach of duty.
In some states, including Florida and New York, medical malpractice and medical negligence can both be causes of action. In New York and Florida, for example, the key difference between medical malpractice and medical negligence is whether the defendant was acting in the capacity of a medical provider when the injury occurred. If they were not acting as a medical provider, a plaintiff could sue them for negligence.
A plaintiff in Florida will have a longer time limit to submit their claim by suing for negligence rather than malpractice. This can mean the difference between a valid and invalid claim in some cases. Further, there are different pretrial procedures and statutes of limitation for these causes of action in Florida.
The distinction between medical negligence and medical malpractice may also impact your financial recovery. Many states, such as North Carolina, place caps on the amount patients can recover for medical malpractice, especially regarding non-economic damages like pain and suffering. These caps may be different in negligence cases, and they may not apply in cases of gross negligence, recklessness, or fraud. Like many other issues in medical malpractice, caps on damages vary by state.
Note that state laws are subject to change. An experienced medical malpractice attorney near you can give you current legal advice for your jurisdiction.
Making a Claim Against a Medical Provider
If you or a loved one were the victims of medical malpractice, you might be considering filing a lawsuit. A medical malpractice lawyer and their law firm will help you collect the documents and medical records you need.
Further, they will help you file the necessary paperwork and track critical deadlines. Further, your attorney can help you find a medical expert witness. If your case goes to trial, this expert will give testimony about the standard of care in your area. This testimony can be crucial to the outcome of your case.
However, it's important to note that most lawsuits against medical providers settle out of court. By settling, you avoid the uncertainty of going to trial. Many injured patients prefer settling their cases because they avoid extended legal proceedings and the stress of a court trial. However, jury verdicts may result in higher payouts. The question of a trial versus a settlement is another area where an experienced attorney's advice will be helpful.
You should contact an attorney as soon as you realize that you suffered an injury due to substandard treatment. There may be time limits (statutes of limitation) on medical malpractice claims in your state, so time is of the essence.
If you are concerned about paying for an attorney, it might reassure you to know that most medical malpractice attorneys offer free case evaluations. At this first meeting, you can get to know the attorney and ask them any questions you have. It's also a good idea to use this free consultation to get the attorney's opinion about the strength of your negligence or malpractice suit. Their opinion will help you decide whether the case is worth pursuing.
To learn more about this area of law, see our overview on medical malpractice.
What do I do next?
Enter your location below to get connected with a qualified attorney today.
State Medical Malpractice articles
Related topics
Attorney directory searches
Helpful links
Find top lawyers with confidence
The Super Lawyers patented selection process is peer influenced and research driven, selecting the top 5% of attorneys to the Super Lawyers lists each year. We know lawyers and make it easy to connect with them.
Find a lawyer near you