When Should I Hire a Medical Malpractice Lawyer?
Knowing the right time
By Kimberly Lekman, Esq. | Reviewed by Canaan Suitt, J.D. | Last updated on May 9, 2023
Use these links to jump to different sections:
When you need medical treatment, you expect to be able to trust your doctor to provide you with expert care. However, healthcare providers sometimes make preventable mistakes that cause harm to their patients.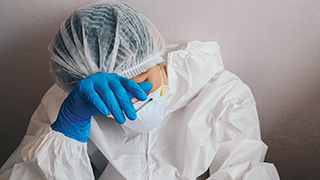 Patients who suffer injuries due to a healthcare provider's negligence or error can sometimes financially recover in or out of court. If a medical provider has injured you or a loved one, you may be considering taking legal action. If you want to sue your doctor or another medical provider, you will need to seek the advice of an attorney. You may be wondering when the right time will be to act.
How Will I Know When to Sue for Medical Malpractice?
If you are considering filing a medical malpractice lawsuit, it's a good idea to get familiar with what constitutes medical malpractice. Not every medical error rises to the level of medical malpractice. For instance, if you received the wrong medication at the hospital but suffered no harm, this does not give rise to a legal claim for medical malpractice.
You must have suffered some actual harm due to preventable medical mistakes or negligence to have an actionable claim. You must also show that your medical provider breached their provider-patient duty to you. You can demonstrate this breach by showing that your treatment fell below the expected standard of care.
If you think that you could have a valid claim for medical malpractice, you should talk to an attorney as soon as possible. There may be a statute of limitations in your state that places a time limit on medical malpractice claims. These time limits usually give injured patients a year or two to file a lawsuit. However, state laws are subject to change. The best policy is to act on medical malpractice as soon as you know it occurred.
A lawyer can help you to keep track of deadlines, document your injuries, request medical records, provide you with legal advice, and more. A medical malpractice attorney will offer a free initial consultation and case review in most cases. You can schedule a few of these initial consultations to find the best medical malpractice attorney for you.
Types of Medical Malpractice
Most medical facilities have procedures to prevent errors and keep patients safe. But mistakes do happen. Unfortunately, medical errors and negligence can cause dire consequences. Some common forms of medical malpractice are:
Misdiagnosis or delayed diagnosis: An incorrect diagnosis may result in unnecessary and harmful treatment. If a doctor fails to diagnose you, your condition may worsen due to the delay.
Birth injuries: If a doctor uses improper techniques to remove a baby from the birth canal, this can cause serious injuries.
Surgical errors: In some cases, surgeons may operate on the wrong body part, cause nerve damage, or leave foreign objects inside the body during an operation.
Anesthesia errors: Anesthesiologists must strike a delicate balance to deliver the correct amount of anesthesia. If they administer the wrong amount, they can cause harm to patients.
The above summary covers some of the most frequent types of medical malpractice. But it is not a comprehensive list. You could have a medical malpractice claim from emergency room negligence, botched dental work, medication errors, and others. You may even have a wrongful death claim in the event that medical malpractice caused the death of a loved one. The best way to determine whether you might have a valid legal claim for medical malpractice is to arrange a meeting with an attorney.
Medical malpractice lawyers typically offer a free consultation to get you started. This first meeting will help you learn whether your injury rises to the level of medical malpractice. Further, you should use this consultation to ask the attorney some important questions. First, you will want to ask how much medical malpractice experience they have. Next, you will need to know about their fee structure. It's also important to ask whether they can accommodate any special requests you have.
To decide whether someone is the right attorney for you, you also need to consider whether you like them and trust them to represent you. Further, it's wise to ask how often they settle cases versus taking them to trial. Insurance companies may try to pay lower settlements to attorneys known to settle quickly.
How Difficult Is It To Prove Medical Malpractice?
It is usually difficult to prove medical malpractice. Although state laws vary, there are generally four things you must prove to succeed in medical malpractice cases:
Duty: You must show that you had a provider-patient relationship with the medical professional. This means that you sought their care, and they agreed to treat you.
Breach: Your provider must have breached their duty to you by providing you with care that falls below the expected standard of care. This is known as medical negligence. Generally, the standard of care is defined as the care and expertise that a competent healthcare professional would have used in similar circumstances.
Causation: Your provider's negligence must be the direct cause of your injuries.
Damages: You must have suffered harm due to your substandard treatment. This might include a worsening of your condition, a loss of wages, pain and suffering, loss of companionship, or other damages.
It can be challenging to show that a healthcare provider's actions fell below the acceptable standard of medical care in your area. To demonstrate this, you usually need to hire a medical expert. They can testify about what a competent healthcare provider would have done in similar circumstances. You must then show that your treatment fell below this standard.
Why Should I Hire a Medical Malpractice Attorney?
Medical malpractice law is a highly specialized area. So, it's essential to find an attorney who has experience litigating medical cases.
When you hire an attorney for your medical malpractice claim, they will help you gather evidence of your healthcare provider's negligence. To do this, they will most likely seek the help of a medical expert. An experienced attorney in the field of medical malpractice will have connections with excellent medical experts in your area. These connections can sometimes mean the difference in your case.
Further, a good medical malpractice lawyer will know how to assess your case and file paperwork with the court. They will also probably have a legal team to help collect records and track important deadlines.
If you are worried about paying your legal fees, it might be reassuring to know that most medical malpractice lawyers take clients on a contingency fee basis. When lawyers work on a contingency-only basis, this means that you will not have to provide payment upfront. Instead, the law firm or attorney will collect a percentage of whatever verdict or settlement you win. When you initially meet with an attorney for a case evaluation, they will give you the details of their fee structure.
How Do I Find a Medical Malpractice Attorney?
Suppose you have a friend or family member who has filed a personal injury claim of any type. In that case, their legal connections could help you. You should ask them if they would recommend their attorney. You could consider reaching out to the attorney and scheduling an initial consultation. It's also a good idea to use a third-party attorney rating service like the Super Lawyers directory to search for a lawyer. The Super Lawyers directory only lists attorneys who are respected in their field and available to take new clients.
You should be aware that lawyers who operate on a contingency fee basis may be more selective about which medical malpractice cases they take. So, you may need to meet with a few lawyers before you find someone who accepts your case and who meets your needs.
To learn more about this area of law, see our overview on medical malpractice.
What do I do next?
Enter your location below to get connected with a qualified attorney today.
State Medical Malpractice articles
Related topics
Attorney directory searches
Helpful links
Find top lawyers with confidence
The Super Lawyers patented selection process is peer influenced and research driven, selecting the top 5% of attorneys to the Super Lawyers lists each year. We know lawyers and make it easy to connect with them.
Find a lawyer near you