How Long Do You Have To Sue for Medical Malpractice?
There are some exceptions as far as time limits
By Kimberly Lekman, Esq. | Reviewed by Canaan Suitt, J.D. | Last updated on May 9, 2023
Use these links to jump to different sections:
If you or a loved one has been a victim of medical malpractice, you might be considering filing a lawsuit against the healthcare professional who caused your injury.
Some of the most common forms of medical malpractice include:
Surgical errors
Medication errors
Misdiagnosis
Birth injuries
Anesthesia mistakes
To recover for medical malpractice, you will need to show that the medical care you received fell below the expected standard of care.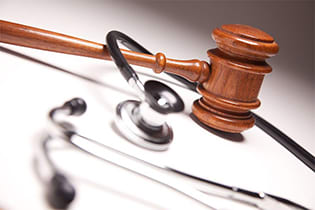 Treatment falls below the standard of care if a reasonably skilled medical professional under the same circumstances would have provided different treatment.
Further, you must show that this substandard care injured you. An experienced medical malpractice attorney can assess your situation and determine whether you have a valid medical malpractice case.
However, state laws place a time limit on your ability to sue for malpractice arising out of medical treatment. These time limits are called statutes of limitation. Statutes of limitation bar injured patients from suing medical providers after several years have passed. The statutes of limitation vary by state, but they are usually between 2 to 4 years after the date of injury. 
If you try to sue your healthcare provider after the statute of limitations has passed, you will most likely be barred from doing so. For this reason, it's essential to understand when these time limits start ticking down.
There are many exceptions to the statute of limitation that might extend the amount of time you have to start a lawsuit against a medical provider. However, since these laws vary from state to state, it's wise to seek expert legal counsel on your medical malpractice case. 
Discovery Rule Exceptions
There may be an exception to your state's medical malpractice statute of limitation called the discovery rule.
With this exception, you need to show that you had not discovered the injury that resulted from medical malpractice at once. Further, you usually must show that a reasonable person would not have discovered it under the same circumstances either.
One of the most common examples of the discovery rule exception is when a doctor leaves a foreign object inside the patient's body during an operation. The patient might not know it has happened for months or years when this occurs.
Suppose, for example, that a patient has an appendectomy to remove an inflamed appendix in California. They recover and go back to their everyday life. But five years later, the patient started having severe abdominal pain. An X-ray shows that the surgeon had left gauze in the surgical wound. The statute of limitations is three years.
However, in this case, the patient could not have been expected to discover the malpractice until their X-ray five years later.
Under California law, the clock does not start counting down on an injured person's ability to file a lawsuit until they realize their doctor had left a foreign object in their wound. So, they still have three years after discovering the malpractice through the X-ray to file a medical malpractice claim.
The Continuing Treatment Exception
In some states, the statute of limitation does not begin to count down while you are still receiving treatment for your condition from the medical provider who harmed you.
In these states, the statute of limitation only starts running down after you finish treatment with the provider who injured you.
The rationale for this exception has to do with the fact that patients usually have confidence in their doctors' expertise during treatment. While they are still receiving treatment, patients might be less likely to question the doctor's competence or judgment.
To illustrate this exception, suppose a patient sought treatment five years ago for high blood pressure. The doctor diagnosed the condition and recommended a medication regimen. However, the patient is unaware that their doctor has given them the incorrect dosage of the medication.
The patient receives ongoing treatment and medication from the doctor for five years before suffering from a stroke. As a result, the patient learns that they might not have had the stroke if they had received the proper dosage.
In this example, the statute of limitation does not start running down until after the patient ceases treatment with their doctor. So, even if there was a three-year statute of limitation, the continuing treatment doctrine allows the patient to sue five years after the original incidence of malpractice.
Statutes of Repose
A statute of repose is a state law that places an absolute limit on your ability to file a medical malpractice lawsuit. In other words, even if you had not discovered your injury yet, you would be barred from bringing a lawsuit once the time limit in the statute of repose has passed.
For example, a patient cannot file a lawsuit for medical malpractice any more than seven years after the malpractice occurred under Massachusetts law.
However, even if your state has a statute of repose, there may still be exceptions to this rule. In Massachusetts, for example, the statute of repose does not apply in cases where a doctor leaves a foreign object inside the body.
Exceptions for Minors
Many states make exceptions to the statute of limitations for people who were under 18 years old when the malpractice occurred.
The time limit might not start running down on the malpractice lawsuit until the child has turned a certain age in these states.
That age may vary according to state law. It can be as young as age six and goes up to age eighteen.
How an Attorney Can Help
Statutes of limitation seem like simple time limits at first glance. But when you consider all the exceptions, determining your timeline to file a medical malpractice claim can be more complicated than you would expect.
An experienced medical malpractice attorney in your area can help you decide whether you can still file a claim.
Having a skilled attorney on your side will also be essential for gathering evidence and building a case. Your attorney and their law firm staff will:
Gather your medical bills and medical records
Consult with medical experts to learn how your treatment fell below the expected standard of care.
Negotiate a settlement, if possible
File paperwork
Take your case to trial if necessary
Your medical professional will probably have support from their insurance company's attorneys. So, you will need an experienced lawyer on your side who knows how to present your case to the opposing side expertly.
Effective legal representation can help you achieve a fair settlement for your case. Most medical malpractice cases end in a settlement. But your lawyer might need to take your case to trial if negotiations break down.
How Will I Pay For a Medical Malpractice Lawyer?
Most medical malpractice lawyers offer a free consultation to help you get started. You can use this case review to ask for an estimate of your case's value and ask about the attorney's experience with cases like yours.
Because medical malpractice law is a very specialized and complex field, it's wise to choose an attorney who is knowledgeable in this area.
If you are concerned about paying a lawyer, you should also ask about the attorney's fee structure. Personal injury lawyers usually take medical malpractice cases on a contingency fee basis. With a contingency fee structure, you will only pay the lawyer if you receive a settlement or verdict in your case. The attorney will then take a percentage of this award as their payment.
Finding the Right Attorney For Your Needs
It is essential to approach the right type of attorney—someone who can give you legal help through your entire case. You can visit the Super Lawyers directory and use the search box to find a lawyer based on your legal issue or location.
For legal advice regarding medical malpractice, look for a medical malpractice attorney.
What do I do next?
Enter your location below to get connected with a qualified attorney today.
State Medical Malpractice articles
Related topics
Attorney directory searches
Helpful links
Find top lawyers with confidence
The Super Lawyers patented selection process is peer influenced and research driven, selecting the top 5% of attorneys to the Super Lawyers lists each year. We know lawyers and make it easy to connect with them.
Find a lawyer near you