Is My Personal Injury Case Worthy of a Personal Injury Lawyer?
Four Missouri attorneys weigh in
on September 28, 2017
Updated on March 22, 2022

You've been injured. How do you find a good lawyer? How much does it cost? Do you even have a case?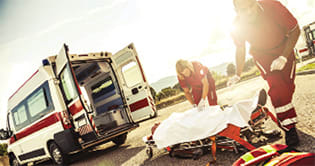 The first step, as with many things, is research. "There is so much information about lawyers and law firms available on the web, through social media and advertisements, that it can be overwhelming for the average consumer," says
Joseph Cambiano
of Rubins, Kase, Hager & Cambiano. "Ultimately, it comes down to narrowing it down to a handful of lawyers that appear skilled and have the background to handle the specific claim. I think it is then essential to meet with the attorney handling the claim, not some intermediary, so an injured party can be comfortable with their choice, knowing that lawyer cares and wants to be their lawyer."
It's also a good idea to reach out to the potential attorney's former clients, says
Jeff Burns
of Dollar, Burns and Becker. "The most important overall consideration for hiring a lawyer should be whether the client has confidence that he or she is hiring the right person. That encompasses a lot," said Burns. "It means that they know the lawyer will go the extra mile for the client, that the lawyer really knows how to handle this particular kind of case. Speaking with former clients can help the new client know that [he or she] doesn't have to worry about the legal side of the their claim, that they are in good hands, and that they can focus on getting through the human side of their injury or loss."
That human side is crucial, of course, and your potential lawyer's personality is important.
Steve Gorny
of the Gorny Law Firm says clients should ask, "'Will this lawyer care about me and my family, or am I just a number?' Unfortunately, there are too many lawyers in the profession who look at clients as numbers and fees."
How much will it ultimately cost? Many personal injury attorneys work on a contingency basis, meaning that they are not paid up front. Instead, they'll work out an agreement with you to collect, for example, one-third to 40 percent of the money recovered by the trial or settlement. 
"Trial experience is important, because when it comes time to negotiate a settlement, the other side will know your attorney is willing to go to trial, should they not offer fair compensation," says
Toni Schlapprizzi
, who practices with her brother and father at Schlapprizzi P.C. in St. Louis. "A trial lawyer's experience in front of a jury will increase settlement offers.""
Peter Goss of Wendt Goss says that, above all else, clients should look for an attorney they can trust—and vice-versa. "The client must trust the attorney and his or her opinions and recommendations, and the lawyer must trust the client," said Goss. "Many times, that level of trust begins to form in the first meeting between the lawyer and the client, but sometimes that trust is built over time. When a client is placing their fate regarding an injury suit in the hands of a lawyer, it is of the utmost importance that there is mutual trust. If there is no level of trust, the relationship does not work and all of the client's needs may not be met." 
For more information on personal injury claims, car accidents, personal injury lawsuits, punitive damages, case evaluation, comparative negligence, and injury settlements, see our overviews of
personal injury
,
motor vehicle accidents
, 
medical malpractice
, and 
product liability
.