Gray Divorce in Maryland
Considerations for divorces after 50
By Judy Malmon, J.D. | Reviewed by Canaan Suitt, J.D. | Last updated on May 2, 2023 Featuring practical insights from contributing attorney Jeffrey N. Greenblatt
Use these links to jump to different sections:
Marital discord can take root at any stage of life, but recent statistics indicate the divorce rate among those over 50 has more than doubled since 1990. Unique legal issues can arise with respect to this demographic age group—issues beyond the typical child custody and support arrangements addressed in younger divorces.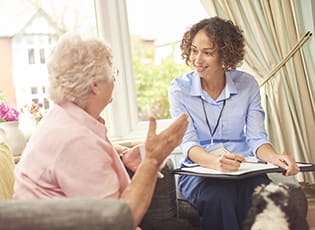 According to family law attorney Jeffrey Greenblatt, of Joseph Greenwald & Laake in Rockville, there are a number of reasons for the increase in "gray divorces."
He cites social changes, like the reduction in social stigma regarding divorce, as well as the increase in women working between the ages of 55 and 64.
"They've been working for quite a while, have accumulated pensions, and have the financial wherewithal that they're not so dependent on a male wage-earner that they need to stay in a bad marriage," he says.
We also, on average, live longer than in the past. Greenblatt points out: "If you retire at 65 or 70, your longevity is somewhere in the neighborhood of 20 years. For someone who's been unhappy for a very long time, the kids are now out of the house, they're thinking, 'I'm going to be around for a number of years, and I don't want it to be with this person.'"
Yet another factor pushing older couples to divorce has to do with their children—and not solely because they don't want to break up the home while the children are still there. Greenblatt explains: "Once the kids are out of the house, they're now staring across the dinner table at that person, and there's no longer any buffer."
How the Divorce Process Can Differ
Legal issues in gray divorces tend to address more complicated economic issues than a younger couple may face.
For example, they likely had a retirement plan, which is now being disrupted. "A divorce attorney needs to look carefully at dividing a pension," offers Greenblatt. "In Maryland, pensions are normally divided equally between the parties if they accumulated during the marriage. It's also important to be sure there is a survivor benefit. This needs to be arranged at the time of the divorce; if you don't, you're out of luck."
Another consideration is spousal support. In Maryland, there are two kinds:
Rehabilitative. Rehabilitative alimony covers a temporary period, allowing the supported spouse to regain education and/or employment. In a gray divorce, the timeframe is different because the parties are older. In situations where one spouse earned much less than the other, or had a lower level of education, the opportunity to even the gap is limited
Indefinite. Indefinite alimony is awarded in Maryland in situations where the standards of living between the two parties are "unconscionably disparate." As you might guess, this phrase is inexact. "What it means has been subject to years and years of appellate cases," says Greenblatt. "The award of alimony is not a sure thing—that's part of what a skilled lawyer would help with."
Be careful not to focus too much on getting free of the marriage instead of thinking clearly about long-term interests. "You should let your lawyer do his or her job protecting your interest," says Greenblatt. "If you don't, ultimately, yes, you've gotten rid of the stress of the marriage—but now you can't live. Twenty-seven percent of women who go through gray divorce live below the poverty line."
Adult Children in a Gray Divorce
Yet another issue in a gray divorce is adult children.
Even where the kids no longer live at home so you may think there's no need for traditional child support payments, there may be necessary considerations, such as paying for college, weddings and grandchildren. Addressing these now can prevent problems later on.
Greenblatt also encourages you to review your estate planning documents, such as a will or life insurance, as most people will want to change their beneficiaries. "A will designating a former spouse will create all kinds of litigation problems," he says.
Get Legal Help from an Experienced Divorce Attorney
If you are contemplating divorce and you are over 50, make sure that you work with a family law attorney experienced in gray divorce.
For more information on this area, see our overviews of family law, divorce, and mediation and collaborative law.
What do I do next?
Enter your location below to get connected with a qualified attorney today.
Additional Divorce articles
Related topics
Attorney directory searches
Helpful links
Find top lawyers with confidence
The Super Lawyers patented selection process is peer influenced and research driven, selecting the top 5% of attorneys to the Super Lawyers lists each year. We know lawyers and make it easy to connect with them.
Find a lawyer near you