The Legal Concerns of Working Remotely
Data security, injury, insurance, taxes, and legal issues
By Bill Glose | Last updated on January 20, 2023
Use these links to jump to different sections: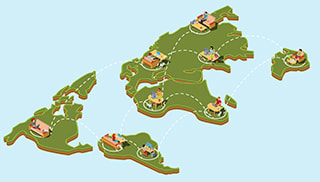 Unlike most revolutions, this one works for both sides. Employees avoid traffic, enjoy a flex lifestyle, and can even work in their sweatpants, while companies avoid overhead. "The employer is saving major dollars by having a virtual office where nobody is in the same place," says
William Frumkin
, a partner at Frumkin & Hunter in White Plains, New York. At the same time, it leaves a lot of legal gray area.
Security
Start with security issues. "Laptops, internet cafés and confidential memoranda don't mix," says
Jill Sarnoff Riola
, an intellectual property lawyer at Carlton Fields Jorden Burt in Orlando, Florida. "Logging in over a public network, even to an encrypted private VPN, could result in security issues, including hackers getting access to the company's network. This is an issue that affects employees who travel as well, and use internet connections in airports and hotels. These connections tend not to be secure." VPNs are fantastic cybersecurity tools, creating portals into a company's system that can be set up to require multifactor authentication for access. But security relies on constant user discretion, too. One highly publicized data breach occurred in 2006 when a Veterans Affairs employee brought home a laptop that was subsequently stolen by a burglar. The hard drive contained unencrypted data revealing the personal information of 26 million active-duty military personnel and veterans, including their Social Security numbers and disability ratings. "It is important that a remote workforce doesn't download business-confidential information and records onto their personal devices," says
Lisa Sotto
, chair of the global privacy and cybersecurity practice at Hunton Andrews Kurth in New York City. "Another family member may use that device, the device may be insecure, it may not have appropriate protections, or it could be stolen." The fallout can be harsh. "If a worker violates company policies, there can be consequences up to and including termination," says Sotto.
Workers' Comp
What about accidents? In an office, if an employee falls on the way to the breakroom, it's generally considered a compensable, work-related injury. "At home," says
Michael Kaplan
, a partner at Kaplan Morrell in Denver, "that gets a little more confusing." He adds: "The burden would be on the injured worker to prove they were working within the course and scope of their employment at the time they fell. I would argue that, by virtue of allowing the person to work from home, and that they have a place where they get food, then that would be considered a work-related injury. But I'll tell you, I haven't taken that one to court yet. It would be interesting to see what happens." And it gets more complicated from there. If an employee hosts a client at their home/office, and the client gets injured, who's responsible? Is it the employer, because the client was visiting the employee for a business issue? Or is it the employee, for potentially failing to maintain the residence properly? The case law is murky. There
have
been plenty of cases dealing with whether an employee on the road is driving within the context of work.
Madden v. Mountain West Fabricators
, a Colorado Supreme Court case, established a test that delineates when an employee in transit should be considered "working in the course and scope of their employment":
Going to and from work: not covered, generally
Incentivized to travel, paid per mile or otherwise compensated: covered
Stopping to do errands along the way: not covered
Being sent out on business by an employer: covered
What if a remote employee takes the company laptop to a nearby park or coffee shop to work, and gets into an accident along the way? "That will be a tough one to prove as being compensable," says Kaplan. "The injured worker will need to prove they were working at the time, or doing something conferring a benefit to the employer beyond just showing up to work. It would also depend on the time in the workday the employee chose to do this. The carrier will most likely take the position that 'You're not traveling to an appointment per se; you're just traveling somewhere to
do
work.'"
Insurance
It might also matter where the office is located in your home. Several years ago, an at-home worker in Colorado converted his barn into an office, where a fire broke out. "No one told the insurance carrier, 'Oh, by the way, someone has actually set up an office there,'" says
Bradley Levin
, a shareholder at Levin Sitcoff in Denver, who was involved in the case. "They never mentioned the modifications. The insurance company thought they were insuring a barn. They thought maybe things were stored there or maybe animals were in there. But they had no idea there was an office. So the insurance company disclaimed coverage because that would have required them to provide a different form of insurance than what they had written." That worker was a freelancer, but the same would likely apply to a remote company worker. Most homeowners' policies have exclusions for injuries arising from business pursuits. "I'm a very, very strong advocate in believing that you need to deal with these kinds of insurance issues on the front end," says Levin. "So what you would want to do is make sure that there is communication going on between the company's insurance broker with respect to general liability insurance and the employee's homeowner's carrier to make sure it all dovetails."
Time Tracking
How should remote employees approach timekeeping? As with almost everything else in today's connected culture, there's an app for that—many of them, in fact, such as Hubstaff, TSheets and HoursTracker. They allow remote workers to digitally clock in and clock out, so their working hours are readily evident. While time tracking is a necessity for the hourly employee, it can be an important tool for salaried employees, too, since it can give them a sense of when to "go home." Otherwise, it can be easy to overwork oneself—from the moment the feet hit the floor in the morning until the head hits the pillow at night. "Given the rash of minimum wage-and-hour-type lawsuits that we've seen over the last couple of years," says
Joyce Ackerbaum Cox
, a partner at Baker & Hostetler in Orlando, "off-the-clock time is a big issue for employers to make sure that their employees working remotely are capturing all the time. … It's a time issue for [both] the employee and the employer if the employee is not capturing all their time and is not being paid properly." Of course, the company could be tracking all of that anyway. "It's very often with computers that the employer could know when
exactly
they are on or off," says Frumkin. "It's not like the old days where you could be playing golf and the employer thinks you are in your home office or something."
Taxes and Equal Opportunity
Telecommuters used to be able to deduct a portion of expenses for maintaining a home office for the convenience of their employer. Not anymore. "The tax reform act suspended that deduction for years 2018 to 2025," says
Peter Glicklich
, managing partner at Davies Ward Phillips & Vineberg in New York City. "If you're
self-employed
and are in a business, you are not subject to the same rule, and that makes a big difference tax-wise." There are other disadvantages to remote work, particularly if one's colleagues meet regularly in a physical workplace. Out of sight often means out of mind. "Something as innocuous as a holiday party at the restaurant—those kinds of invitations sometimes get sent only to people who are in the office," says
Jim Goh
, managing partner at Constangy, Brooks, Smith & Prophete's Denver office. "Training opportunities for continuing education and mentoring that usually take place in the office often get overlooked with remote employees. They might not, for example, get considered for promotions simply because the supervisors don't think of them. And
that
could put the employer at risk of having to defend a discrimination lawsuit."
Wave of the Future
If remote work policies is a revolution, it's worth noting that what it's revolting against—working in an office or factory—was itself revolutionary. According to Harvard historian Jill Lepore in
These Truths
, her recent history of the United States, "Before the rise of the factory, home and work weren't separate places. Most people lived on farms, where both men and women worked in the fields. … In towns and cities, shopkeepers and the masters of artisanal trades—bakers, tailors, printers, shoemakers—lived in their shops, where they also usually made their goods." So we've only been doing this for 200 years or so. And it's not like the office has gone away. In some instances, it's grown exponentially into a corporate campus, where, instead of the home becoming the office, the office becomes the home. This is particularly true in Silicon Valley, where amenities can include free gourmet meals, game rooms and places to sleep. "In today's interconnected world, work and home are inextricably—and irrevocably—linked," says Sotto. "That ship has sailed. The key to managing this successfully is ensuring that certain boundaries are maintained." "It's a trend that will continue in popularity, especially amongst millennials," says Goh. "It's probably going to be increasing," adds Frumkin. "However, I think accountability is becoming more prevalent along with it. It's a mixed blessing, but I do think it's the wave of the future." For more information on these areas of law, see our overviews on 
employment law for employees
, 
wage and hour laws
,
workers' compensation
,
insurance coverage
, and
tax law
.
What do I do next?
Enter your location below to get connected with a qualified attorney today.
State Employment Law - Employee articles
Related topics
Attorney directory searches
Find top lawyers with confidence
The Super Lawyers patented selection process is peer influenced and research driven, selecting the top 5% of attorneys to the Super Lawyers lists each year. We know lawyers and make it easy to connect with them.
Find a lawyer near you